How to Study During PA School
Student Academy Shares Tips
February 6, 2020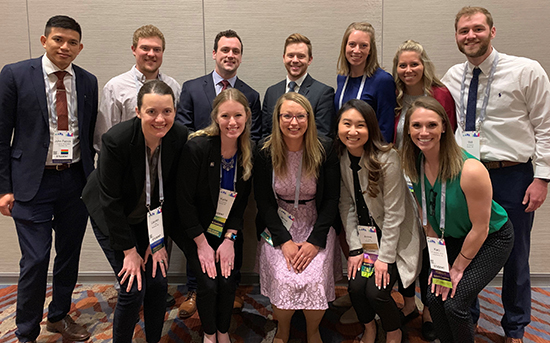 If you're feeling overwhelmed by classes and exams and feeling guilty and depressed that you haven't seen your friends or family for weeks, you aren't alone. PA school is intense and a lot of PA students experience high stress levels as they acclimate to the fast pace. AAPA's Student Academy members know what you're going through: they lived through it too. They offer their most helpful study tips so that other PA students can tackle exams – and eventually PANCE – successfully.
[It's Not Just You: The Pressures of PA School]
"Rewrite important concepts using color-coded text and pictures. This helped me tremendously in didactic year and helped me during clinical year as a reference." – Cooper Couch, University of Southern California
"You'll never know everything – so set a study plan, stick to it, and prioritize spending time doing things that fulfill you. Go for a run, to yoga, hang out with friends. It will make your time studying more productive. Also – study habits should shift based on what you're studying, so be adaptable." – Katie Ganser, University of Colorado
"Study in groups. Outline each lecture given in your own words. Give yourself one or two breaks a day, not school related." – Will Kabrich, Wake Forest School of Medicine
[6 Tips for Clinical Rotations]
"Don't use more than one or two resources for PANCE prep. The subtle differences in study materials can be just enough to confuse you during the exam." – Paula Miksa, AAPA Graduate Advisor and director of interprofessional education and an associate professor at Lincoln Memorial University
"It doesn't matter how anyone else studies. Try different ways at the beginning of didactic. Find the ways that work for you. You are doing this for yourself and your future patients – so it doesn't matter what your classmates do. Just find how you work best and embrace it." – Jamie Shelstad, Bethel University – Tennessee
"Notecards, notecards, notecards! You can take them with you and review on the bus, in line, anywhere. Some studies show writing by hand helps you remember things better!" – Lauren Trew, University of Washington MEDEX – Spokane
"Don't just highlight or review your notes before exams – participate in active studying by doing questions or even flashcards." – Annie Yang, University of Southern California
Additional Resources for PA Students
PA Student Tips for Challenge Bowl and AAPA 2020
Most Popular Apps for PAs
What I Wish I'd Known Before Didactic Year
Thank you for reading AAPA's News Central
You have 2 articles left this month. Create a free account to read more stories, or become a member for more access to exclusive benefits! Already have an account? Log in.