Most Popular Apps for PAs
Practicing PAs and Students Share Their Favorites
July 15, 2021
By Kate Maloney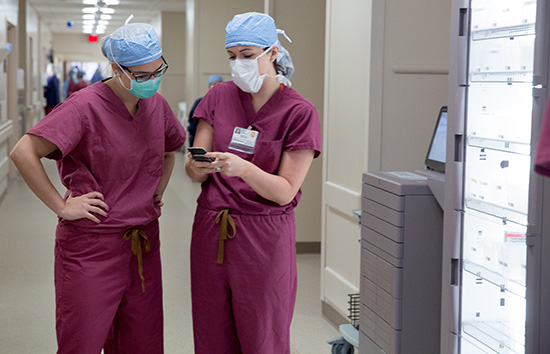 We asked AAPA's early-career PAs and Student Academy about their favorite practice- or study-related apps. Fast, easy-to-use, and helpful apps came up again and again. Here are the apps we heard about most from our informal survey. Which app is your favorite?
Clinical apps
Epocrates
Kathryn LaFLeur, PA-C, gives Epocrates a ringing endorsement. "Splurging on Epocrates is definitely worth it!" she says. LaFleur isn't the only one who finds Epocrates helpful – this app came up frequently in our survey responses. The app provides clinical reference information on drugs, diseases, diagnostics, and patient management.
MDCalc
Started by two physicians who wanted to focus on patient care, MDCalc provides calculators, scoring systems, algorithms, and other clinical-support tools. The calculators and support tools are evidence-based and must pass a rigorous editorial and validation process. Every practicing PA we asked mentioned MDCalc as an invaluable tool.1
UpToDate
UpToDate was cited most frequently by our respondents. It incorporates the latest medical findings, the best available evidence and practical recommendations for patient care. Sarah Murawski, PA-C, has been practicing for two years and shares that she uses UpToDate daily to help her practice. AAPA partnered with UpToDate to provide a special offer on a subscription and when you use the app, you can earn AAPA Category 1 CME credit.
[Learn more about other AAPA member benefits.]
Study apps
ddxof
When Tom Faidal was a medical student, he found review books increasingly ineffective. However, when he read thoroughly about specific cases, and had a specific patient in mind, he would retain information better, recall it while on his rotations, and apply it practically. He created ddxof ("differential diagnosis of") to help other students study this way. His app is a compilation of cases based on real patients, each of whom inspired an algorithm for the evaluation and management of their chief complaint or diagnosis.2 Katie Ganser, PA-S, cited ddxof as being particularly helpful for clinical schemas, and one of her favorite study apps.
[PANCE/PANRE Review Resources]
Rosh Review's Exam Prep App
Rosh Review focuses on PANCE preparation, and many PA student respondents have found the app helpful. The app allows PA students practice exam questions in bite-sized chunks while they're on the go. John Cuenca, PA-S, integrates review questions during his daily routine. "I'll open the app for a few minutes wherever I am," he says. "When I'm waiting in line at the grocery store, or waiting at a doctor's office, anytime I have a few minutes I'll do a few questions."
Notability
Notability is not specific to practicing medicine or studying for the PANCE; itis a general note-taking and annotating app. Annie Yang, PA-S, says the app is invaluable. She uses Notability to take notes directly on class PowerPoints, and then can access her notes when she's studying later. She also records lectures in real-time with the app and then plays them back later if she needs to review anything she missed.  
Members of AAPA's early-career commission and Student Academy responded to informal survey questions for this article. What apps are we missing that you've found helpful?
Kate Maloney is AAPA's senior manager of corporate communications. She can be reached at [email protected].
Editor's note: This article originally appeared in December 2019.

You May Also Like
What I Wish I'd Known Before Didactic Year
5 Membership Benefits You Shouldn't Sleep On
What They Didn't Tell Me in PA School: Five Months to Start Working
References
About MDCalc. MDCalc website. mdcalc.com/about-us. Accessed December 20, 2019.
Tom Fadial. Tom Fadial's website. https://ddxof.com/ and https://fadial.com. Accessed December 23, 2019.
Thank you for reading AAPA's News Central
You have 2 articles left this month. Create a free account to read more stories, or become a member for more access to exclusive benefits! Already have an account? Log in.