Advocating for Health Equity: PA Focuses Work on HIV and LGBT Health
Providing a Safe Place for All Patients
August 2, 2020
By Divya Williams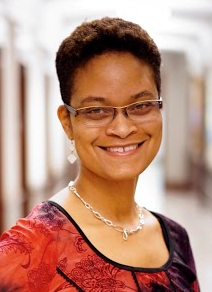 Before becoming a PA, or even knowing about the profession, Tonia Poteat, PhD, MPH, PA-C, DFAAPA, knew she wanted to provide care to people living with HIV. "I was really interested in being a healthcare provider but didn't know how to do that without being a physician or a nurse until I met a PA. She really encouraged me to look into the training and what you are able to do as a PA," Poteat says. "I liked that you could finish without spending a thousand years in school, and I liked team-based practice. Now, 25 years later, it turned out pretty well."
Poteat is now an Assistant Professor of Social Medicine at University of North Carolina (UNC) Chapel Hill as well as core faculty in the UNC Center for Health Equity Research. She also teaches a seminar for second-year medical students on sexual and gender minority health, supervises students in a student-run gender affirming care clinic, and spends one a day week in the infectious disease clinic at UNC caring for people living with HIV. Poteat has focused her research, teaching, and clinical practice on HIV and LGBT health, with particular attention on transgender health disparities.
Reaching a glass ceiling
Poteat's path to her current role wasn't one she predicted for herself. Looking back on when she decided to further her education, she says it was her mother's advice that pushed her to make the decision.
In her mid-30s, Poteat was doing part-time clinical work and part-time public health work. "I was trying to imagine if I could see myself doing that same job for the next 20 years, and I couldn't. And I felt myself bumping up against this glass ceiling," she says. "So I knew I needed to get more education to be able to do something that I wanted to do, which was conduct research on my own."
Poteat's mother had gone back to school in her late 50s to get her bachelor's degree, and her advice to her daughter was, "You're going to get older one way or the other – you can either get older working on something you want to have, or you cannot." Poteat says the advice was so practical and brilliant, it's what helped her decide to go back to school. "So I started the PhD program in public health in my late 30s, and that's how I got into research."
Providing a safe place for care
To help pay for her PA education, Poteat did a National Health Service Corps Scholar program and moved to New York to work in a methadone program where there were a lot of people in the program living with HIV. "They were in the methadone program because they had a history of drug use, and we had an HIV clinic specifically for people in the methadone maintenance program, primarily because there is a lot of stigma and discrimination against them," Poteat says. "They needed a place to get HIV care that was not going to treat them badly."
[PAs Featured in Emmy-Winning Film Spotlighting Social Justice Medicine]
While at the methadone program, Poteat was mostly doing physical exams and monitoring patients' treatment. "It wasn't primary care, and I wanted that primary care experience right out of school," she says, so she volunteered at an LGBT health center to get a wider range of experience.
During her time there and at other LGBT health centers where she provided HIV care, she witnessed patients who were seeking out more than just healthcare. "People are really looking for a safe place where providers will treat them with dignity and respect. And sometimes, if they are marginalized because of drug use, because of their sexual orientation, or for other reasons, it's hard to find a place where they can be absolutely sure that every person they encounter in that health system is going to treat them with dignity and respect," Poteat says. "That's unfortunate, but I think it's true."
Eliminating stigma and providing compassionate care
When Poteat was volunteering at an AIDS service organization, she learned a lot from the executive director about the relationship between social justice and HIV. "I saw those connections in the community and brought that into the healthcare arena."
[Street Medicine: PAs Deliver Healthcare to the Homeless]
During her PhD program, Poteat was working at a local LGBT health center providing care for a lot of different people, including people living with HIV and people of trans experience. "I noticed that many of the people I knew in the community reported having stigmatizing experiences," she says. "And I worked at the clinic and I knew the other people who worked there, and they all seemed like great people who would never intentionally treat people poorly." When she realized this disconnect existed, she wanted to do more to understand how it happened. "That's where I got interested in what stigma really was, how it works, and what we can do about it."
Achieving health equity
To fellow healthcare professionals looking to expand their knowledge and elevate their quality of care, Poteat says that information is more accessible than ever. "There are so many more resources available now than there were in the 90s. Educate yourself as much as you can."
She encourages providers to seek out opportunities for growth beyond the walls of your practice. "Get to know people in your community who are different from you," she says. "I think that will help all of us have a deeper understanding of what our potential patients experience in their lives and what might be barriers to them accessing care and following medical advice that we think is practical but might not be really implementable in their lives."
Editor's note: This article originally appeared in January 2020 and has been updated.
More resources
LBGT PA Caucus
Divya Williams is an associate in AAPA's Communications Department. Contact her at [email protected].
Thank you for reading AAPA's News Central
You have 2 articles left this month. Create a free account to read more stories, or become a member for more access to exclusive benefits! Already have an account? Log in.