Communication & Outreach Committee
The Communication & Outreach Committee will review and analyze Student Academy channels, content and opportunities, and make recommendations for greater awareness. In addition, this committee will work with the Advocacy & Policy Committee to identify and bring awareness to issues affecting PA students and recommend pathways for communicating these issues.
Hunter Gibbs
University of Alabama at Birmingham
Hunter Gibbs is a second-year student at the University of Alabama at Birmingham (UAB) in Birmingham, Alabama, where he serves as class president.
Gibbs initially became involved with the House of Delegates (HOD) as part of the 2019-2020 student delegation. After serving virtually through his term, he looked forward to getting more involved with representing student voices on a national level.
Prior to PA school, Gibbs graduated with a Bachelor of Science from Samford University where he studied biology and communication studies with a concentration in healthcare communication. At Samford, he held many leadership positions in various student organizations. Whether he was mentoring freshmen, representing the undergraduate population in the search for a new Provost, working as an ambassador to the Board of Trustees and donors, or both directing and choreographing a male show choir group, he planted roots in Birmingham. He is forever thankful to Samford for introducing him to his inspiring fiancée, Lauren. The summers between his studies, he worked as a patient care technician in the one-day operating suite at Children's of Alabama. Upon graduation, Gibbs was accepted into the third cohort of UAB's 11-month Master's program in biomedical and health sciences. Through his educational journey, he realized his passion for pediatrics and cemented his desire to work with children and their caregivers to give them the best childhoods possible.
Gibbs, when not studying, enjoys accruing too many houseplants (according to his roommate), exploring the Birmingham coffee shop scene, and adding to his collection of eyeglasses.
Jacqueline Barajas
University of St. Francis
Jacqueline Barajas is a first-year student at the University of St. Francis PA Program in Albuquerque, New Mexico. At her program, she currently serves as the president of her student society where she works among the faculty and her classmates to create a more engaging environment for involvement, for service, and for fellowship.
Since starting PA school, Barajas has shown a high interest in ensuring PAs and programs alike know of all the opportunities that AAPA and state chapters provide. This includes opportunities of leadership, service, and engagement alongside like-minded individuals who want to continue seeing the PA career succeed. In the start of her new role as South Central Regional Director, she hopes to inspire a generation of PAs to continue advocating for the profession in hopes to advance the PA scope, while continuing to push for diversity within the field. She quotes Mother Teresa in that "I alone cannot change the world, but I can cast a stone across the waters to create many ripples."
Prior to PA school, Barajas earned her Bachelor of Science degree in biology with a minor in chemistry from Whitworth University in Spokane, Washington, where she played collegiate volleyball, sang in the Women's Choir, studied abroad in Tanzania, Africa, and remained active in her science classes as a research and teaching assistant. Over the summers, she became active as a wildland firefighter where she eventually received her EMT-B certification with an emphasis in remote medicine; however, most of her current medical experience and inspiration comes from her time assisting a general surgeon who worked with much of the transgender community in the Pacific Northwest.
When not studying medicine or on the thousands of different Zoom meetings, you can find her traveling the world with her husband, Joey, enjoying activities such as music, eating, hiking, mountaineering, and (eventually) seeing her family in rural Idaho.
Jessica Carney
University of Southern California
Jessica Carney is a third-year student at the University of Southern California's Primary Care PA Program, where she served as the internal vice president of her student society from 2018-2019. Through this position, she had the opportunity to coordinate USC's annual PA Advocacy Trip with the PA Education Association (PAEA) to Washington, D.C. and also had the ability to attend and advocate on behalf of the PA profession.
Prior to PA school, Carney attended Marquette University where she graduated with a Bachelor of Science in Biomedical Science and a minor in Health Studies. While being a full-time student, she spent a majority of her free time working as a CNA for a non-profit focused on caring for children with complex medical conditions. Carney also had the opportunity to become a spokesperson for Illinois, as Miss Illinois International, where she supported a wide variety of causes. In that position, she had the chance to share her voice nationally and found a passion for advocacy.
As Western Regional Director, Carney hopes to encourage strong communication, advocacy for the PA profession, and to empower the students in her region. She is a believer that clear communication can elicit change and looks forward to being a part of that in this next year.
While not on clinical rotations, Carney lives in Los Angeles with her husband, Jake, and their dog, Bubby. She enjoys spending her free time surfing at the beach, cooking, camping, and traveling back home to visit family!
Adriana Girard
Seton Hall University
Adriana Girard is an enthusiastic second-year PA student at Seton Hall University. After completing her first year in the Seton Hall M.S.P.A. program, she was motivated to become more active within the PA community and advocate for the profession. She is excited to work with the Communication & Outreach Committee!
Girard graduated from Rutgers University with a Bachelor of Science in exercise science and sport studies and with a minor in economics. After graduating from Rutgers, she worked as the lead medical assistant for a busy rheumatology office. Her hobbies include spending time with friends and family, exercising, playing with her puppy, and traveling. She enjoys learning about aesthetics and skincare and is interested in specializing in dermatology or plastic surgery in the future.
Cailyn Chow
Thomas Jefferson University
Cailyn Chow is a second-year graduate student at Thomas Jefferson University-East Falls Campus PA Program, where she currently serves as the treasurer of her class. Chow is passionate about communicating various issues to PA students and spreading more awareness about the profession. She is driven to seek leadership opportunities and hopes to motivate more students to get involved, as her goals include improving workplace opportunities for physician assistants.
Chow is in the five-year Accelerated Health Sciences BS/PA MS program at Thomas Jefferson University. She graduated with her Bachelor of Science in health sciences and a minor in psychology in December 2019. During her time in undergrad, she worked as a laboratory assistant, research assistant, and events manager in the Athletics Department.
Prior to starting PA school, Chow worked as a part-time medical scribe in a pediatric emergency room to gain more knowledge and clinical experience. In her free time, she enjoys traveling, cooking, working out, and spending time with close family and friends.
Camille Norman
Mercer University
Camille Norman is a first-year PA student at Mercer University. She is excited to begin her leadership experience at AAPA as a member of the Communications & Outreach Committee.
Prior to entering PA school, Norman worked first as a CNA with a home-health company then as an ophthalmic technician. In these jobs, she developed a passion for rural healthcare and plans to work in a rural setting after graduation.
Norman graduated Mercer University with a Bachelor of Science in biology. She also minored in English and volunteered as a writing preceptor for freshman English classes, so she is proficient in communicating her goals in written form.
During her undergraduate years, she helped co-found the first pre-PA organization on campus where she served as Secretary the first year and President the second. She also participated on Mercer on Mission, a research-based service-learning program, in Zaruma, Ecuador where she tested the water around the city for bacterial contamination.
In her spare time, Norman loves to read poetry, go on hikes, and spend time with her family. She believes she wants to go into pediatrics after she becomes a PA but looks forward to clinical year to explore other specialties.
Devon R. Nielsen
Yale University
Devon Nielsen is starting her first year of PA school at online program at Yale University. Here she plans on becoming involved in her student society and aspires to work in family medicine, pediatric emergency medicine or cardiothoracic surgery upon graduating. Nielsen was previously a licensed respiratory therapist in Arizona and worked in several hospital settings for the past three years.
She is originally from Missouri and has moved around the United States for the past eight years for her husband's military assignments. After moving to Arizona, she attended Grand Canyon University where she obtained a Bachelor of Applied Science degree in health sciences. During her undergrad years she was elected to numerous policy boards within the respiratory profession. She has also served as a medical volunteer for outreach organizations such as Camp Not-A-Wheeze and the American Lung Association for underserved children within Arizona.
Nielsen looks forward to getting more involved in the PA profession with her position on the Communication & Outreach Committee and assisting her fellow students in becoming a PA. Nielsen understands the importance communication platforms have on being successful to gaining acceptance to PA school, as well as being successful in school.
In her free time, she loves to read mystery novels, mountain bike, take road trips across the country, and spend time with her husband and two English Mastiff dogs: Henry and Callahan.
Elizabeth Enovitch
University of Mount Union
Elizabeth Enovitch is a first-year PA student at the University of Mount Union in Alliance, Ohio. She graduated from St. Bonaventure University in May of 2020 with a Bachelor of Science in health science with a concentration in biomedical sciences. While at St. Bonaventure University, Enovitch was a member of the Division 1 softball team and served as a team captain. She also was involved in peer tutoring, served on the executive board for the Love Your Melon campus crew, and worked with the Student-Athlete Advisory Committee on their initiatives. Throughout college, Enovitch also worked as an STNA at a skilled nursing and stroke rehabilitation center. Outside of school Enovitch enjoys traveling, exercising, spending time with her family, and trying new food. She is interested in sports medicine and pediatrics.
Emma DeWyse
Arcadia University
Emma DeWyse is a third-year student in the dual degree Public Health and Physician Assistant program at Arcadia University in Glenside, Pennsylvania. She is currently entering her clinical year and excited for all the patient care experience ahead. During her time at Arcadia, DeWyse served as a Graduate Assistant to both her PA class and the student food pantry on campus. In her public health studies, DeWyse cultivated her interests by pursuing internship opportunities in maternal/child health and research in adolescent sexual/reproductive health. DeWyse has always had a passion for advocacy, social justice, and health equity, and currently serves as a member of her PA program's Diversity Committee. She is thrilled to be able to bring these passions with her during her service on the Communication & Outreach Committee.
Emma is originally from Essexville, Michigan and attended the University of Michigan for her undergraduate studies. She graduated with a B.S. in biopsychology, cognition, and neuroscience. Throughout her time at Michigan, she also took many courses in women's reproductive health, gender and health, and public policy. It was through this education that her passions for public health and health advocacy grew. Prior to PA school, DeWyse gained healthcare experience as a scribe at Mott Children's Hospital, and as a personal nursing assistant.
In her free time, DeWyse enjoys live music, traveling, exploring the outdoors, cooking, reading, and drinking copious amounts of coffee.
James Nguyen
University of Washington
James Nguyen is a first year PA student in the inaugural Kona cohort at the MEDEX Northwest, which is a part of the University of Washington. He earned his Bachelor of Science in biology with a minor in chemistry at the University of Utah. During his undergraduate career he served as an Outreach Coordinator for his pre-PA student organization and has volunteered with Big Brothers Big Sisters of Utah.
Prior to starting PA school, Nguyen worked in clinical research at the University of Utah School of Medicine, where he helped coordinate and facilitate clinical research in nephrology and pediatric rheumatology. He has also served Active Duty in the United States Air Force as an Aerospace Medical Service Technician, working across family practice and pediatric outpatient clinics. These experiences helped form his decision to become a PA and he hopes he can draw on these experiences to aid him in his position on the Communication & Outreach Committee.
After graduation, Nguyen hopes to devote his career to working with the underserved. He is interested in family medicine, mental health, and public health. In his free time, he likes to spend time outdoors and enjoys playing guitar.
Janet Li
University of Texas
Janet Li is a first-year student at The University of Texas Health Science Center at San Antonio. She was born and raised in Dallas, Texas, and completed her undergraduate degree in biology and society at Cornell University in Ithaca, New York. Starting in high school, Li trained and worked as a certified nursing assistant and continued patient care as a CNA and medical assistant all throughout her college years. Her interest in medicine continued to grow throughout college and as she took medical practice and policy courses abroad in Copenhagen, Denmark. At Cornell, Janet was active in her Christian fellowship, Cru Cornell, and served as a bible study leader during her junior year. Additionally, Janet was a microbiology undergraduate teaching assistant and an undergraduate research assistant for the Cornell Early Childhood Cognition Lab. She also worked and volunteered at the assisted living facility near campus. After graduating in May of 2019, Janet moved back home and spent a year as a MA at a local rheumatology clinic.
Outside of school, Li enjoys spending quality time with family and friends, staying active in her church community, traveling, blogging, playing guitar and piano, and fervently supporting her favorite basketball team, the Dallas Mavericks. She currently aspires to practice compassionate patient care and serve either pediatric or geriatric populations as a future PA but is excited to continue to explore her interests in PA school and during clinical rotations. As a part of the Communication & Outreach Committee, Li hopes to help bring awareness to different issues and experiences that PA students face and encourage other students walking along similar journeys.
Jasmine Hammerstad
Rosalind Franklin University
Jasmine Hammerstad is a first-year PA student at Rosalind Franklin University in North Chicago, Illinois where she is serving as her class's Student Academy Representative. She is passionate about policy communication. Hammerstad is especially interested in how the education of PA students (directed by policy) can make healthcare more equitable.
Hammerstad was born and raised in Oregon and attended the University of Oregon, where she earned a Bachelor of Science in biology and psychology with a minor in chemistry. While at the University of Oregon she was very active in promoting mental health awareness as the vice-chair for her University's Student Counseling Center's Student Advisory Board and as an intern at her University's Collegiate Recovery Center. Additionally, she served as a resident assistant for two years and was a research assistant in two different neuroscience research labs for a total of four years. She looks forward to using her undergraduate experiences to continue to advocate for those facing mental health and addiction stigma.
After graduating, Hammerstad worked in different sectors of healthcare. She worked as a phlebotomist at a plasma donation center, as an ophthalmic technician at a retina practice, and as a medical assistant at a women's health clinic that served underinsured and uninsured individuals. While she gained a lot from all of her experiences, the connections she was able to make with patients and the perspective she gained at the women's health clinic is what ultimately made her passionate about advocating for underserved populations, LGBTQ+ individuals in healthcare, and reproductive justice.
When not studying, Hammerstad loves to explore the food around her. She loves going to all restaurants, as well as tasting the wonderful dishes her partner makes. In non-COVID times, Hammerstad also loves to attend concerts and any form of live music, even if it is in a little coffee shop. She also enjoys watching football, spending time with friends, and watching TV cuddling her cat, Mila.
Lauren Belleville
Rosalind Franklin University
Lauren Belleville is a first-year student at Rosalind Franklin University of Medicine and Science (RFUMS) in North Chicago, Illinois, where she serves as Illinois Academy of Physician Assistant (IAPA) Class Representative.
Prior to PA school, Belleville graduated with a Bachelor of Arts from Indiana University Bloomington where she studied biology and social sciences in medicine. She was introduced to the PA profession through her healthcare experience as an EMT after graduation. Belleville gained additional experience in research studying the genetics of schizophrenia in San Diego, clinical trials involving surgery in Chicago and as a Certified Surgical Technologist. Belleville also volunteered at the largest free clinic on the West side of Chicago addressing healthcare disparities within her community. Belleville dedicated her free time advocating for victims of sex trafficking with local organizations in San Diego and Chicago. Lauren plans to educate how to identify victims of abuse, especially trafficked individuals, and how to treat them holistically in a medical setting.
When Belleville is not studying, she enjoys spending time with the people she loves and her rescue pup, Finnigan. Belleville also enjoys getting outside whenever she can and traveling. She maintains a healthy mind, body and soul with yoga and meditation.
Liz Tavares
University of Quinnipiac
Liz Tavares is a first-year PA student at the University of Quinnipiac in North Haven, Connecticut. She looks forward to serving her first term as a student volunteer on this committee. She is most excited about having the opportunity to promote mental health awareness to PA students as this initiative has always been an important and personal issue to her. She hopes to play an active role in promoting mental health services to PA students across the nation as we all work to navigate the unprecedented circumstances and challenges of the current pandemic.
Tavares has more than five years of research experience in neurobiology and is passionate about pursuing research throughout her career. She worked in the Neurobiology of Stress and Addiction Lab at the University of Massachusetts under the direction of Dr. Heather N. Richardson. Much of her research focused on the effects of alcohol binge drinking on the developing adolescent brain. Specifically, she used rodent models to examine how binge drinking during early adolescence affects myelination of critical fibers within the portions of the brain responsible for executive functioning and inhibition. As the former manager and technician of the Richardson Lab, she also trained and mentored several undergraduate students; mentorship is another important role she wishes to prioritize throughout her career as a PA.
Tavares also plans to pursue a master's degree in Public Health after completing the PA program at Quinnipiac in 2022. This decision was largely inspired by her fellowship work last summer through the 'Injury and Violence Prevention Center' at the Connecticut Children's Hospital in Hartford, CT under the direction of Garry Lapidus, PA-C, MPH. She believes broadening her understanding of public health will improve her skills as a provider, researcher, and contributor to the field of medicine.
Madeline McDonald
Chapman University
Madeline McDonald is a first-year PA student at Chapman University located in Irvine, California.
Prior to PA school, McDonald attended California Polytechnic State University, San Luis Obispo where she earned a Bachelor of Science in biological sciences. While attending Cal Poly, McDonald also was a member of the NCAA Cross Country and Track and Field teams where she was able to balance athletic and academic pursuits. During her undergraduate studies, she also helped start a chapter at her University called Camp Kesem which helped serve children who had been affected by a parent with cancer. She served on the Board of Directors of this organization as Outreach coordinator, and she is looking forward to bringing her skills to the Communication & Outreach Committee at AAPA.
Following her undergraduate studies, McDonald worked as both a PT Aide and a medical assistant where she was able to cultivate skills that have helped her excel in PA school. When she is not studying, she enjoys going on runs, hiking, and spending time with family and friends.
Madison Kutzera
Radford University Carilion
Madison Kutzera is a second-year PA student at Radford University Carilion in Roanoke, Virginia. She is the Student Academy Representative for her class student society. She worked as a Therapeutic Support Staff doing applied behavioral analysis therapy with pediatric clients before attending PA school. Kutzera received her undergraduate degree from University of Maryland in Public Health Science. During undergrad, Kutzera worked as a peer educator in power-based violence and bystander intervention. This work ignited her passion for treating survivors of power-based violence. Madison is looking forward to sharing her passion for peer education with the PA student community by becoming a member of the Communication & Outreach Committee. In her free time, Kutzera enjoys spending time with her friends, visiting her family, watching crime shows and working on embroidery.
Rebecca Mortensen
Mercer University
Rebecca Mortensen is a first-year PA student at Mercer University in Atlanta, Georgia. She is a member of the Godsey-Matthews Society of student leaders where she serves as the representative for the Georgia Association of Physician Assistants. Mortensen is excited for the opportunity to be more involved in AAPA as a member of the Communication & Outreach Committee.
Before beginning PA school, Mortensen was a high school chemistry teacher. This experience taught her how to communicate effectively in a variety of settings and with many stakeholders in the education of students. She views this as a key skill that will transfer to a career in medicine. Mortensen loves to be an advocate for education and will work hard for her colleagues and patients alike.
Mortensen attended the University of Utah, the Medical College of Georgia, and Kennesaw State University. She has a Bachelor of Science in biology and a Master of Arts in teaching chemistry. Her clinical experience was primarily working in dermatology while in college, attending two years of medical school, and volunteering at a clinic for uninsured patients in Atlanta. Mortensen has extensive community service experience as well, both in college and beyond.
Outside of school, Mortensen enjoys spending time with her two daughters – playing dress-up, painting, and reading. She also enjoys being outside – camping and hiking – and is getting back into rock climbing and biking. Her favorite movies are primarily kid movies, so she is easily described as a little girl who is suddenly all grown up. Mortensen will bring this sense of excitement and wonder to this position and her career as a PA in whatever specialty she chooses.
Reilly Carr
Chapman University
Reilly is nearing the end of her first year as PA student at Chapman University in Irvine, CA where she currently serves as the Student Academy Representative for her class student society. While she grew up in Royal Oak, Michigan, she earned her Bachelor of Science in biology and MBA at the University of Alabama in Tuscaloosa, Alabama. During her time in Tuscaloosa, she served as Vice President of Campus Involvement for UA Dance Marathon, raising funds For The Kids, and was a member of Delta Gamma. Some of her favorite medical experiences before PA school came with the time spent working in the PACU at a local hospital. In her free time, Carr loves to travel, run, spend time outdoors, and watch college football. Her interests include orthopaedics, cardiology, and emergency medicine, and she is very excited for this new experience!
Rosa Gonzalez
Case Western Reserve University
Rosa Gonzalez is a second-year PA student at Case Western Reserve University in Cleveland, Ohio. During her first year, she has participated in numerous community service opportunities at the free clinic, pre-PA talks, and interprofessional projects. During the summer semester of 2020, her courses were heavily focused on how to treat victims of violence, transgender patients, and the consequences of COVID-19 on physical and mental health. Rosa is very passionate about these topics and is excited to work with an amazing team to make a difference in future patient care.
Prior to PA school, Gonzalez attended John Carroll University in University Heights, Ohio where she earned her Bachelor of Science degree in biology. Two years after that, she attended Case Western Reserve University to earn her Master of Science in medical physiology. She worked as a research coordinator at the Cleveland Clinic for four years on studies related to neurodegenerative diseases such as Alzheimer's disease and Parkinson's disease. She has served as a mentor for college students since 2015 with College Now Greater Cleveland with students who are interested in the medical field.
In Gonzalez's free time, she loves to spend time with her husband and two dogs, completing do-it-yourself projects, trying new restaurants, exploring the parks, and finding easy-to-cook meals that are nutritious and delicious.
Taylor Kapsimalis
Thomas Jefferson University
Taylor Kapsimalis is a second-year PA student at Thomas Jefferson University-East Falls, where she served as the Student Academy Representative for her program's student society this past year.
Prior to PA school, Kapsimalis worked as a full-time athletic trainer, having earned her B.S. in athletic training from Quinnipiac University and her M.S. in community health education from Merrimack College. Kapsimalis is a member of the Alpha Eta Honor Society for Allied Health Professionals. While working as an athletic trainer, Kapsimalis was a mentor for athletic training students from Assumption College and Merrimack College. One of her most memorable experiences prior to PA school was serving as an annual Boston Marathon medical volunteer where she had the opportunity to work with an interdisciplinary medical team at the peak of Heartbreak Hill.
In her free time Kapsimalis enjoys spending time outdoors, preferably hiking somewhere in the woods. She also enjoys yoga, camping, and spending quality time with friends, family, and pets.
Timothy Ulleseit
Oregon Health and Science University
Timothy Ulleseit is a second-year student at Oregon Health and Science University where he serves as the Vice President of his class. He completed his undergraduate studies at the University of California, Davis, and earned a Bachelor of Science in Psychology.
He is the PA program chair and a founding member of the Oregon Student Service Corps, an interprofessional organization dedicated to serving the community during the COVID-19 pandemic. In addition, he is an Area Health Education Centers (AHEC) Scholar with an interest in addressing healthcare disparities that affect both urban underserved and rural communities.
Prior to PA school, Ulleseit worked for seven years in emergency medical services. He started as an emergency medical technician then later returned to school, earned an Associate of Science degree in Paramedicine, and became a nationally certified paramedic in Santa Clara County. While working as a paramedic, Ulleseit also taught EMT and paramedic classes at a local community college and he is interested in exploring PA education in the future. Outside of work, Ulleseit volunteered at the Santa Clara Valley Blind Center, providing services to the visually impaired and fundraising during local bingo nights for braille classes, counseling services, and mobility workshops.
Ulleseit is passionate about making healthcare accessible to all members of his community. He is interested in how PAs can increase access to primary care services via telemedicine, mobile units, and tiered 911 dispatch systems. In addition, he wants to address the growing opioid epidemic in our country and destigmatize substance use disorder. He is excited to advocate for the PA profession on a national level and wants to use his platform as a student delegate to share the voice of his class and community.
In his free time, Ulleseit enjoys cheering for the San Jose Sharks, going on hikes with his wife, Caitlin, and their rescue dog, Taz, kayaking, creating home-made hot sauces, and photography.
Annie Wildermuth
University of Nebraska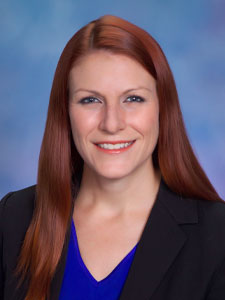 Annie Wildermuth, MMS, PA-C, CAQ EM, RD, is the Associate Program Director and Admissions Director at the University of Nebraska Medical Center (UNMC) PA Program. A PA educator for five years, she has directed the clinical medicine course series and enjoys teaching emergency medicine, nutrition, and clinical reasoning. After starting her career working in urology, she has clinically practiced in emergency medicine for the last eight years, earning her Certificate of Added Qualification in 2018. Her research interests include admissions, eating disorders, and a variety of emergency medicine subjects. Annie works closely with the US Military's Interservice Physician Assistant Program (IPAP), serving as the liaison between UNMC and IPAP, and thoroughly enjoys this collaboration and the opportunity to support the military. She has served on the PAEA Future Educator Development Steering Committee since 2018 and is passionate about working with PA students to help the next generation shape the future of the PA profession. A 2012 graduate of Arcadia University's PA Program, Annie is currently a student in the Salus University PhD in Biomedicine program, where her dissertation is focused on the predictive ability of admissions interviews on success academically and professionally in PA education.
Originally from East Lyme, Connecticut, Annie currently resides in Omaha, Nebraska. As a University of Connecticut alumni and former UConn Women's Basketball team manager, she roots for the Huskies whenever she can. She enjoys visiting the ocean, hiking, and spending time with her family and friends.