Bianca Belcher: 4 Things to Know About Becoming a Leader
Belcher Shares Tips for Moving from Clinician to Leader
September 19, 2019
By Eileen Denne, CAE, APR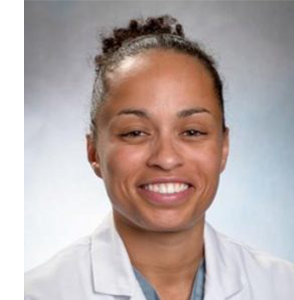 Executive Director of Clinical Integration, Bianca Belcher, MPH, PA-C, at Steward Health Care Network, describes how she has transitioned from a clinical role to a senior leadership role. Her guiding principles are not rocket science – but they're crucial for any clinician  starting on the path to leadership.
Belcher will speak about climbing the leadership ladder at the upcoming Center for Healthcare Leadership and Management (CHLM) Executive Leadership Conference, Nov. 12-14, 2019.
Get involved to build opportunities
Through each of her various roles, Belcher added different skills to her toolbox – which opened up new opportunities. The first step on her path to leadership was literally getting involved in as much as possible. Anyone interested in leadership should consider Belcher's path and what she gained from each new experience.
Belcher's leadership journey started while in PA school at Northeastern University, where she served on volunteer committees and boards. "My first step to getting involved was gaining a better understanding of the profession as a whole, on the AAPA Student Academy board, Massachusetts Academy of PAs board, and serving on the (former) AAPA Governance Committee."
She also took on some informal leadership roles during her first job as a practicing PA at Brigham and Women's Hospital. She headed up their individual practice marketing plan and their research; she was the lead on five different clinical trials and on community outreach. 
"I wasn't able to just walk from PA into a leadership position, so I built a leadership position from my clinical role," Belcher says. "That allowed me to then transition into academia at Northeastern University. It was a little different flavor and a career detour but allowed me to gain some leadership skills such as managing my own course load, managing a program within the PA program, understanding leadership outside of a hospital and a traditional clinical role. It gave me a skill set I couldn't get in a hospital. That job transitioned me to healthcare consulting at CHLM which allowed me to gain more skills around a different role."
[Find Your Passion at Any Stage of Your PA Career]
As CHLM, consulting incorporated leadership and management because it required looking at large scale operations. CHLM looked at hospitals or entire hospital systems and it forced Belcher to be "really good" at quality and process improvement.
"You're not consulting to do all the work yourself; you're essentially prescribing a plan for someone else which is a lot of leadership and management – deciphering data, coming up with strategy and implementing the strategy. CHLM help me hone those skills," Belcher says.
Belcher then moved from CHLM to her current role working for Steward Health Care Network. She oversees programs that are clinically-oriented but, she says, she has less day-to-day control over things. "I am essentially helping to implement day-to-day plans across the country. I've found that there are not many places that you can get that experience other than working for a large network."

[One Interview Tip I Would Give to All PAs]
Utilize three important skills
Asked about the skills that she has used consistently in each role, Belcher says communication, a strong work ethic, and big picture thinking have each been important. It's crucial to hone each one in order to succeed in leadership roles.
Belcher explains that PAs are often the communicators of their medical teams, skilled at bringing in all the stakeholders. "We communicate with physicians, nurses, patients. We're the information hub for every clinical team we are on. That has been helpful in my work, remembering all the key stakeholders and not excluding folks who should be in on conversations."
 As for work ethic – "PAs are generally very hard workers," Belcher says. "We are the last to leave and we're constantly making sure the i's are dotted and t's crossed for patient care. That work ethic is imperative to moving into leadership. As a leader you do different work, but the work ethic carries you through. It is something I honed as a clinically-working PA that has made me successful as manager and leader." 
Finally, PAs need to be in the weeds of patient care, but they also need to step back and ask, 'what is the big picture for this patient and how do we need to take care of them?' That skill that has translated well in Belcher's current role.
"Even as a leader overseeing such an enormous program, there are days I spend time in the hospital getting into the details of how a program works and who hands off the patient to whom in one unit at one hospital in order to make my entire program work. But the next day, I may have to look at all 37 hospitals from afar and make strategic decisions," she adds.
Don't be afraid to work your network
Belcher says that one crucial thing that helped her move up in her career has been her network. In fact, she can't think of a job she has landed without knowing someone who worked there or recommended her. Your skills help keep you in a job and allows for success and more opportunities, but first and foremost, she says, it is all about network development.
[Mentors Matter: PAs Pay It Forward]
"I got this job at Steward because of volunteering on the Massachusetts Academy of PAs board. I worked with a PA on the board when I was a student and we kept in touch," Belcher says. She was an exec here and when this job opened, she called me and said it would be a good fit. If I hadn't had that connection, I probably wouldn't have gotten this job."
Belcher recommends several ways to improve networking skills, including attending events and getting involved in state and national associations, in addition to volunteering.
"It is important to broaden your network. You meet people in all kinds of  places. I've met interesting and influential people who have helped me out in my career at nonprofit fundraisers, community fun runs, and my adult basketball league where I've met CEOs."
Belcher is also disciplined about organizing lists of people she has met and periodically getting in touch with them. "I keep notes and periodically send an email to my contacts, saying 'hey, just checking in…what are you up to?' I try to talk to that person every six months so if I ever need anything, I feel comfortable reaching out."
She also says yes to meetings and has more than 3,200 followers and 2,500 connections on LinkedIn. Unless people are reaching out regularly and personally, however, that doesn't make a network, according to Belcher. People sometimes get a false sense of connection based on social media, she says. "Just because we're connected on LinkedIn doesn't mean I actually have a personal connection to you and am willing to put my name out there for you." Regular communication makes the difference.
Say yes to any and all opportunities
Her advice to recent PA school graduates about becoming a leader is to say yes to any and all opportunities that come their way. Belcher says students and  practicing clinicians may get offered opportunities and not always feel ready; but if offered, she recommends jumping in.
"Eventually you start to hone what you're good at, what skill-building you need and what you like. You'll succeed and fail at some things, and that will lead to understanding your next steps to become a better leader. Without those, it is all academic. You can read books, and think you know what to do as a leader but until you actually have experience, it's all academic. Say yes to anything and everything that has come your way."
More Resources
CHLM Executive Leadership Conference
CHLM Leadership and Management Tracks
Leadership On Demand
"How to Find Your Voice at the Leadership Table"
PA Krisi Gindlesperger's Path to Leadership
Maureen Regan: From Clinical Provider to Healthcare Exec
Eileen Denne, CAE, APR, is director of AAPA Corporate Communications. Contact her at [email protected].
Thank you for reading AAPA's News Central
You have 2 articles left this month. Create a free account to read more stories, or become a member for more access to exclusive benefits! Already have an account? Log in.