From Riding Bulls to Seeing Patients: Former Pro Becomes a PA
PA Wiley Petersen Wanted to Help People
August 15, 2020
By Kate Maloney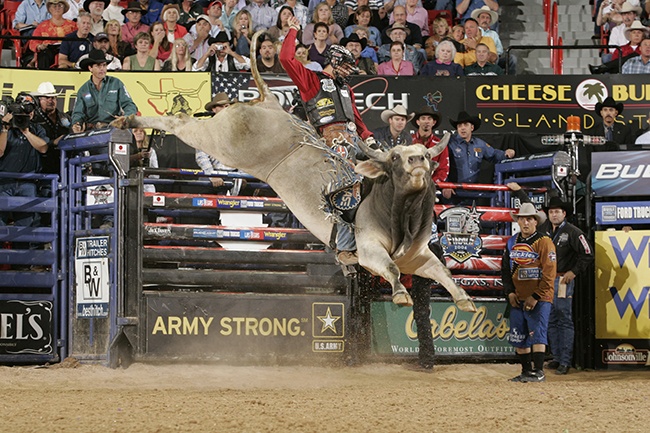 In describing what it's like atop a bucking bull, Wiley Petersen, PA-C, says, "Your mind goes blank. It's absolute chaos for eight seconds."  In the sport of bull riding, riders must stay on the bull for at least eight seconds, using only one hand. When a rider is bucked, he must then get away from the bull – with the help of bull fighters – without getting injured. Petersen spent 12 years of his life as a professional bull rider and admits that every time he got on a bull, it was a scary moment. "The rush of adrenaline never goes away. The intensity is always there. You feel so alive when you are that close to death."
Born into Rodeo
Rodeo was in Petersen's blood – both of his parents participated in rodeos, and he started riding steers when he was 10. Growing up in Idaho, he had the opportunity to compete in five or six events each year, and he would train by riding bulls each Saturday. He competed throughout junior high, high school, and college, and then eventually joined the professional ranks. "It was always my goal to be a professional bull rider," he shares. "So I just kept working at it and taking the necessary steps to accomplish it. I feel very blessed that I was able to make a pretty good living riding bulls professionally."
Teaching and Coaching
Petersen started teaching bull riding when he'd been a professional rider for two years. He co-produces Wiley Petersen's Fort Hall Bull Riding Mayhem event during the Shoshone-Bannock Festival each year and hosts a few clinics a year, teaching his students the finer points of bull riding. "I really enjoy seeing my students go through the same emotions that I did when I was riding," he says. When a friend of Petersen's pitched the idea of an all-Native American bull riding team to the sport's governing body, and recommended him for the job, Petersen didn't hesitate. "I was honored and excited to be involved," he says.
[Once an Interpreter, PA Now Serves Spanish-Speaking Population]
Petersen's coaching responsibilities included choosing the team's riders and which bulls they would ride during the event. "Since the riders are established in the sport, my job was really to keep them in the right mindset during the event. Coaching is the easy job – riding is the tough one!" The team received support from all over the country, and Petersen was proud to be part of a team that highlighted the talented Native American bull riders in the U.S. "I was not nearly as nervous as a coach as I was when I was a rider," he confesses. "I was nervous for my riders, but it was very fun and a great opportunity for me and the team."
After Bull Riding
Petersen quit riding in 2012 and had long been considering options for his next career. He'd heard about the PA profession and thought it might be a good fit for him. He kept the idea in the back of his mind while he spent two years exploring career options related to bull riding – marketer, instructor, TV commentator. "Nothing was catching my attention," he says. "I wanted to do something where I could help people in a tangible way. Becoming a PA really felt like the right path for me to take, so I jumped in and started making my plans to get it done."
[PAs Deliver Health Care to U.S. Asylum-Seeking Immigrant Families]
Petersen had been away from school for 12 years and needed to finish his bachelor's degree before starting PA school. "At the time, it seemed like an insurmountable challenge," he says. But Petersen is not one to shy away from challenges. "I had to relearn to study and manage my time," he says. "I'd never done much online learning before, so that was a big change." He cut back on his bull riding activities and focused his time and energy on his studies. His wife, Amy, a registered nurse, and their sons were very supportive of Petersen's decision to return to school and pursue the PA profession. Petersen graduated from Idaho State University's PA program in August 2018.
PA Career
Petersen wanted his first job as a PA to be in family medicine. He was hired by the Shoshone-Bannock Tribal Health and Human Services Community Health Services, and has been working there since March 2019. "I really enjoy being on the front lines of healthcare," Petersen says. "And I feel like I am helping the Native American people in my area."
He's found his unique background helpful in his PA practice. "I have learned how to face fear and challenges head on. I know how to work hard and get things done. I know that I'm willing to put in the effort when I'm dedicated to something, and I know that confidence is something you gain from practice." He's already putting these lessons to use as a PA. "I want to be a great provider," Petersen says. "I want my patients to trust me to do my best for them."
Editor's note: This article originally appeared in June 2019.
Wiley Petersen, PA-C, practices family medicine at the Shoshone-Bannock Tribal Health and Human Services Community Health Services in Fort Hall, Idaho.
Read More
PA Leads Cheers for Philly Eagles and Her Patients
PA Trains as Ninja Warrior
Kate Maloney is AAPA's senior manager of corporate communications. She can be reached at [email protected].
Thank you for reading AAPA's News Central
You have 2 articles left this month. Create a free account to read more stories, or become a member for more access to exclusive benefits! Already have an account? Log in.