PA Finds Leadership and Management Certificate Program Life Changing
CHLM and Northeastern University Offer Specialized Leadership Training
April 16, 2019
By Eileen Denne, CAE, APR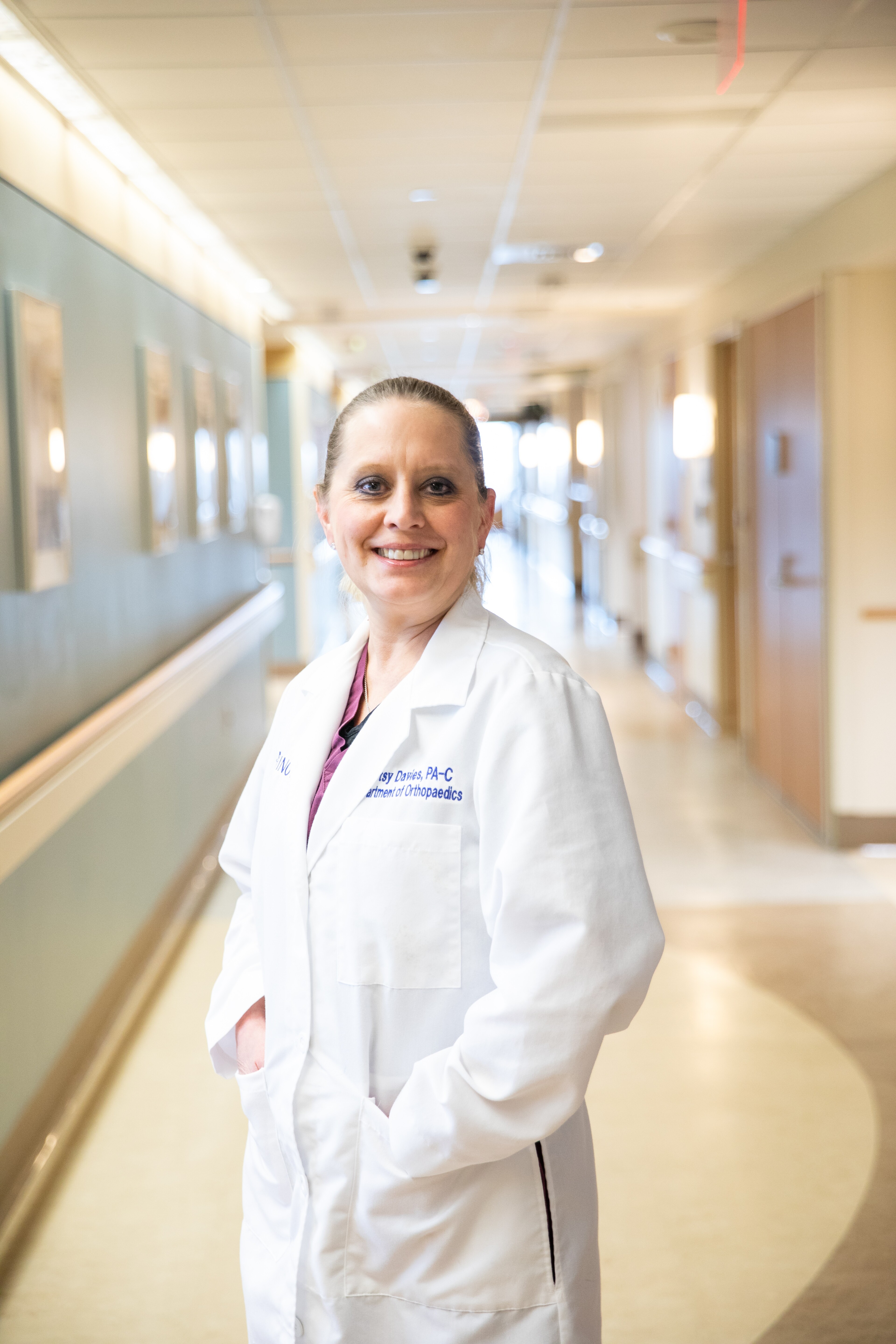 Elizabeth "Betsy" Davies, PA-C, calls her experience as a student in the CHLM and Northeastern PA/NP Leadership and Management Certificate "life changing" and thinks the certificate should be required for those who want to move into more administrative roles at their organizations.
Davies is currently a PA in the Department of Orthopaedic Surgery at Inova Health System in Falls Church, Virginia, where she triages the patients based on who is medically cleared for the operating room (OR) and priority of fracture type. She also serves as orthopaedic liaison for all the other specialty services, Internal Medicine service and the Acute Care Trauma Surgery Service.
"I absolutely love this program," Davies says. "It has taught me so very much. Not just about being a leader for other PAs, but about how to lead your way up! I learned a great deal about advocacy and billing. And, I cannot say enough about how it has taught me to build relationships, both at work and in my private life."
The CHLM and Northeastern PA/NP Leadership and Management Certificate focuses on critical competencies related to managing and leading within healthcare organizations. Students must successfully complete 12 credits, four 3-credit courses, to earn the graduate certificate. The courses include Advocacy in Leadership and Medical Billing and Reimbursement for PAs and NPs during fall semester, plus Principles of Leadership in Healthcare and Metrics: Measuring, Comparing, and Privileging Your PA and NP Workforce during spring semester. All are offered online.
Davies' inspiration for applying for the program came from changes at her organization. She was already looking at Inova's billing procedures and at PA productivity and utilization. Then came the announcement that they were getting a new system-wide president and CEO, J. Stephen Jones, MD, MBA, FACS, from Cleveland Clinic.
"This is when the stars began to align. After investigating what Cleveland Clinic accomplished under Dr. Jones' leadership, I realized that huge changes were going to take place here when he came on board. I knew it was time to make a move and decided to apply."
She found the application process easy and got help from program director Bianca Belcher, MPH, PA-C. Although Davies was not offered tuition reimbursement for a certificate program, she was able to use her CME funds which she said paid for a large portion of the $10,800 total.
She has appreciated the group discussion boards for some assignments and suggests the program adopt an ongoing discussion board that can be used throughout the program for all types of PA-related issues.
In addition, she has been able to use her new-found knowledge from the certificate program immediately. "I have been using it daily and I am building my network. Plus, the program is very doable even with a full-time job. I don't have kids, but I do have a second job. I was still able to do Saturday classes and attend a few events. There is always the option for someone to go part-time as well. And, CHLM is continuing to grow the educational opportunities for PAs and adding some great online courses for PA leadership."
Davies hopes that Inova will continue to progress with Advanced Practice Provider (APP) leadership and governance and thinks they have the potential to be one of the leading healthcare systems in the nation. "Our previous administration did not seem interested in moving PAs forward with leadership and governance. However, we are in the process of significant change."
With those changes, and armed with a CHLM and Northeastern PA/NP Leadership and Management Certificate, Davies will be well-positioned to climb the leadership ladder.
Applications for the Fall 2019 semester are due by August 1, 2019. Applicants will be informed of admissions decisions by August 15, 2019.
CHLM Leadership and Management Tracks
MidMichigan Health Demonstrates APP Value Through Leadership
GW Masters' Strengths Are Small Online Classes and Faculty Expertise
Eileen Denne is director of Corporate Communications at AAPA. Contact her at [email protected].
Thank you for reading AAPA's News Central
You have 2 articles left this month. Create a free account to read more stories, or become a member for more access to exclusive benefits! Already have an account? Log in.