'A Salesman for the Profession': Meet the 2019 Eugene A. Stead Lifetime Achievement Award Recipient
Ted Ruback, MS, PA-C Emeritus, Has Served the PA Profession for 40 Years
April 15, 2019
By Sarah Blugis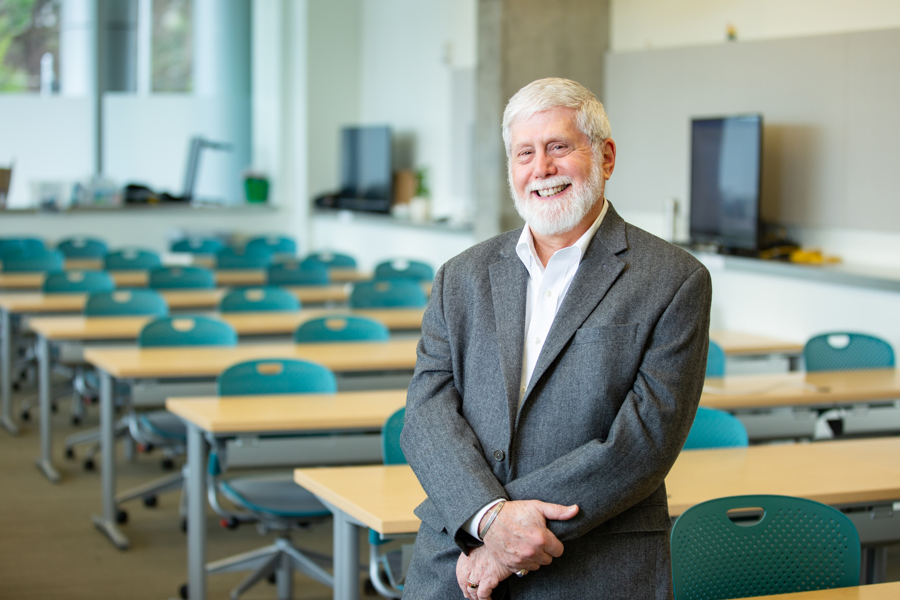 For Ted Ruback, MS, PA-C Emeritus, his career has come full circle. In May,  he will be presented with the Eugene A. Stead Jr. Lifetime Achievement Award at the American Academy of PAs (AAPA) Conference in Denver, Colorado – the same place he realized he wanted to be a PA, in 1975. After learning that the PA profession existed at a career fair, he applied to and later graduated from the Child Health Associate Program at the University of Colorado Health Sciences Center.
"This year marks my 40th year as a PA," Ruback says. "Receiving an award for my life's work in Denver, back where it all started, is all the more meaningful to me."
The Eugene A. Stead Jr. Lifetime Achievement Award honors a lifetime of achievement that has had a broad and significant impact on the PA profession. It is AAPA's most prestigious award.
Ruback practiced full time for 13 years as a PA in pediatrics, first in Washington and then in Georgia. He was invited to lecture on pediatrics at Emory University School of Medicine, where he then joined the faculty  as clinical coordinator for the PA program in 1990, and a year later was named associate director/director of admissions.
In 1994, Ruback was offered an opportunity to move to Oregon to develop the state's first PA program, at Oregon Health & Science University (OHSU). And while he says that starting the program from the ground up was "a daunting task," it was also his "most rewarding career accomplishment." The OHSU PA program began accepting students in 1995. Then, in 2002, in the program's first year of eligibility, it was listed among the top 10 PA programs in the country by U.S. News & World Report. Ruback served as the OHSU program director for 22 years. In 2006, Ruback was selected for the Physician Assistant Education Association's (PAEA) prestigious Master Faculty Award.
"The most gratifying part of my career would have to be my contribution to the education and professional development of 576 graduates during my tenure as director of the OHSU PA Program," Ruback says.
Throughout his career, Ruback has also been instrumental to the advancement of the PA profession – both in Oregon and across the country.
In 1995, he submitted a proposal to PAEA for the Central Application Service for Physician Assistants (CASPA), which would allow students to apply to multiple PA programs through one single application. Ruback advocated for and participated in the development of CASPA, which has been adopted nearly universally by PA programs nationwide over the last 10 years. Ruback later served on the Board of Directors of PAEA for four years, serving as President from 2009 to 2010.
Ruback has also been instrumental to the other organizations representing and advocating for PAs. He has volunteered in various roles with the National Commission on Certification of Physician Assistants (NCCPA) as well as the Accreditation Review Commission on Education for the Physician Assistant (ARC-PA). Ruback has been an AAPA fellow member since 1976, and representing the state of Oregon, was a delegate in the AAPA House of Delegates for more than 18 years. He also served as a member of the AAPA Education Council for four years and as its chair for two.
"This was during the time the profession was debating whether the master's degree should be recognized as the terminal degree for the profession," Ruback says. And as a member of the Education Council, he advocated successfully for the HOD to adopt the master's degree as the entry-level degree for the PA profession.
State-level volunteering was a significant part of Ruback's career, as well. He has been a fellow member of the Oregon Society of Physician Assistants (OSPA) since 1995, and served a three-year term as its president. And over the years, he was named the OSPA PA of the Year (2002) and was awarded the OSPA Past President Award (2003). He has served on the OSPA government affairs committee for the last 15 years, helping to pass significant legislation to improve PA practice in Oregon. Ruback was also a member and then chair of the Oregon Medical Board's Physician Assistant Committee for four years.
On Ruback's resume, there are too many accolades and accomplishments to name – leadership positions, awards, published pieces, and more. For Ruback, though, it all comes down to acting as a "salesman for the PA profession" and for the OHSU PA program. This, he says, has been one of his greatest strengths and joys.
"What better accolade than to hear from students that 'I became a PA' or 'I came to OHSU because of your obvious enthusiasm for the profession and the program'?" Ruback says. "I owe the PA profession a great deal and am proud of the work I have done in payback for a rewarding career. The PA profession is an easy sale."
Thank you for reading AAPA's News Central
You have 2 articles left this month. Create a free account to read more stories, or become a member for more access to exclusive benefits! Already have an account? Log in.