MidMichigan Health Demonstrates APP Value Through Leadership
Opportunities to Provide Meaningful Input Lead to Positive Change
March 22, 2019
By Eileen Denne, CAE, APR
MidMichigan Physicians Group (MPG), a subsidiary of MidMichigan Health, has a tradition of strong advanced practice providers (APPs) (PAs and NPs) who are valuable members of the medical team in clinical and leadership roles. PAs at MidMichigan Health say that their value is embedded into their culture.
"There is a genuine culture of acceptance at MidMichigan," says MidMichigan Health APP Dyad Leader Ken VanSumeren, PA-C. "We are encouraged to practice at the top of our education and experience and have been integrated into the leadership team."
MidMichigan Health is a non-profit health system, headquartered in Midland, Michigan, affiliated with Michigan Medicine, the healthcare division of the University of Michigan. MidMichigan Health covers a 23-county region with medical centers in a variety of locations. In addition, MidMichigan Physicians Group provides urgent care and medical offices in more than 30 specialties and subspecialties. MidMichigan has more than 7,400 employees, volunteers, and physicians, and provided $144 million in community benefits in fiscal year 2018. It includes 791 physicians and 305 APPs.
MidMichigan Health was named a Center for Healthcare Leadership and Management (CHLM) Employer of Excellence (EOE) 2018-2019 awardee in May 2018. Among the EOE criteria which MidMichigan exceeded were establishing a positive and supportive PA work environment; providing opportunities for meaningful input that lead to positive organizational change; and keeping PAs informed and involved in leadership efforts to improve the quality of care.
MidMichigan Health was also named to Becker's Hospital Review "150 Top Places to Work in Healthcare in 2018," which they said reflects the hard work and dedication of their employees.
Seat on the board and medical executive team
In addition to having a seat on the MPG board and recently the executive team, PAs also actively participate on multiple committees such as peer review, credentialing, provider wellness, and quality committees. Their voices impact policy and culture and give them the authority to start new programs which help address challenges.
"Including PAs in leadership positions improves employee satisfaction which ultimately improves patient care," says APP Dyad Leader Cari Stenz, PA-C. "MidMichigan's support of the PA profession improves our patients' confidence in our care."
APP Dyad Leader Cheryl Volkmann, PA-C says a key focus area for MidMichigan is including PAs on administration sponsored teams to help improve overall operations and create a positive work environment.
APP dyad council a robust leadership model
In 2016, MidMichigan Health instituted its dyad leadership model, a partnership in which an administrative leader is paired with a physician, PA, or NP leader to bring together skills and expertise. Dyad leadership offers benefits including securing the full spectrum of leadership skills needed to deliver strong management and change across multidisciplinary groups; ensuring maximum return on each leader's time and effort; and creating a solid partnership and strong teamwork.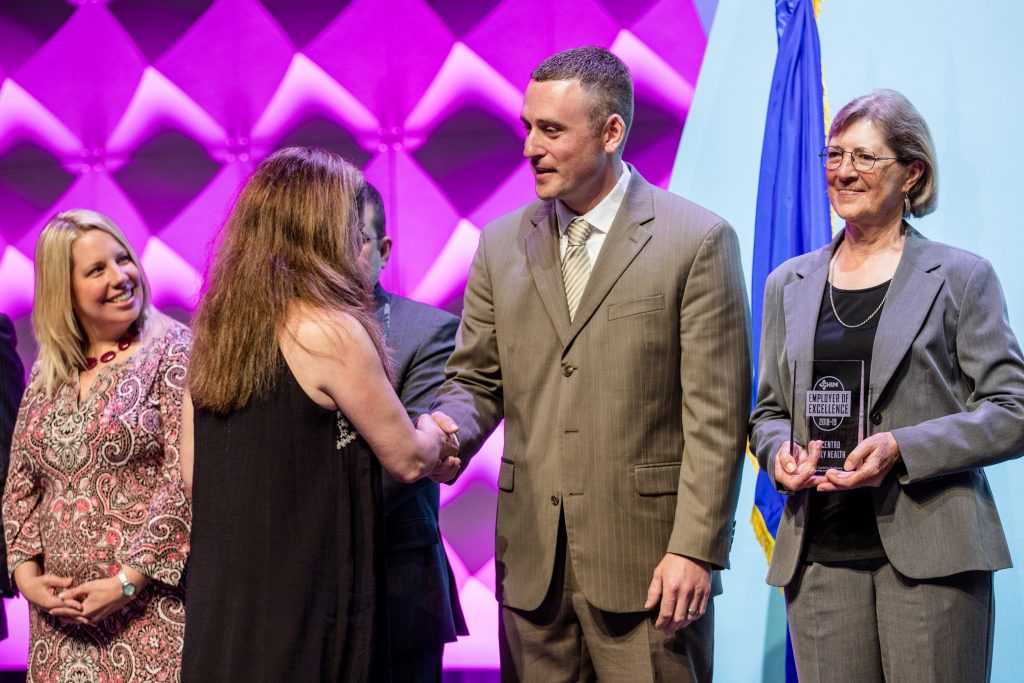 Six APPs are identified as dyad leaders at MidMichigan Health including Cari Stenz, PA-C; Stacy Carstensen, NP; Scott Kastning, PA-C; Ryan Murtha, PA-C; Ken VanSumeren PA-C; and Cheryl Volkmann, PA-C. They practice in locations throughout the organization and receive an annual stipend for their leadership role in the organization. MidMichigan Health calls its dyad council one of the more robust APP leadership models compared to other organizations.
Three years ago, the APP dyad developed an exit interview program to help identify patterns of concern. Through these interviews they developed programs such as curbside consults, orientation meetings, mentor programs, dyad partnership and post-graduate training for new hires.
"APPs take ownership of the culture and want to be part of growth and change," says VanSumeren. "We have had a sit-down meeting with every new APP hired over the past 3-1/2 years to introduce MidMichigan. At these meetings we discuss the dyad, our APP culture, and introduce the programs that have been developed and run by APPs. We ask for input and observations from new hires, who tell us they haven't experienced the instant connection to peers and greater purpose at other organizations."
Curbside consult network improves communication
One of the programs developed by the APP dyad leaders to decrease burnout and provide support to APPs is MidMichigan Health's curbside consult network. "It evolved from discussions with primary care APPs who felt isolated from other providers and uncomfortable with management of certain diseases," says Murtha, PA-C. "The goal of the curbside consult network is to borrow the concept of one provider asking an 'off-the-record' question in order to gain insight and clarity for a particular patient presentation. Specialty APPs are asked to provide contact information and be open and available to questions by primary care APPs. The curbside consults may lead to formal consults but can also lead to reassurance and guidance for a primary care APP who may feel isolated."
This helps with recruitment of providers, Murtha says, which is always challenging for a rural health system. Many providers choose to work in larger healthcare centers in big cities and this creates an opportunity for APPs. Eighty percent of MidMichigan Health's APPs are recruited from local markets, creating teams that are familiar with the local population and vested in the community. This improves retention of APPs as well as leading to a stable workforce that provides the same standard of care as larger hospitals.
Partnership for leadership training
MidMichigan Health recognizes that leadership development for its dyad leaders is crucial to their next stage of growth. They partnered with a local university to provide leadership training. MidMichigan Physicians Group and Saginaw Valley State University designed an educational program to result in a Master of Science in Healthcare Administration and Leadership.
This unique multi-disciplinary program is designed for those preparing for leadership positions in healthcare. Core courses provide a sound foundation in health and organizational leadership with electives providing opportunities to meet individual learning needs. The program offers online and hybrid classes designed to prepare physicians, PAs, NPs, and executives for advanced leadership roles. The initial cohort of executives and providers graduated from the program in May 2017.
Employer of Excellence Award applications open November 2019
MidMichigan Health has been using its EOE award to promote itself in recruiting PAs. The EOE reinforces with APP candidates that MidMichgan Health supports leadership growth and development within the organization.
The EOE Awards are designed to recognize and showcase employers that create a PA-positive environment and encourage collaborative provider teams. CHLM partnered with HealthStream in 2017 to better understand what PAs value in their place of employment. Based on the findings, CHLM identified five key drivers as criteria for its EOE Awards, including:
Establishing a positive and supportive PA work environment.
Creating processes for effective conflict management.
Providing opportunities for PAs to provide meaningful input that leads to positive organizational change.
Communicating to keeps PAs informed of organizational activity and decisions.
Involving PAs to improve the quality of patient care through leadership efforts.
The next application period for the 2020-2021 EOE Awards will open in November 2019.
Read More
NYU Langone Health Focus on PAs a Game Changer
National Recognized Best Hospital Snags Award for Exceptional PA Workplace
PAs Critical to New Mexico Rural Health Clinics
Eileen Denne is director of Corporate Communications at AAPA. Contact her at [email protected].
Thank you for reading AAPA's News Central
You have 2 articles left this month. Create a free account to read more stories, or become a member for more access to exclusive benefits! Already have an account? Log in.