NYU Langone Health Focus on PAs a Game Changer
Role of PAs More Visible, Accountable, Clinically Significant at EOE Winner
January 22, 2019
By Eileen Denne, CAE, APR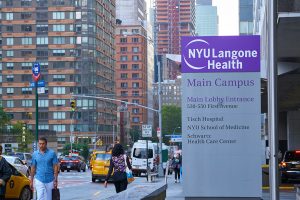 Recognizing that staying one step ahead of the competition, being progressive in leadership structure, and ensuring that PAs feel valued at their place of employment are all key to how NYU Langone Health is able to recruit and retain talented PAs. NYU Langone has taken several critical steps to ensure their PAs are practicing at the top of their education and experience, and feel invested in the organization.
Positioning a PA at the head of PAs at NYU Langone was a game-changer for recruiting and hiring, says John Davidson, senior director, PA Services and Care Management. This led NYU Langone to establish a system-wide approach to recruiting, credentialing, privileging, onboarding, and orienting all PAs.
"Having a PA leader gave us the opportunity to hire more PAs and prove to the position leaders that we are a valuable workforce," says Davidson. "Bringing visibility to PAs was a huge win for us."
NYU Langone's assistant director of PA Services, Christopher Anderson, agrees. "The PA role has been continually refined to be able to practice at a higher level. We've created a lot of new and expanded services to include advanced practice providers (PAs and Advanced Practice Registered Nurses) and have given them a lot of responsibility to care for our sickest patients at the Medical Center."
Davidson, who reports to the chief medical officer, also instituted a PA training program. The affiliation agreements signed with PA programs so students could train were another game changer, he says, "because physicians who had traditionally never worked with PAs started to work with PA students and found out that their education is great."
NYU Langone is in Manhattan with additional facilities throughout the New York City area, including six inpatient locations. It includes over 300 ambulatory sites at locations throughout New York City's five boroughs, Long Island, New Jersey, Westchester, Putnam, Dutchess counties and Florida, and affiliation agreements with five hospitals.
[Watch this video about the Employer of Excellence Award]
NYU Langone was named a 2018-2019 winner of the Center for Healthcare Leadership and Management's (CHLM) Employer of Excellence (EOE) award in May 2018. Among the EOE criteria exceeded by NYU Langone were: establishing a positive and supportive PA work environment; providing opportunities for meaningful input that lead to positive organizational change; and keeping PAs informed and involved in leadership efforts to improve the quality of care.
APPLY NOWNOMINATE YOUR EMPLOYER
In addition, it has garnered recognition from U.S. News & World Report as a "Best Hospital" for neurology and neurosurgery; earned a 5-star rating for safety, quality, and patient experience from the Centers for Medicare and Medicaid Services (CMS); and received The Gold Seal of Approval by The Joint Commission, among other designations.
PA Leadership Council and teamwork
According to PA Manager Adam Slevin, NYU Langone has a positive and supportive PA work environment due to a clear and defined organizational structure. Regular PA Council and PA Leadership Council meetings give PAs the chance to network, partner, and make their needs known. The PA Council is a volunteer group of PAs from within the entire health system who meet bi-monthly to address the questions, concerns, and positive aspects of the PAs in the department. To manage conflict, PAs meet daily with other departments during planning rounds to agree on patient care plans. Several PAs are being trained to be peer supporters, empowered to counsel colleagues after cases with poor outcomes.
Susanne M. Farrell, PA-C, MPAS, DFAAPA, PA manager, Department of Surgery, NYU Langone Hospital—Brooklyn, confirms that, "the role of PAs here has become more visible, accountable, more clinically significant, and more involved in the operations of the organization at large."
PAs can communicate on a PA Services website, for example. They are encouraged to participate in the "NYU Langone Annual Think Tank" where employees are challenged to offer innovative ideas for patient safety. PAs are acknowledged for their accomplishments with annual awards for top performers. In addition, the PAs' Social Committee develops team building exercises and events to help maintain a positive outlook.
PAs are also encouraged to pursue additional education and professional development through tuition remission and continuing education programs. Farrell describes several monthly multidisciplinary PA/MD education meetings for improving clinical competence and the quality of care that the PA/MD team delivers. Other education offered at no-cost to the PAs are: Advanced Trauma Life Support, the Fundamentals of Critical Care Support, and SIM Lab training. In addition, NYU Langone created an ED PA Fellowship that allows PAs interested in Emergency Medicine to rotate through several specialties and acquire the knowledge necessary to practice in a high-acuity Emergency Department.
Developing career paths and opportunities
In addition to the variety of support systems for PAs, NYU Langone is mindful of establishing developed career paths for PAs. PAs are being trained to perform surgical consults and taught procedures to function at a higher level (like a PGY2-3 resident) as the number of residents decreases. NYU Langone started a training platform for high-complexity, low-volume procedures.
Slevin had the privilege of being hired as a PA in robotic surgery four years ago. At the time, NYU Langone was one of the first institutions in the country to implement an assist robotic program across the subspecialties of urology, gynecologic, and general surgery. He is personally involved in committees including a Robotic Oversight Committee which includes surgeons and anesthesiologists, members of hospital finance and billing, peri-operative management, and nursing.
"The foresight in developing and growing the robotic PA program is one of the many examples of NYU Langone implementing protocols that create a PA-positive environment," Slevin says.
Jordan Dourmashkin, PA manager, Department of Emergency Medicine, adds that NYU Langone's focus on development is a remarkable part about the culture. "Being able to start a fellowship in emergency medicine; to develop our own CME program, journal club programs, and procedural skills lab, give PAs opportunities to develop themselves outside of just the practice experience that they might get on shift."
Davidson adds: "We expect our emergency medicine PAs to function at the level of a senior resident, if not a junior attending. We're taking care of some of the sickest patients in an urban environment. We expect our PAs to be able to take care of those patients and so we want them to be prepared so they provide the highest-quality care in emergency medicine of any providers in the New York City area."
Recommending to friends and colleagues
Farrell thinks that NYU Langone has created a better environment for PAs in terms of engagement, motivation and overall job satisfaction. "I believe it speaks volumes that some of our staff commute from across state lines and quite a distance to work here and are committed for the long haul. Most of our referrals for recruitment have come from within our current PA staff reaching out to their friends, colleagues, and the PA programs they attended to encourage people to work here."
Davidson believes that NYU Langone's PA programs and benefits differentiate them from other employers: "PAs are rewarded for participating in shared goals like length-of-stay, discharge-before-noon, and patient experience. We have the fellowship in emergency medicine which a lot of our competitors are doing now. Our PA leadership structure also differentiates us a lot from our competitors."
Being forward thinking and continuing to create new opportunities for growth is critical, he adds, "People leave [their organizations] because they're not feeling challenged or professionally valued. I think that other organizations really need to focus on the professional value of a PA to a healthcare organization."
Apply for Employer of Excellence Award
The EOE Awards are designed to recognize and showcase employers that create a PA-positive environment and encourage collaborative provider teams. CHLM partnered with HealthStream in 2017 to better understand what PAs value in their place of employment. Based on the findings, CHLM identified five key drivers as criteria for its EOE Awards, including:
Establishing a positive and supportive PA work environment.
Providing opportunities for PAs to provide meaningful input that leads to positive organizational change.
Keeping PAs informed of organizational activity and decisions.
Involving PAs in leadership efforts to improve the quality of patient care.
Creating processes for effective conflict management.
Applications for 2019-2020 EOE Awards are open through Feb. 8, 2019.
Eileen Denne is director of Corporate Communications at AAPA. Contact her at [email protected].
Thank you for reading AAPA's News Central
You have 2 articles left this month. Create a free account to read more stories, or become a member for more access to exclusive benefits! Already have an account? Log in.