Thinking About Retirement? You've Got Company.
PAs Retiring Earlier Than Expected
February 26, 2019
By AAPA Research Department
The challenge with retirement
With expansion of coverage under the Affordable Care Act, an aging population, and population growth, there are more patients seeking healthcare than ever, especially those aged 65 and older who heavily utilize healthcare. What's more, there is an anticipated shortage of physicians as well as a decline in the proportion of PAs in primary care.1
PAs are frequently positioned to help fill the gap left by the physician shortage. With many PAs nearing retirement, it is critical to examine the skills and knowledge of PAs approaching retirement aged 55 and older in order to understand where the most strain may be felt.
When will PAs retire?

More than one in every seven PAs in the United States are age 55 and older, with a majority of PAs predicting they will retire by age 65. As one would assume, PAs nearing retirement are more confident in their expected age of retirement and in their preparation for retirement than those under 55. Surprisingly however, PAs are retiring earlier than age 65. Although the median expected retirement age for PAs was 65, the median actual age of retirement was 61. The findingthat PAs are retiring earlier than expected is in contrast to previous research indicating that PAs over 55 intend to delay retirement to age 67.2 However, this is consistent with more recent findings from The Physicians Foundation that about half of all physicians are planning to accelerate retirement due to the changes in healthcare.3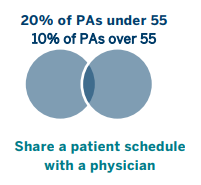 PAs nearing retirement have greater autonomy
Although there were no significant differences in the number of patients seen by PAs approaching retirement and younger PAs, other profound differences exist. PAs approaching retirement indicated more autonomy from their collaborating physician with just 10% having a shared patient schedule with a physician compared to the 20% of PAs under age 55 who share a schedule with a physician. Further, PAs approaching retirement more frequently indicated that their collaborating physician only sees their patients when asked (60% vs 50%). As a result, younger PAs may have more requests for their collaborating physicians time than PAs 55 and older.
More rural PAs nearing retirement
Across the U.S., AAPA Research has found that although 16% of all clinically practicing PAs are in Non-metropolitan/complete rural ("rural") areas, more rural PAs are nearing retirement versus urban PAs. One in five (19%) clinically-practicing PAs in rural locations are approaching retirement (aged 55 and older) compared to just 13% of those in urban locations. In terms of specialty and location, PAs approaching retirement are more frequently in primary care compared to younger PAs (30% vs. 23%) and are more frequently in rural areas (19%) than in urban areas (13%). With the existing shortages of providers in primary care and rural areas, the greater percentage of PAs approaching retirement in these areas suggest that these shortages may worsen as current clinicians retire.
Nearly 21% of the U.S. population lives in a rural area4 where generally patients frequently face more obstacles to healthcare compared to their urban resident counterparts. While the Affordable Care Act has greatly increased care coverage, issues such as access to physicians remain. In particular, rural areas face greater access to care issues with a lower ratio of primary care physicians to patients.5 PAs in rural areas are also more likely so see patients who are on Medicaid and Medicare.6 Complicating this issue, The Rural Health Research Center estimated that the passage of the Affordable Care Act would create 725,000 new enrollees in rural areas and would generate an additional 1.39 million primary care visits.7 In order improve the state of rural healthcare, one of the recommendations from The Bipartisan Policy Center and the Center for Outcomes Research and Education was to build up the PA workforce.8 As more PAs prepare for retirement, this may be the area of greatest impact.
More resources
For a more in depth look at AAPA Research findings on retirement, check out the latest report: A Glimpse into the Aging PA Workforce 
PAs in Rural Locations Ready to Meet Primary Care Needs
Physician assistants in rural communities
Contacts and Contracts
References
New research shows increasing physician shortages in both primary and specialty care. AAMC News. https://news.aamc.org/pressreleases/article/workforce_report_shortage_04112018/. Published April 11, 2018. Accessed February 7, 2019.
Coombs J, Hooker RS, Brunisholz K. Physician assistants and their intent to retire. Am J Manag Care. 2013;19(7):256-262.
The Physicians Foundation 2016 Physician Survey. The Physicians Foundation. https://physiciansfoundation.org/press-releases/the-physicians-foundation-2016-physician-survey/. Published September 21, 2016. Accessed February 20, 2019.
Census 2000 Population Statistics. U.S. Department of Transportation/Federal Highway Administration. https://www.fhwa.dot.gov/planning/census_issues/archives/metropolitan_planning/cps2k.cfm. Accessed February 7, 2019.
Rural Data Explorer – Rural Health Information Hub. Defining Health Promotion and Disease Prevention – RHI hub Toolkit. https://www.ruralhealthinfo.org/data-explorer?id=187. Accessed February 7, 2019.
Cawley JF, Lane S, Smith N, Bush E. Physician assistants in rural communities. JAAPA. 2016;29(1):42-45. doi: 10.1097/01.JAA.0000475463.23218.c9.
Larson EH, Andrilla CHA, Coultheard C, Spetz J. How Could Nurse Practitioners and Physician Assistants Be Deployed to Provide Rural Primary Care? Rural Health Research Center; 2016. http://depts.washington.edu/fammed/rhrc/wp-content/uploads/sites/4/2016/03/RHRC_PB155_Larson.pdf. Accessed February 20, 2019.
Rural Health Care: Lessons Learned. Bipartisan Policy Center; 2018. https://bipartisanpolicy.org/wp-content/uploads/2018/01/BPC-Health-Rural-Health-Care-Summary.pdf. Accessed February 20, 2019.
About the data
Data on retirement are derived from the 2018 May and June AAPA National PA Practice Survey.
Non-Metro/Rural includes the following classifications:
Nonmetropolitan – more than 20,000 people, adjacent to metro area;
Nonmetropolitan – more than 20,000 people, not adjacent to metro area;
Nonmetropolitan – 2,500 to 19,999 people, adjacent to metro area;
Nonmetropolitan – 2,500 to 19,999 people, not adjacent to metro area;
Nonmetropolitan – fewer than 2,500 people, adjacent to metro area;
Nonmetropolitan – fewer than 2,500 people, not adjacent to metro area.
Authors
Authors are Elaine Slaven, MS, AAPA Research Associate, and Noël Smith, MA, AAPA Senior Director of Research. Contact us at [email protected].
Thank you for reading AAPA's News Central
You have 2 articles left this month. Create a free account to read more stories, or become a member for more access to exclusive benefits! Already have an account? Log in.