PAs Get Boost of Visibility in 2019
Ads to Run from January Through April 2019
January 8, 2019
PAs will get an exciting boost of visibility in 2019 so get ready to like, comment, and share!
The advertising partnership between AAPA and NCCPA continues. The goal is to raise public awareness of the PA profession.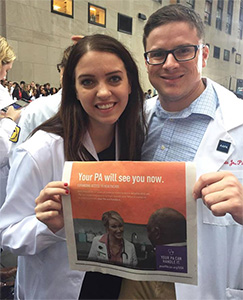 From January to April, PA-focused ads will appear in the following outlets: USA Today, NPR, AARP, Becker's Hospital Review, Health Leaders, Fierce Healthcare, Health Affairs, and Politico.
This partnership, which was announced in September 2018, kicked off with advertising during PA Week 2018. NCCPA and AAPA contributed $500,000 to this joint effort.
The ads that will run are part of AAPA's Your PA Can Handle It™ campaign, which includes a mix of video, print, radio, and digital ads. All the ads in this campaign can be viewed by members on AAPA's website.
The campaign's objective is to get more than 32 million total views through targeted digital, broadcast, and print advertising.
This visibility comes at a critical time as states pursue legislation to remove practice barriers.
For more information, please contact Carrie Munk at [email protected], or Erica Banks at [email protected].
More Resources:
AAPA and NCCPA Partner to Raise Public Awareness of PA Profession
Thank you for reading AAPA's News Central
You have 2 articles left this month. Create a free account to read more stories, or become a member for more access to exclusive benefits! Already have an account? Log in.