Celebrate #PAweek
PAs: You deserve all the applause!
Every year from October 6 – 12, we celebrate PA Week, which recognizes the PA profession and its contributions to the nation's health. This #PAweek, let's honor all PAs do for their patients and their communities and all the ways they add value to healthcare!
Share #PAweek
Show us how you're celebrating! Share our #PAweek graphics on your social media channels to let your networks know about everything PAs can do – from primary care and hospital medicine to wilderness medicine and rural health, and everything in between. Use the hashtag #PAweek in all your PA Week posts, because we'll be sharing your posts each day on AAPA's Facebook, LinkedIn, Twitter, and Instagram.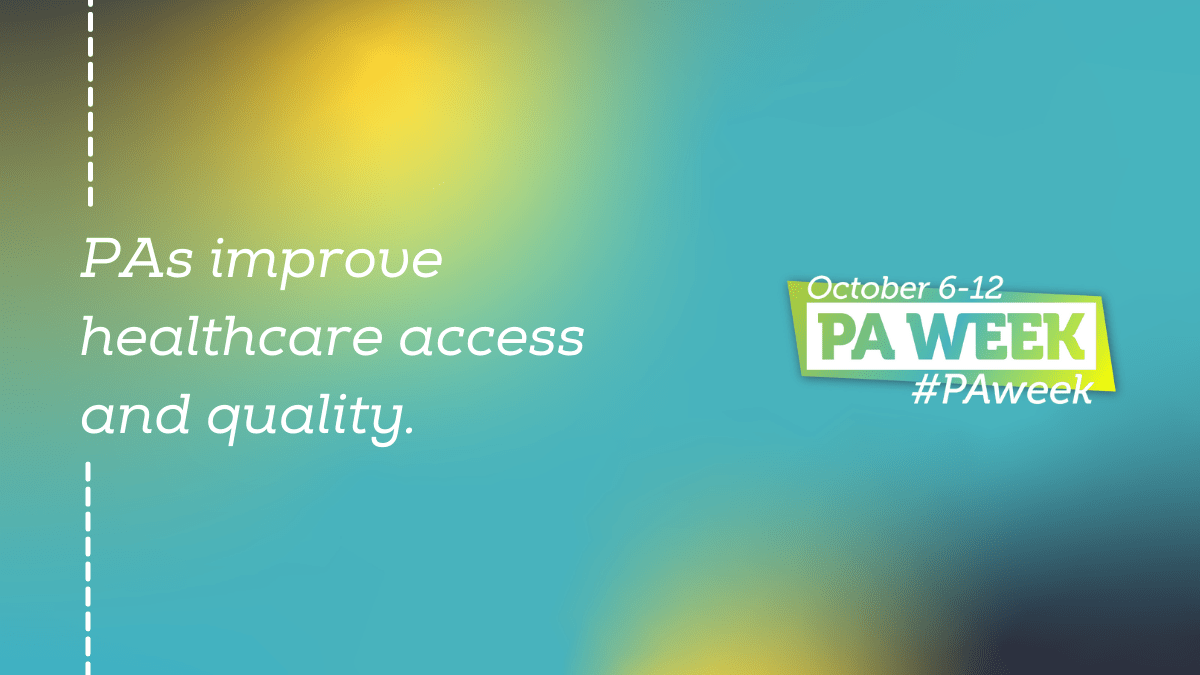 Win With #PAweek
Stay tuned for more details on how you can win one of six prizes this #PAweek. You won't want to miss these – prizes include AAPA membership and accommodations for AAPA 2022 in Indianapolis!
Attend #PAweek
This #PAweek, we've got both virtual and in-person events for you to attend, and we invite all PAs to host an event at their own workplace.
AAPA Virtual Career Fair
Take a step toward your next PA position at this FREE, online event on Tuesday, Oct. 12 from 5 – 8 p.m. EDT. Open to PAs and PA students, the AAPA Virtual Career Fair connects you with employers in private practice, group practices, hospitals, health systems, and more. Registered attendees can browse employer profiles and interact with employers via private live chat or video. Close out PA Week with this popular recruitment event!
PA Foundation Events
The PA Foundation will host two fitness events leading up to and during PA Week. Register today for a 30-day wellness challenge or a 5K run/walk – or both! Participants will receive a swag box and can start or join a team to encourage each other and raise funds for the PA Foundation. It's for a good cause – your registration and fundraising efforts will support the PA Foundation's mission and programs. Find all the details below.

Pacers for Health Wellness Challenge (Sept. 13 – Oct. 12)
Pacers for Health 5K Run/Walk (Oct. 6 – Oct. 12)

PAs on the Plaza
PAs on the Plaza is back in 2021! Kick off PA Week 2021 with hundreds of PAs and PA students from the northeast as we pack the plaza with white coats. If you're in the New York City area, or up for a road trip, join us at the Today Show Plaza on Wednesday, October 6 from 6-9 am ET! Visit the PAs on the Plaza Facebook Event for more details.
Plan Your Own Event
Planning an event at your workplace? (We hope you are!) Use our downloadable banner to print posters, tablecloths, or handouts, so you can help celebrate your PA colleagues and educate your co-workers or fellow students on the breadth of the PA profession.
Join #PAweek
The benefits of AAPA membership abound for PAs and PA students! Discover all the members-only perks and career resources, and consider joining or renewing today.