PA Gives Gift of Life to 7-Year-Old Leukemia Patient
Emergency Room PA Encourages Others to Donate
November 20, 2018
 By Jennifer Walker
On a February morning in 2017, PA Kevin Schwartzel was driving home after working the night shift when he received a call from a strange number. On the other end of the line was a representative from the Be The Match Registry, operated by the National Marrow Donor Program that matches potential donors with people who have been diagnosed with life-threatening blood cancers. Schwartzel had joined the registry six years ago, and someone was calling to tell him he might be a match.
Less than four months later, Schwartzel, now 30, who works in the emergency room at Sharp Chula Vista Medical Center in San Diego, California, was at a local hospital, having a liter of bone marrow aspirated out of his lower back. The recipient of his bone marrow would be Johnny Sawyer Dyer, who goes by Sawyer, seven years old at the time, diagnosed with acute myeloid leukemia and in need of a bone marrow transplant. During the donation process, Schwartzel only knew Sawyer's age and sex; after he left the hospital, he didn't hear much about the donation for a year, per Be The Match regulations.
After that year passed though, Misty Dyer, Sawyer's mom, of Corryton, Tennessee, requested to share contact information with Schwartzel. Shortly after that, Schwartzel met Sawyer, now nine years old, and his family in person in Nashville, Tennessee. "Seeing the family and the parents kind of hit home how much this really meant to them," he says.
Becoming a Bone Marrow Donor
One person is diagnosed with a blood cancer approximately every three minutes. For these patients, physicians have access to more than 30 million potential donors through the National Marrow Donor Program's international and cooperative registries. Schwartzel became one of those potential donors in 2011.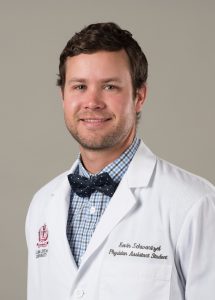 Then, Schwartzel was in school training to become a paramedic. A representative from Be The Match came to one of his classes, distributed swab kits, and signed up everyone who agreed to participate for the registry.
Before Schwartzel would hear from Be The Match again, he chose to become a PA. As a student in paramedic school, he realized that he wanted to learn more about medicine than he was able to in his current program, and he liked that PAs are able to work autonomously while also being a part of a team with access to resources if needed. Having grown up in Southern California, Schwartzel chose Loma Linda University in Loma Linda, California, as one of his top schools, and he was accepted early in the application process. After graduation, he chose to specialize in emergency medicine because it was a natural progression given his experience as a paramedic. Also, "I felt that emergency medicine gave me every opportunity to learn just about every aspect of medicine," he says. Schwartzel had been a PA for about five months when Be The Match called him in 2017.
After Schwartzel received that call, he never hesitated to move forward with the donation process to see if he was a match. The first step involved answering basic questions about his medical and travel history on surveys, first by phone and then online. Then Be The Match scheduled a blood test for Schwartzel at a local lab in San Diego. When the test results came back, Schwartzel was found to be the best match for Sawyer, and the bone marrow donation was scheduled for May 22, 2017.
On that day, Schwartzel's father dropped him off at the hospital. Under general anesthesia, two physicians drilled into his lower pelvis and aspirated out the bone marrow. The procedure took about an hour. Schwartzel woke up in the recovery room and was discharged shortly after that.
Asked if there was a recovery period, Schwartzel says, "Everybody has this stigma that [the procedure] is extremely painful. But the actual donation is under general anesthesia. [Typically] the only pain you may experience is a little bit of soreness. I was back on my feet that day, and I was working the next day."
Meeting the Family
One year later, after the Dyer family requested to share information, Schwartzel spoke first with Misty, Sawyer's mom. That's when he found out the Dyers wanted to get together in person. So Schwartzel was asked to join the Dyers in Nashville to be a part of a roundtable discussion about survivorship at the fifth Annual American Society for Blood and Marrow Transplantation (ASBMT) Fall Clinical Education Conference for NPs, PAs, and Fellows, held this past September and hosted by ASBMT in collaboration with the National Marrow Donor Program/Be The Match and the Sarah Cannon Blood Cancer Network.
Before the roundtable, Schwartzel and the Dyers first met at the Sarah Cannon Center for Blood Cancer at TriStar Centennial Medical Center in Nashville, where Sawyer had his bone marrow transplant. ABC News was there to capture the moment. With the cameras rolling, Schwartzel walked into a room where the Dyers were sitting on a couch. Sawyer, dressed in a light blue button-down shirt, immediately stood up, walked over to him, and gave him a hug. Then the Dyers — Misty, along with Ron, Sawyer's dad, and Maddie, Sawyer's sister — sat down with Schwartzel to talk. At one point on the ABC News video, Ron said that Schwartzel was in his family the day that his bone marrow was put into Sawyer. "I love you for that," Ron said.
"That [moment] was probably what did it for me," Schwartzel says. "Because Sawyer wasn't really able to express what he felt. Maybe someday he will. Thankfully [though], he's just a normal nine-year-old boy now. He was kind of shy, he didn't know what to do, which was to be expected. But the parents, you could just tell they went through the ringer the past couple of years getting treatment and everything."
After the news segment and the conference panel, Schwartzel spent the rest of the day with the Dyers touring the city in their car. Since then, they have continued to stay in touch — most recently they exchanged gifts for both Sawyer's and Schwartzel's birthdays — and they plan to get together once a year.
Joining the Registry
In 2017, 6,100 transplants took place because of the Be The Match Registry. Still, a person's likelihood of finding a matching donor through the registry ranges from 23 to 77 percent based on ethnic background. So Schwartzel, who has already inspired a few friends and co-workers to join the registry, is eager to encourage others to add their name to the list of potential donors. "You may never get that call," he says. "But at least you're an option because you never know."
Those who are interested can attend a local donor drive or register online to receive a cheek swab kit in the mail. The program focuses on recruiting people between the ages of 18 and 44 because research shows that younger donors provide the greatest chance of transplant success, according to Be The Match. Potential donors between the ages of 45 and 60 can also join the registry, but they must pay $100 to do so and sign up online only.
"If there's one thing you need to make time for, it's to donate life to someone who potentially won't have it," Schwartzel says. "It's such a small thing to do."
More Resources
Right Time, Right Place: PA Saves a Life
Breaking Ground as Hawaii's First PA in Rheumatology
 Jennifer Walker is a freelance writer in Baltimore, MD. Contact Jennifer at [email protected].
Thank you for reading AAPA's News Central
You have 2 articles left this month. Create a free account to read more stories, or become a member for more access to exclusive benefits! Already have an account? Log in.