PA Patel Creates Niche in Clinical Informatics
Trains Providers in Texas from Her Home in New York
Oct. 12, 2018
By Jennifer Walker
Karishma Patel, PA-C, didn't plan to work in clinical informatics. She started her PA career in 2009 as a provider for the People's Clinic of Denton County, a community clinic that served about 800 uninsured or underinsured patients in Denton, Texas. Then, after the clinic was acquired by Health Services of North Texas (HSNT) one year later, the new agency became a Federally Qualified Health Center (FQHC); as a result, HSNT needed to meet specific quality metrics to continue to receive federal funding every two years. This meant that providers needed to code each patient visit in the electronic medical record (EMR) correctly and efficiently to insure the quality of the visit was appropriately documented, and Patel stepped into a clinical informatics role to help providers accomplish this task.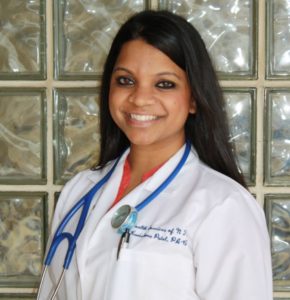 Patel first took on her new role part-time; thus, she divided her time between training physicians, PAs, and nurse practitioners to use the EMR and seeing patients as a provider. In 2017, she moved to New York City, but she has continued to work with HSNT—which has seven locations in the Dallas-Fort Worth area and produces nearly 40,000 encounters annually—by training providers virtually from her home in New York.
In an interview, Patel, who will speak on the panel, "Making Innovation Stick: Moving from Bright Idea to Standard Practice," at the Center for Healthcare Leadership and Management's (CHLM) Executive Leadership Conference (ELC) on Nov. 7, talks about how she created this niche in healthcare.
How did you come to work in clinical informatics?
"As a FQHC, the way you show the government that you're doing great things with their money and obtain more funding is through quality metrics. We have to show them through a report every year; it's called the Universal Data Systems report. So, I started learning about these reports. To produce them, providers started having to use our EMR efficiently so we didn't have to use so much manpower to prove we were doing the needed clinical measures. That's when I started helping to train the clinical providers.
"Then officially in 2015, I was approached by our HR [representative] and our CEO to ask if I would take on a clinical informatics role half-time. I was to train all the incoming providers and new hires as well as existing providers in efficiently using the EMR. I also ensured all new-hire providers were getting their charts done and completed and we were able to send them out to billing on time. I started to create documents and templates to help ensure we were hitting our clinical measures.
"Then I had to move east with my husband to New York City after we got married in July of 2017. I was asked if I would take on HSNT's informatics role on a contract basis and work from home. As of September, I have trained 10 providers virtually." 
How do you organize the virtual trainings?
"We do trainings through a platform called GoToMeeting. I send providers a link to download the platform. They're on the computer at the clinic and I'm on the computer at home, and we can hear each other and see each other's computer screen. I'm able to see what they're doing as far as documentation and where they are getting stuck. Maybe they're getting stuck ordering a prescription because they forgot which button to push. Or maybe they're getting stuck knowing where to click to say they completed a diabetic screening for a patient. Then I look at the documentation to see that everything they've done for this patient is documented for our reports, for litigation purposes, for billing, for coding. I do this one-on-one training with them for about two days. Then on the third day, we start seeing patients. That's when they show me what they've learned.
"My greatest achievement in this informatics role was when I trained a PA who was hired for a locum position and who had never used an EMR in his 25 years of practice. I really don't know how he made it that many years. He always used paper charts. But he was open to learning the EMR and he put in so much effort. And now he is full-time at our practice using the EMR like a champion."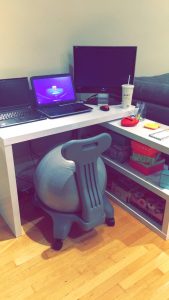 How did you help create this niche for yourself in healthcare?
"The reason I went into medicine and became a PA is because this career has flexibility and I always wanted to have a family. Then, when I started dating my now husband, Jay, in 2013, we were dating long distance. The only way our relationship worked was that he was in IT and had the ability to work from home. He was able to work from where I was, so he would come and stay with me. I saw my husband's flexibility, so I kept telling him I was going to figure out a way to work from home, so one day I would not have to give up my career to raise a family and have the ability to attain the ultimate work-life balance I envisioned for my career path.
"So whenever I saw the computer system at HSNT and I realized that I was very efficient, I was the highest-producing provider out of all the clinics—I cultivated that skill a little more and started looking into how we could make sure we, as an entire agency, were hitting all of our quality measures. With a combination of lucky stars and being the best that I could be at what I was doing at the moment, I was given this opportunity."
 What advice do you have for PAs who want to find a similar niche at their organizations? 
"Sometimes we have to create these roles. This role was nothing that I or my agency had heard of. I started doing things with the computer system only because I realized where the agency was going and what we were doing. A lot of it is being invested in your position as a clinical provider, but also being invested in your clinic. When you're invested in your agency and your clinic as a whole, that's when you realize all the other opportunities that are out there."
 What are the benefits of a leadership conference for PAs?
"I think the benefit to the profession as a whole is growth. We are a very established profession and PAs are used in a multitude of ways, but having a leadership conference actually gives PAs the ability to see how they can grow individually and how the profession can grow as a whole."
CHLM's Executive Leadership Conference will take place on Nov. 6-8, 2018.
More Resources
AAPA's EHR Toolkit includes helpful tools for PAs to use with their employers, including: Best Practices for Vendors, Points for Discussion with Employers, EHRs and PAs: A White Paper, and EHR Infographic.
Jennifer Walker is a freelance writer in Baltimore, MD. Contact Jennifer at [email protected].
Thank you for reading AAPA's News Central
You have 2 articles left this month. Create a free account to read more stories, or become a member for more access to exclusive benefits! Already have an account? Log in.