Hospital for Special Surgery PAs Lead Provider Clinical Operations
Employer of Excellence Winner Has Centralized Leadership With Matrices Organizational Structure
August 15, 2018
By Eileen Denne, CAE
New York City-based Hospital for Special Surgery (HSS), an orthopaedics specialty hospital ranked number one nationally by U.S. News and World Report, highly values its PAs. The 155-year-old tertiary care center, founded during the Civil War as the Hospital for the Ruptured and Crippled, has a culture of excellence and continuous performance improvement for its employees and physicians.
This led to its selection as one of eight institutions named a 2018-2019 Employer of Excellence (EOE) by AAPA's Center for Healthcare Leadership and Management (CHLM) last May. Among the EOE criteria met by HSS were: involving PAs in leadership efforts to improve the quality of patient care; establishing a positive and supportive PA work environment; and providing opportunities for meaningful input that lead to positive organizational change.
Centralized PA leadership and matrices organizational structure
With the main hospital and ambulatory center in Manhattan and a dedicated unit at Stamford Hospital in Connecticut, in 2017, HSS did more than 32,000 surgeries. Staffed by ~ 370 physicians and ~ 800 nurses including ~ 50 NPs, ~ 100 of the 175 PAs are under the PA Department, led by Assistant Vice President, Peter Grimaldi, PA-C, MS, MPT, MBA.
"The hospital highly values our PAs and relies on us," according to Grimaldi. "Our scope and size over the past 15 years has exploded. When I arrived in 2005 we had about 25 PAs and now we have about 175."
Grimaldi, who is a physical therapist as well as a PA, started off as a clinical PA doing perioperative management of hip and knee replacements, first assisting in the operating room as well as managing the patients pre- and post-operatively. He became the PA department head in 2014.
Typically in a hospital setting, PAs are distributed among different services and specialties. They're often separate and they may not interact regularly on a personal and professional basis. "At HSS, we have a centralized PA leadership structure with service specific and generalized PAs.  This differentiates us from other organizations.  Most PA management flows through the PA department," Grimaldi says.  This allows us to combine service specific specialization while maintaining the flexibility our PAs provide to address gaps in care.
Drivers of the expanded PA role at HSS were organic growth of the organization and the evolution of the academic mission as it relates to residents and fellows. HSS' academic experience evolved providing more opportunity and need for peri-operative patient management. PAs were the obvious choice to fill the roles and gaps created by this growth and evolution.
Grimaldi says because HSS is a surgical hospital, PAs' basic inherent preparation in surgery and acute medical care helps them stand out at HSS.
"Our first PA started in 1989," says Grimaldi, "so PAs were already involved in perioperative care of our patients. The PA was a natural complement to an orthopaedic resident or fellow.  PAs, fellows and residents are essentially interchangeable."
Culture of excellence
HSS applied for the EOE award, Grimaldi says, because the hospital has a culture of excellence and a philosophy of continuous performance improvement.
"We want to be the best at everything we do. That U.S. News and World Report number one ranking in orthopedics reflects the excellence we seek in all aspects of patient care. What was exciting about the EOE award is that for the first time ever, there was an award that had a PA focus. It was looking to acknowledge hospitals or organizations that were important to PAs."
HSS' support of PAs impacts their patient care in a variety of ways. The PAs are uniquely positioned to lead provider clinical operations, including operational guidance, performance expectations and how providers use the electronic health record.  The PAs work to establish metrics to measure efficiency and quality for providers. Grimaldi says while the physicians and the academic staff are the experts for quality in clinical care, the PA team complements their expertise by developing best practices and leverages technology to help realize that high quality patient care.
"Prior to the PAs taking the lead in provider clinical operations, we didn't have benchmarks in terms of staffing, like patient to PA ratio or guidance around managing patients. We recruit academic staff and PAs from all over the country and the world, and these healthcare providers bring their expertise, knowledge, biases, experiences and training from other institutions here. While we learn from them, we understand there is a huge opportunity for us to provide best practice guidance for patient care. We have expectations for first assisting in the operating room, rounding, hand-off, and post op check management. It is rare for providers to receive this type of support upon hire."
Clinical career ladder
HSS also offers professional and leadership development opportunities for those interested in advancing their careers.  In addition, the HSS PA department also developed a career ladder for its PAs.  Tiers range from an entry level to a senior level PA. This includes opportunities to participate in and present research, develop the PA curriculum, participate in the HSS Leadership Academy, and be involved in process improvement to address clinical operational needs. PAs are given a blueprint to climb a career ladder and achieve the next level. With those higher levels come further incentives.
"For an academic teaching institution in the heart of New York City," says Grimaldi, "we are an excellent value proposition. Not only do we strive to be highly competitive in terms of compensation and associated benefits, but we've also created an environment here for PAs to thrive in. The EOE award will help us showcase a lot of that."
Creating a PA positive environment
When asked how other organizations might create PA positive environments, Grimaldi says having a leadership structure that allows PAs to lead PAs is important.
"When you're just being told what to do by someone who may not have clinical experience, may not understand the capabilities of a PA or understand what the frontline staff need, you don't have a chance to provide input and guidance. For example, PAs sit on some of our highest level committees including trustee level committees. The idea that the organization would include a PA to be part of that is rare. We have come a long way in the past 15 years."
HSS plans to apply for the EOE award again and take advantage of the opportunity to be recognized as a great place for PAs to work.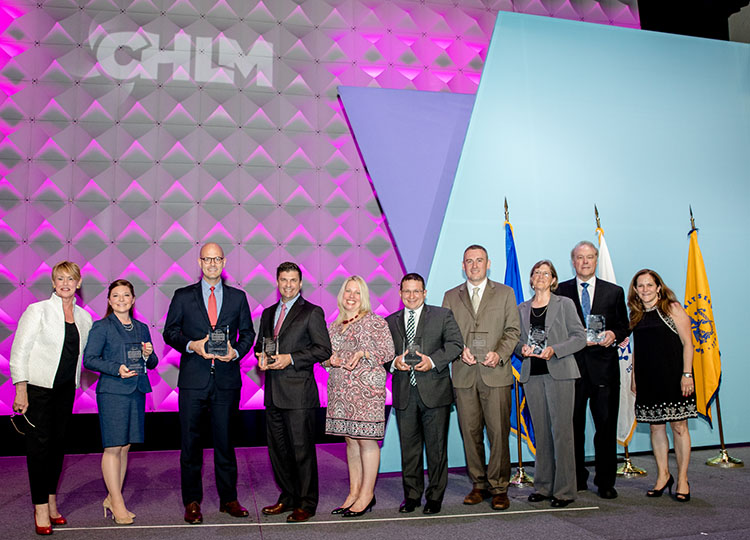 Apply for Employer of Excellence Award
The EOE Awards are designed to recognize and showcase employers that create a PA-positive environment and encourage collaborative provider teams. CHLM partnered with HealthStream in 2017 to better understand what PAs value in their place of employment. Based on the findings, CHLM identified five key drivers as criteria for its EOE Awards, including:
Establishing a positive and supportive PA work environment.
Providing opportunities for PAs to provide meaningful input that leads to positive organizational change.
Keeping PAs informed of organizational activity and decisions.
Involving PAs in leadership efforts to improve the quality of patient care.
Creating processes for effective conflict management.
Applications for 2019-2020 EOE Awards will open on Nov. 1, 2018. CHLM works directly with hospitals and health systems to enhance team-based patient care and optimize PA practice.
Eileen Denne is director of Corporate Communications at AAPA. Contact her at [email protected].
Thank you for reading AAPA's News Central
You have 2 articles left this month. Create a free account to read more stories, or become a member for more access to exclusive benefits! Already have an account? Log in.