Category 5 Hurricanes Derail PA Students
Barry University Students Faced With Unforeseen Challenges
April 24, 2018
By Kate Maloney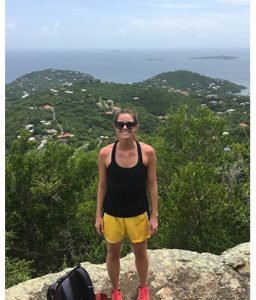 Jill Schulten decided she wanted to attend PA school after working as a graduate assistant athletic trainer for Wichita State University. She enjoyed her work with athletes, but she found herself drawn to specific facets of the PA profession – the ability to focus on primary care medicine, see more patients on a daily basis, practice in different specialties, and the flexibility and versatility of being a PA.
She chose Barry University for PA school, and its St. Croix campus for equally specific reasons. She appreciated Barry University's small class sizes, and "the personable staff who cared about the success of their students." Schulten wanted to serve the under-privileged community of St. Croix, and to exposure herself to a new culture. "I knew moving to a tiny island thousands of miles away from home was going to be challenging," she says. "But I also knew it was a once in a lifetime opportunity."
Life on St. Croix
Schulten describes her time on St. Croix as "a daily adventure." She attended classes and studied for exams, like any other PA students, but did so while having to contend with unreliable electricity and oppressively humid and sticky conditions. The power would go off for hours – sometimes days – at a time, and Schulten recalls one instance of studying for finals in the dark. Living on the island was expensive, and goods sent from home were often slow to arrive. Despite these inconveniences, Schulten found many ways to explore St. Croix: scuba diving, snorkeling, paddle boarding, kayaking, and hiking, all activities the adventurous Schulten enjoyed immensely.
In addition to the outdoor activities Schulten loves, she also found working with the community very rewarding. The locals are tight knit and appreciative of the Barry University PA students. "They appreciated the medical help PA students provided during clinical year, but also our volunteer work as well," she says. Barry PA students volunteered at local foundations and clinics to offer ear exams, hearing aid assistance, screenings for cholesterol, blood pressure, and glucose, and some health counseling.
Category 5 Hurricanes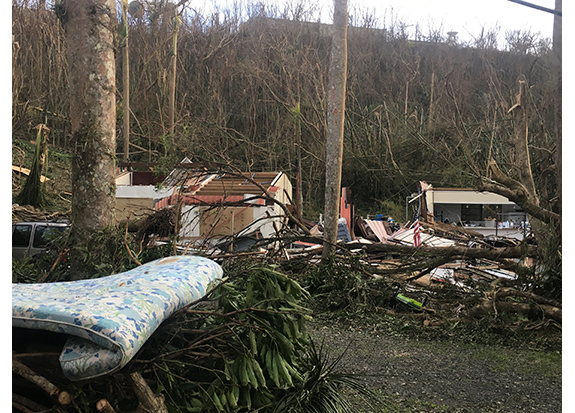 On September 6, 2017, Hurricane Irma, a Category 5 storm, hurtled into the U.S. Virgin Islands, with winds topping 100 miles per hour. Schulten was on St. Thomas completing her psychiatric rotation when the storm roared in. "I was on the first floor of the house I had rented," she recalls. "I was alone. I remember the wind picking up first and then the rain came. The power went out early the morning of September 5 and never came back on before I left island. I kept one single candle on for light and tried to study and read to pass the time. I had to keep all of my electronics off to save power."
She waited, terrified, for the winds to die down. When they did, she located her landlords and they tried to get out, but the roads were blocked.  Power lines were down everywhere. "It looked like a weed whacker had cut all of the houses and trees down," she says.  "There was so much destruction." Even now, months later, Schulten remembers the worst part of the hurricane: the silence. Without power, or charged electronics, it was eerily silent for days. One of Schulten's neighbors would turn on his car to hear the local news and to get updates on curfew, relief efforts, and damage.
After a few days, Schulten was able to make her way to the hospital, where she reconnected with the five other Barry PA students who were doing rotations on St. Thomas. Together, they were able to contact St. Croix, find safe passage back on a boat, and, from there, return to the states. Schulten arrived home in Indiana one week after Hurricane Irma hit; seven days later, Hurricane Maria, another Category 5 storm, slammed into the islands Irma had just ravaged.
Storm Cleanup
Staring at the devastating aftermath of two Category 5 hurricanes, Barry University decided to close its St. Croix campus. In Indiana, Schulten found herself in no mental capacity to study while she was worrying about not only all of her earthly belongings on St. Thomas, but having to set up her own rotations in locations where she could afford to live.
Schulten says the Barry University program was extremely understanding and worked with all 22 of the clinical year St. Croix PA students individually on scheduling their rotations. Schulten has been completing her rotations across the state of Indiana, but the St. Croix PA students are still expected to fly back to Miami every six weeks for end-of-rotation testing and classes. "It has been financially devastating," she says, "and added stress to an already challenging program."
The added pressures are not without reward, however. Schulten says her experiences in St. Croix and living through a Category 5 hurricane have made her appreciate small things in her life – like turning on a faucet and warm water coming out, or Americans' access to healthcare. She also has a new understanding of "what underserved communities  go through during difficult times." She says the experience of the past eight months has given her more strength and confidence then she could have imagined. These trials have underscored the importance of mental health and compassion for Schulten, and she will keep these lessons with her throughout her entire PA career.
Kate Maloney is AAPA's senior manager of corporate communications. Contact her at [email protected].
Thank you for reading AAPA's News Central
You have 2 articles left this month. Create a free account to read more stories, or become a member for more access to exclusive benefits! Already have an account? Log in.