Maxwell Quick Medical Reference
A favorite member benefit of PA students, the Maxwell Quick Medical Reference Guide is our FREE gift to you! We'll mail it to you as soon as you join AAPA. Keep it in your white coat pocket and never be without an answer – in the classroom, at bedsides, and beyond. Please allow up to 6 weeks to receive your Maxwell Quick Reference Guide.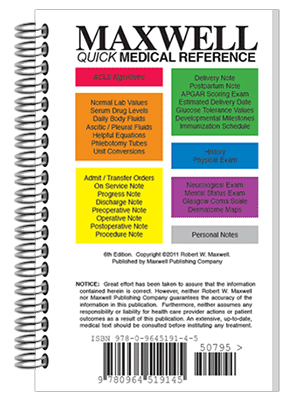 "It's just a small book, but it gives you so many values – it's so quick and easy. It's something to check before you're going on rounds and you just can't remember your number levels of sodium … it's a great resource" – Suzanne H., AAPA Student Member
PA students love this book! Use it during your didactic phase when you're learning to conduct physical examinations. And it's indispensable when you get to clinical rotations, and even into your first job, so that you never miss a step when writing up patient histories.
Essential information used in everyday medical practice
Color-coded pages group information by topic for quick searching
Laminated covers, durable paper, and spiral binding make the guide durable
Pocked sized to go with you anywhere – the wards, ER, OR, or clinic
Want your FREE copy of the Maxwell Quick Medical Reference?
Join AAPA for just $75. Your membership lasts until you graduate, and your Maxwell guide and other member benefits will go well beyond!