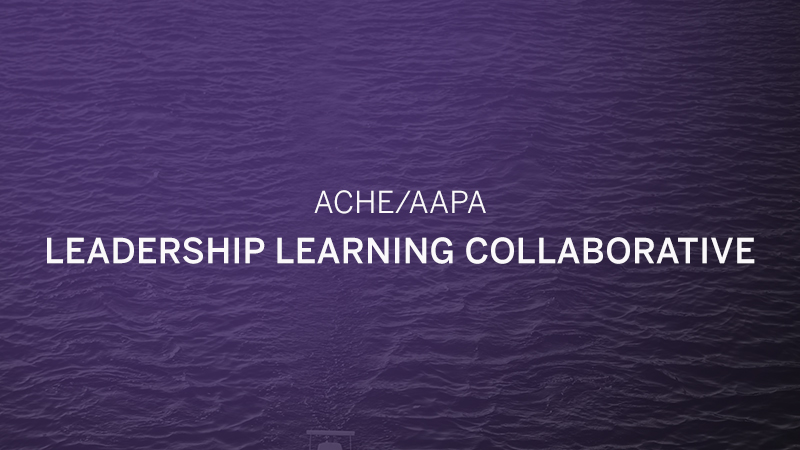 ACHE/AAPA Leadership Learning Collaborative
Enrollment Paused & New Content Coming Soon!
The ACHE/AAPA Leadership Learning Collaborative is being revamped based on your feedback and will return soon, better than ever! Let us know if you'd like to be notified when it is re-launched. In the meantime, you can purchase individual courses from the Leadership Learning Collaborative as a part of ACHE's on-demand offerings. Completion of these self-study courses may be counted toward your progress in the Leadership Learning Collaborative.
Course Description:
Expand your leadership competencies and increase your impact as a healthcare leader with the ACHE/AAPA Leadership Learning Collaborative.
As a graduate of this program, a PA or NP leader will earn 24 Qualified Education credits of the required 36 continuing education credits in order to be eligible to begin the FACHE credentialing process. The FACHE credential helps PA/NP leaders to be nationally recognized with this distinction and certification in healthcare management. Learn more about the benefits of the FACHE credential by reading this news story.
The full ACHE/AAPA Leadership Learning Collaborative experience includes:
12 On-Demand Self-Study Courses
6-week online Emerging Healthcare Leader Seminar
4 Webinars or Webinar Recordings
One Complimentary ACHE Membership through the end of 2020
Get intensive education on topics like:
Critical Factors of Clinical Leadership for APPs
Evaluating Your PA/NP Workforce: 6 Essential Elements
Engagement and Burnout
Continuous Process Improvement in Leadership
Using Telehealth to Achieve the Quadruple Aim
And much more!