PA Jenna Everett Co-Built a Program to Provide Support to Underserved Patients Who Frequently Visit the Emergency Department
The Multi-Visit Patient Program aims to reduce healthcare disparities
September 30, 2023
By Jennifer Walker
In 2021, PA Jenna Everett had a patient who made numerous visits to the emergency department (ED) at MedStar Harbor Hospital in Baltimore, Maryland, seeking treatment for asthma attacks. This patient had five or more visits in 90 days, which meant he was flagged in the electronic health record to be part of the hospital's Multi-Visit Patient Program. Everett is clinical lead of this program, which aims to provide additional support to underserved patients who are high utilizers of the ED by first finding out why they come to the department for care so frequently. Patients are then provided with resources to address some of their unmet needs and ultimately make it easier for them to obtain medical care.
Through this program, Everett and the team at MedStar Harbor learned that the patient was working long hours and wasn't following up with a primary care provider. So, the team set up appointments with a primary care physician, as well as a pulmonologist, and provided transportation to help the patient get to these appointments. As a result, the patient started taking preventive asthma medication and lost 100 pounds. This was 18 months ago, and the patient—who had more than 30 visits to the ED in the prior year—has not needed to return to the emergency department for routine asthma care.
"There are so many factors that are intertwined in these cases," says Everett, who has worked in the ED at MedStar Harbor Hospital since 2015. "Patients need a little assistance so they can really thrive. And this patient was able to get his life back."
Everett's interest in helping undeserved communities developed when she was a PA with Jai Medical Systems in North Baltimore. It was there that Everett, who grew up in Upstate New York, saw firsthand how many obstacles people have to overcome just to get adequate healthcare. The Multi-Visit Patient program was created to help patients find solutions for some of these obstacles.
"I have this patient in front of me who has high blood pressure and needs blood pressure medicine, and that seems pretty simple," says Everett, who was named "PA of the Year" by the Maryland Daily Record this past June. "But they can't pay for their medicine, or they can't get the proper food to eat the diet that goes along with having high blood pressure. Or they're out of food stamps for the month. Or they can't get in to see me because they have to take care of their elderly family member. These social dynamics make it so difficult for patients to take care of their medical needs. The ultimate goal of the Multi-Visit Patient program is to reduce these healthcare disparities and systemic inequalities."
Developing a Passion for Providing Care to Underserved Populations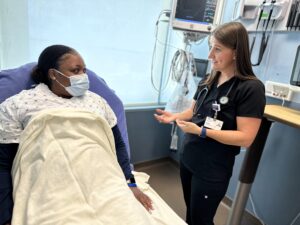 After graduating from her PA program in 2010, Everett came to Baltimore and started working at Jai Medical Systems through the National Health Service Corps, a program that offers scholarships and loan repayment programs to medical, dental, and behavioral health providers. In exchange, recipients commit to work in primary care in a Health Professional Shortage Area (HPSA) for at least two years.
At Jai, Everett remembers one patient who came to her office for a routine prostate cancer screening. She did a blood test and found that he had elevated prostate-specific antigen (PSA) levels, which can be a sign of prostate cancer. Everett wanted to refer the patient to a specialist, but she had to help him adjust his insurance coverage first. Through this simple change, the patient was able to see the specialist, identify his prostate cancer early, and receive the necessary interventions. After his treatment, he came back to Everett's office, gave her a hug, and shared how much she had impacted his life.
"He told me that his father and his brothers had all died from prostate cancer, and that I was the reason he was still here," she says. "It was a simple routine screening, but something that had not been easily available to his family members for so many reasons. And that was really eye-opening for me. Working in that environment was so rewarding, and I was able to help so many people. It developed my passion for helping the underserved population in general."
After five years at Jai, Everett shifted her specialty. She was drawn to the fast pace of emergency medicine. She also was thinking about having children, and she wanted to transition to shift work so she could have more flexibility and time with her family. Working at MedStar Harbor Hospital in South Baltimore, she could continue to provide high-quality care to an undeserved population.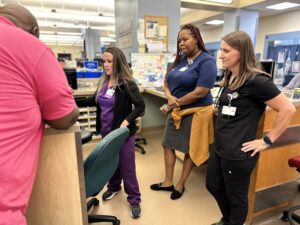 "The patients I see face such barriers to accessing quality healthcare," says Everett. "The care management theory of the Multi-Visit Patient program is to support these patients where they are, and to identify and understand their drivers and why they are utilizing the emergency department. Then we attempt to slow that cycle of high utilization."
Reducing Emergency Room Visits by Addressing Social Challenges 
In 2021, Everett built the Multi-Visit Patient Program at MedStar Harbor Hospital with Lucas Carlson, MD, MPH, director of care transformation for MedStar Health. Once patients are identified as high utilizers of the ED, community health advocates—who Everett says should be credited with the success of the program—reach out to them to discuss their needs and begin to build a relationship of trust. Then the program's interdisciplinary team discusses each patient's case and develops innovative interventions to address their challenges. These cases are kept open for two to four weeks, and 205 cases have been closed as of early September.
"The key is to recognize that patients come to the emergency department because there's something they need and they don't know where else to turn. And it doesn't necessarily have to correlate to an emergency," Everett says. "A patient who is repeatedly coming in for toe pain might truly need a primary care provider or food or safe shelter.
So, the goal of our program is to help patients meet those needs, even if it is outside of the traditional scope of emergency care, so they don't need to come back to the emergency department for non-emergencies."
In the last two years, the Multi-Visit Patient Program has expanded to three other MedStar hospitals in Baltimore, and Everett hopes to bring it to the other MedStar hospitals as well.
Everett and the team are also creating a transit system collaboration with other large hospital systems in the area, including Johns Hopkins Medicine and the University of Maryland. This is so representatives from each hospital system can discuss individual cases, as well as high-ticket issues that impact healthcare quality and access like homelessness, mental health, and substance use disorder. The goal is for everyone to work together to create change for underserved communities. They are also reaching out to community partners like the Baltimore City Fire Department, dialysis centers, and primary care providers to get their buy-in and ideas. "Collaboration is key," Everett adds.
For Everett, the fact that she wants the best for her patients inspires her to go beyond as a PA. It hurts her heart, she says, when patients have a medical need that they can't address because of other challenges that are going on in their lives, as well as when other people get frustrated with these patients and don't understand their challenges.
"People will say, 'Why is he coming in again for high blood pressure?' and 'Why is this patient still using drugs?'" she says. "But they had a different deck of cards than you did. You don't know what else is going on in their lives. You don't know what other social struggles they've had. You don't know how hard they're trying. So, we need to look at the patient as a whole. For me, I go above and beyond because I feel my patients deserve better. And I want to do better for them."
Jennifer Walker is a freelance writer in Baltimore, MD. Contact Jennifer at [email protected].
You Might Also Like
AAPA's Diversity, Equity, and Inclusion Resource Center
Husband and Wife Team Open Urgent Care Center to Help Reduce Overcrowding in Local ER Departments
Patient-Provider Trust is Key for Street Medicine PA Sam Halajian
2023 Diversity Award Recipient is a Change Agent Focused on Representation and Health Equity
Thank you for reading AAPA's News Central
You have 2 articles left this month. Create a free account to read more stories, or become a member for more access to exclusive benefits! Already have an account? Log in.