A Day in the life of a Urogynecology PA
PA Sharon Dann Practices a Hybrid of Gynecology and Urology
August 24, 2023
By Sharon Dann, PA-C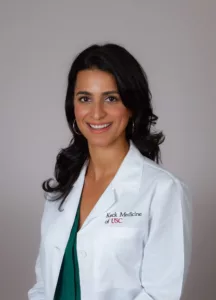 While I didn't always know that I wanted to work in medicine, I knew I wanted to help people some way, somehow. I attended UCLA and majored in psychology and history. I did most of my training in low-income clinics where over time, my main interest became women's health.
Growing up as a first generation Iranian American, it was always taboo to have difficult conversations about normal topics such as menstruation, sex, and vaginal issues. I took interest in these topics to better educate myself and quickly realized that many women around the world lack proper health education.
I started my journey at the University of Southern California PA program and graduated when I was 26 years old. It was then I decided to do a fellowship year training at the department of urology at USC. After about a year, I moved on to becoming the only urogynecology PA in the department. I quickly found that most people do not know that the urogynecology specialty even exists! It's an awesome hybrid of gynecology and urology, treating issues involving both the bladder, vagina, and more.
Day to Day 
Most days start at around 8:00 a.m. and end in the evening around 4:30-5:00 p.m. I run my own clinic about three times each week and am assisting my attending physician, Dr. David Ginsberg, the other two days a week. I start my days by checking messages and following up with any urgent patient matters that may have come in the night prior, whether that's an acute UTI, blood in the urine, or something else.
The most interesting part about my day is the amount of variety I get to experience. My patient list can range from 17 patients on a day that I am alone, to 41 on a day in which I am with my attending. Diagnoses can range from pelvic organ prolapse, post-menopausal vaginal issues, recurrent UTI, overactive bladder, fistulas, blood in the urine, pelvic pain, bladder pain, and more.
I particularly specialize in bladder pain, otherwise known as interstitial cystitis (IC). IC is a disorder that is still relatively unknown, and which very few people treat. My attending also specializes in pelvic reconstructions and the management of neurogenic bladders, so I am lucky enough to help patients who have bladder issues related to spinal cord injuries or any neurological disorder.
Most days are extremely busy and filled with not only seeing and treating patients, but also refilling medications and supplies, and making sure that patients' lab work is treated in a timely manner.
Procedures and Radiology
In addition to having my own independent clinic where I see new patients and complete follow ups, I conduct many procedures as well. Some of the procedures that I can do in clinic are bladder instillations to help those with bladder pain; tibial nerve stimulation, which is a form of acupuncture to help overactive bladder; and urodynamic studies, which is a test to help us study the function of the bladder as well as pessary insertions to help with prolapse.
I'm also able to perform pap smears, catheter changes, and have also been a part of a study to assess if PRP injections into the bladder can help treat bladder pain! Some days I am also able to help my physician inject Botox into the bladder to help with overactive bladder symptoms.
Most radiology images that I review are renal ultrasounds to assess urinary tract infections, as well as to look for any stones. I also review MRI images to assess any prolapse, urethral diverticulum, and more. We also look at CT urograms to assess any reason for recurrent UTIs, blood in the urine, and more. Also common are cystoscopies, during which we look inside the bladder to assess for any bladder stones, strictures, obstruction, Hunners ulcers, bladder masses, and more.
Importance of PAs in Urology 
Working as a female PA in urogynecology is important to me for many reasons. It can be very misleading that urology is only related to "men's health." In reality, it covers a vast majority of topics, including issues women struggle with like prolapse, urinary tract infections, as well as pre and post-menopausal vaginal issues.
It's also especially important for me to present for my patients who experience bladder pain(BP)/IC, since there are not many providers who specialize in this topic. BP/IC are commonly misdiagnosed for recurrent UTI. The only difference is that there are UTI symptoms in the absence of an actual positive culture. This issue can take a big toll on patients without having a real diagnosis of what's going on. Most of the time, my patients come in to see me after they've been treated with multiple courses of antibiotics, which can highly disrupt the vaginal pH and cause many issues thereafter.
BP/IC, as well as pelvic pain, are highly related to anxiety and depression, and unfortunately can stem from sexual abuse as well. When I see a patient with this diagnosis, I am sure to take a full history and examine them from a whole perspective rather than just focus on their bladder. Additionally, I work very closely with pelvic floor physical therapists and send many of my patients over to physical therapy to help with BP/IC, pelvic pain, urinary dysfunction, stress incontinence, overactive bladder, and more.
The most surprising part of my job is that most patients tell me that they did not know a urogynecology department even existed! I feel very blessed by the work I do and the care that I can provide. I am grateful for the experiences and training that I received both at school and at USC hospital. I am especially grateful for Dr. David Ginsberg and Dr. Larissa Rodriguez, who sparked my interest and passion for bladder pain/ IC. My only goal is to help my patients along their journey to healing and be there for them as best as I can!
Sharon Dann, PA-C, is a urogynecology PA at Keck Medicine of USC.
You May Also Like
A Day in the Life of a PA in Outpatient Obstetrics and Gynecology
PAs: Obstetrics and Gynecology Needs You!
Write for AAPA
Thank you for reading AAPA's News Central
You have 2 articles left this month. Create a free account to read more stories, or become a member for more access to exclusive benefits! Already have an account? Log in.