PA Ranks as #2 Best Healthcare Job by U.S. News & World Report
Across All Occupations, PA Profession is Among the Most Sought-After in America
January 10, 2023
The annual U.S. News & World Report Best Jobs rankings, released today, affirmed once again that the PA profession is among the fastest-growing and essential professions in America.
Overall, of the 2023 Best Jobs, 40% are in healthcare, where the PA profession is ranked as the #2 top healthcare job. For the sixth year running, PAs were also named in the top five jobs across all occupations, ranked as #4. And, importantly, during a year when the economic outlook is uncertain, the PA profession was named as one of the top 20 careers with the most job security, coming in at #4.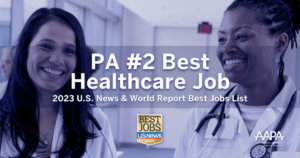 [Wherever you want to go in your career, AAPA can help – join or renew your membership today]
"This recognition is a testament not just to the vital role PAs play on healthcare teams today, but it underscores how our profession will continue to shape the future of healthcare," said AAPA President and Chair of the Board Jennifer M. Orozco, DMSc, PA-C, DFAAPA. "Every year, the U.S. News rankings serve as a trusted source on job outlook, and it is an honor that PAs have once again been recognized. At a moment when our country is faced with significant challenges, including the Great Resignation, an uncertain economic future, a significant healthcare workforce shortage, a growing aging population, and a greater prevalence of chronic illness our profession has been recognized as one that continues to rise to the occasion. We are humbled by this recognition and acknowledge the awesome responsibility it means we have to our patients, colleagues, and entire healthcare system not just this year, but every year to come."
According to U.S. News, professions receive a composite score calculated from seven of the most common attributes important to job seekers. These factors include median salary, unemployment rate, 10-year growth volume, 10-year growth percentage, future job prospects, stress level, and work-life balance.
The PA ranking was informed in part by Bureau of Labor Statistics projections that the profession will experience a nearly 28% increase in employment between 2021 and 2031—a rate that is faster than most occupations both in and out of the healthcare sector. Further, PAs received the highest score provided to any healthcare profession for achieving work-life balance.
"Despite the many positives a ranking like this can highlight, what can never be fully measured is how rewarding it is to be part of a profession that improves the health and well-being of patients every day. However, we must continue to advocate on behalf of our patients by modernizing healthcare laws and regulations to ensure that PAs can practice to fullest extent of their education, training, and experience," said Orozco.
You May Also Like
AMA House of Delegates Meeting Provides Opportunity to Continue to Build Relationships for PA Practice Advocacy
What PAs Should Know About the 2023 Physician Fee Schedule Rule
New Research on Challenges PA Students Experience from Application Through Completion
Thank you for reading AAPA's News Central
You have 2 articles left this month. Create a free account to read more stories, or become a member for more access to exclusive benefits! Already have an account? Log in.