2022 PA of the Year Cares for Patients Experiencing Unsheltered Homelessness
Joel Hunt Has Helped to Found Three Street Medicine Programs
May 18, 2022
By Sarah Blugis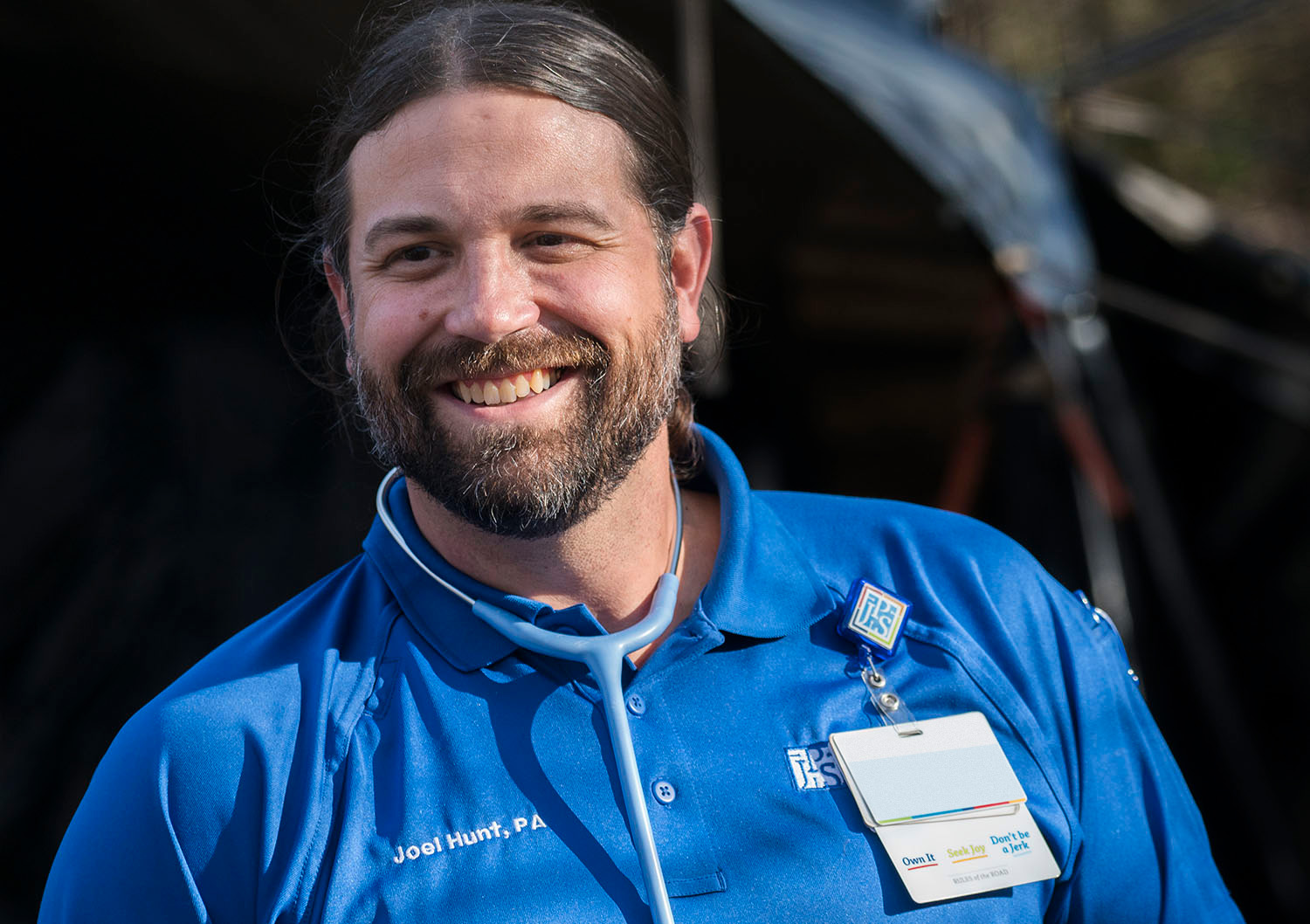 For Joel J. Hunt, PA-C, AAPA's 2022 PA of the Year, his interest in medicine stemmed from a simple desire to help others. He sought out the ability to care for people, especially those whom society tends to overlook, and found that opportunity first as an Army medic – and now as a PA.
Inspired by a PA colleague who practiced as a perfusionist, along with his sister's interest in the PA profession, Hunt attended the University of Utah PA Program and graduated in 2008. Right away, he built his career around the hope of improving the lives of patients who have little to no support – those experiencing homelessness.
"My favorite parts of my job, my career, and the PA profession are the people I get to share paths with for a moment, and listen to and learn from their stories," Hunt says. "I count it an absolute honor and privilege to be allowed into fellow humans' lives, with their deep trust."
The PA of the Year Award honors PAs who demonstrate exemplary service to the community; exemplify the PA profession's philosophy of providing accessible, quality healthcare to all; and further the image of the profession in a positive, meaningful way.
In 2009, Hunt became the medical outreach director for the Fourth Street Clinic in Salt Lake City, which provides care for Utahns experiencing homelessness. There, he helped to establish the clinic's street medicine program to care for the primarily unsheltered homeless population.
In fact, Hunt has helped to start three street programs directly – "One in Salt Lake City, one [in Fort Worth] with the hospital network where I work, and the other [in Fort Worth] with a community behavioral health entity," he says. He has also helped to start the second street medicine fellowship in the country.
Hunt is currently the director of Acclaim Street Medicine and assistant program director of the JPS Health Family Medicine Residency in Tarrant County, Texas. In his day-to-day street medicine practice, his colleagues say Hunt's patients trust him, thanks to the warmth and caring he brings to those who may have had few positive interactions with medical professionals in the past.
"I am fortunate enough to work with an amazing interprofessional team where we provide and take primary care directly to people experiencing unsheltered homelessness, and provide these services to them in their reality," Hunt says. "This includes complex chronic care, acute care, wound care, MAT, behavioral health services, and more."
As it did for all medical practice settings and specialties, COVID-19 posed challenges for Hunt and his fellow providers as they cared for this vulnerable population. During the early stages of the pandemic, he had the necessary expertise to help develop a plan for the city of Forth Worth, Texas, to help patients experiencing homelessness who tested positive for COVID-19.
"I was a key leader in standing up a physical response for both sheltered and unsheltered homeless populations," Hunt says. "I was also asked to provide technical assistance consultation to others around the state and the country on how to engage with our patients and continue working during those uncertain times."
In addition to his work in street medicine, Hunt also helps in the teaching of Street Medicine Fellows, Family Medicine Street Medicine Track residents, and rotating residents and students. Sharing knowledge with learners and helping them reach their fullest potential, he says, is a true privilege. His colleagues describe him as a "highly sought after" educator, someone who approaches teaching conscientiously and inspires others with "his breadth of knowledge and welcoming attitude."
Street medicine increases access to healthcare for medically underserved communities. PAs serving as street medicine providers and as leaders, Hunt says, is particularly helpful in expanding care to all members of a community.
"PAs continue to shine in roles as trusted and valued team members, both on the front lines seeing patients and in the C-suite," Hunt says. "The whole profession is built around working with others as a team. We live in a time when we all need a supportive team, and dedicated team members that will serve in solidarity and humble gratitude."
Thank you for reading AAPA's News Central
You have 2 articles left this month. Create a free account to read more stories, or become a member for more access to exclusive benefits! Already have an account? Log in.