DAPA Secures Top Legislative Priority, Two Seats on State Medical Board
Five-Plus Years of Advocacy Pay Off for Delaware PAs With Passage of Legislation
April 15, 2021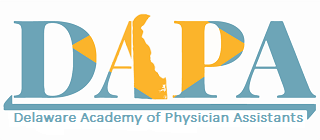 On April 13, Delaware Gov. John Carney signed HB 33, An Act to Amend Title 24 of the Delaware Code Relating to Physician Assistants. The legislation, which was the top legislative priority for the Delaware Academy of PAs (DAPA), creates two PA seats on the Delaware Board of Medical Licensure and Discipline, one of the pillars of optimal team practice (OTP).
The legislation also modernizes PA practice in the First State by:
Eliminating the use of the word supervision and replacing it with collaboration to describe the PA-physician team;
Removing physician responsibility language;
Eliminating PA to physician ratios in certain settings, including hospitals and large group practices; and
Authorizing PAs licensed in Delaware to participate in healthcare volunteer work in public or community events and facilities.
This victory is the result of years of hard work and determination.
"DAPA has been working on achieving these improvements for PAs and their patients in Delaware for more than five years," DAPA President Gwen Dalphon, PA-C said. "We were able to educate legislators and stakeholders about the important role of PAs in the healthcare team and the need to modernize PA laws. This ultimately led to the signing of HB 33."
[Help further AAPA's advocacy work – join or renew your membership today]
AAPA provided DAPA support throughout the process, including drafting and reviewing legislative language, conducting research, sending out advocacy alerts, submitting a letter of support to the legislature, and awarding OTP grant funding.
The bill became effective upon signing. For additional information on HB 33, the full version of the bill is available on the Delaware Legislature's website.
You May Also Like
Arkansas PAs Win a Seat on the Medical Board, Clinch Another Legislative Victory for PAs
Wyoming Landmark Legislation a Victory for PAs and Patients
Wisconsin Enacts Long-Awaited PA Practice Act Updates
Thank you for reading AAPA's News Central
You have 2 articles left this month. Create a free account to read more stories, or become a member for more access to exclusive benefits! Already have an account? Log in.