How to Build an APP Leadership Career Pathway in Your Organization
Learn How These Six Employers of Excellence Create Positive Workplaces
October 7, 2019
By Eileen Denne, CAE, APR
What kinds of leadership programs and career pathways keep PAs motivated and empowered as committed employees? Six employers have built successful roadmaps for PAs to take on greater leadership roles and climb their career ladders.
A joint survey by HealthStream and AAPA's Center for Healthcare Leadership and Management (CHLM) indicates that key drivers of PA retention and engagement are a positive and supportive work environment and opportunities to provide meaningful input that lead to positive organizational change. CHLM's Employers of Excellence (EOE) have each demonstrated their commitment to creating PA positive work environments.
From among the fifteen 2019-2010 Employers of Excellence, here are a few examples of effective leadership structures and career pathways for PAs that can help enhance recruitment and retention.
Learn More About the 2020-2021 EOE Awards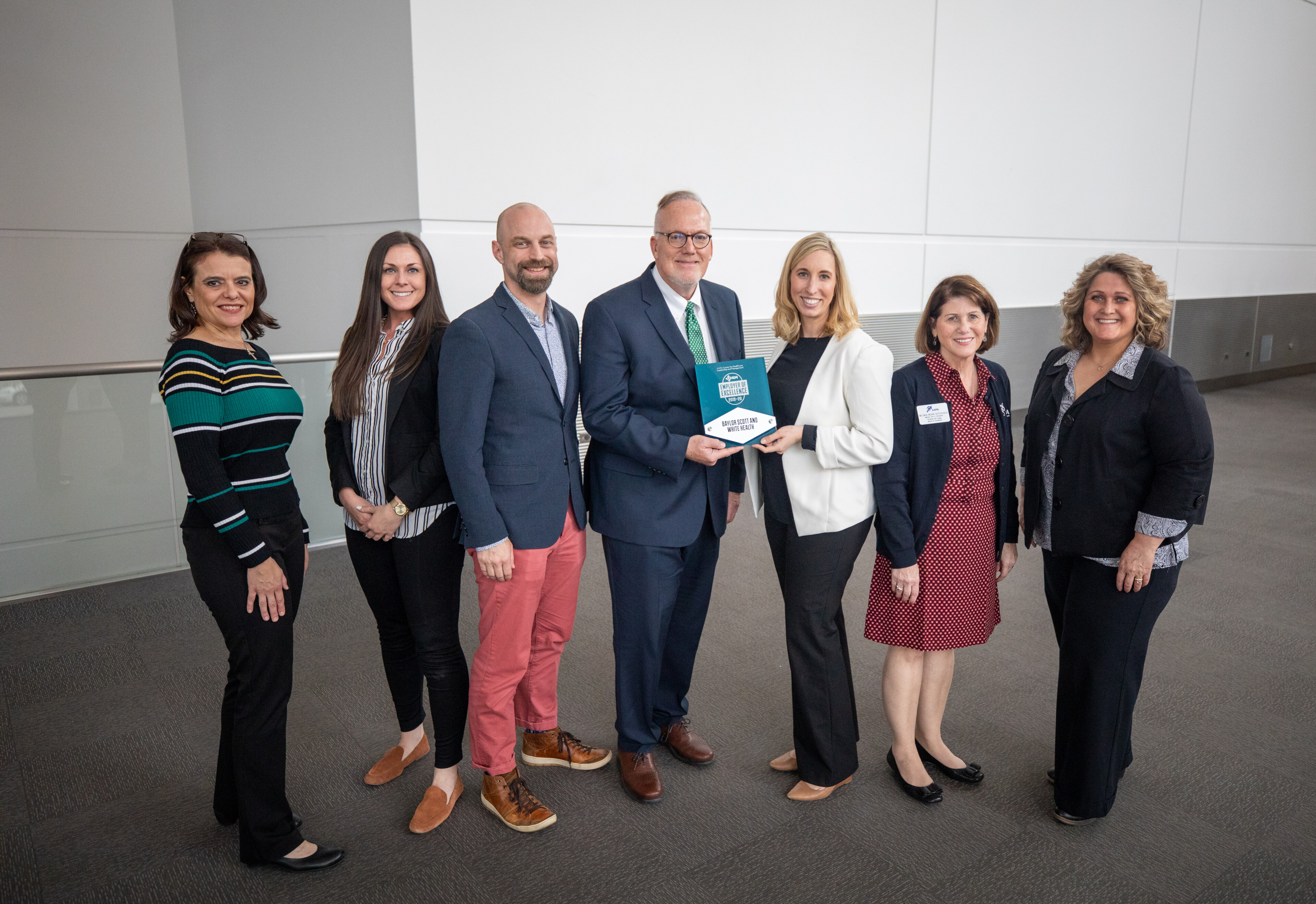 Formal leadership training and structure
One hallmark of organizational excellence is the existence of formal leadership training for PAs. Baylor Scott & White Health (BSWH), one of the largest nonprofit health systems in Texas, offers a continuum of leadership opportunities for PAs. They created an Advanced Practice Provider (APP) task force which looked at how BSWH could become the employer of choice for APPs. The task force included system leadership comprised of board members, physicians, senior APP leaders and HR. As a result, BSWH built a formal leadership training including a 13-month, selective Executive Education program for high potential leaders. Other leadership training includes classes on the "Art of Communication", sharpening patient interaction skills, and "Equipping Medical Leaders," a year-long program cultivating APP leadership roles.
Jami McKinney, MPAS, PA-C, Lead Advanced Practice Provider, Hospital Medicine Dallas, received BSWH's APP Emerging Leader Award for 2018. BSWH, McKinney says, nurtures a supportive environment for collaborative provider teams and encourages PAs to strive for excellence in patient care and professionalism. "I believe our organization has made the appropriate efforts to become one of the best healthcare systems where PAs can work together to ultimately fulfill our calling to provide excellent patient care while forming a united bond centered around promoting a positive culture for PAs."
Robust onboarding and leadership training help to attract PAs to MedStar Emergency Physicians (MEP), which includes seven emergency departments in the Washington, D.C., and Baltimore, Maryland regions. Recent PA school graduates go through a 12-month didactic and experience-based training program, including procedure simulation workshops, billing, and documentation lectures. MEP developed a Leadership Excellence and Development (LEAD) program, a year-long professional development curriculum for its Physicians and PAs. MEP LEAD has seven PA leaders in its 4th cohort.
According to Agisi Makrodimitris, MSPAS, PA-C, DFAAPA, Lead PA, Dept. of Emergency Medicine, MedStar Union Memorial Hospital, MEP has invested in creating a workplace that encourages professional and clinical growth of its PAs. PAs can take on the administrative role as Lead PA, where duties include recruiting, delegating, scheduling, and evaluating performance. PAs also serve as members of the senior management team and Clinical Practice Councils.
Structured career path
In addition to offering leadership training, organizations become more attractive employers when they develop a structured career path for PAs. Geisinger Health, located in central and northeast Pennsylvania and southeast New Jersey, is an academic, not-for-profit multispecialty organization including Geisinger Commonwealth College of Medicine. Career path development begins during preceptorships and a commitment to clinical education. Last year, Geisinger successfully recruited 25% of the 401 PA students who were on clinical rotations or faculty appointments at Geisinger institutions. Geisinger has the structure in place to promote tenured, experienced APPs to chief positions within departments, service lines, and institutes. The APPs also meet monthly with Advanced Practice Council (APC) Directors and Members.
Robert W. Emery, PA-C, DFAAPA, in Orthopaedics, at Geisinger Musculoskeletal Institute, has been with Geisinger since 1995 and considers his employer at the forefront of recognition and use of PAs. PAs participate in hiring, onboarding, scheduling and evaluation, Emery says, and PA leaders sit on committees and in board meetings. They have an in-house 9-month strategic leadership development programs called "Aspiring to Leadership and Partners in Leadership."
Another long-term Geisinger employee, Beth Baylor, PA-C, Chief PA, Geisinger Musculoskeletal Institute, says the Chief PAs are integral to their health care teams and meet monthly to discuss onboarding, communication and organizational change. Many belong to an APP Council. Baylor says, "Geisinger has also provided me the opportunity to participate in a 9-month strategic leadership development program. It provided a powerful and extensive leadership development experience to address effectiveness and confidence."
[AAPA's Center for Healthcare Leadership and Management Announces 2019-2020 Employers of Excellence]
APP Council
APP Councils are another hallmark of organizations that have strong leadership and career pathways for PAs. Like Geisinger, Rush University Medical Center, an academic medical center in Chicago, Illinois, has an APP leadership structure including an APP Council. Rush did a comprehensive review of APP practices in 2016 and created an Office of Advanced Practice. Two APPs were identified as directors. Rush developed a Lead APP role and redesigned its compensation based on the review. PAs now serve as ex-officio members of the medical staff executive committee and now have seats on several key hospital committees. The Office of Advanced Practice has produced an APP Annual Report, created a Director of APP Competency & Education to lead transition to practice and an Advanced Practice Executive Committee.
Janet Furman, MMS, PA-C, Director of APP Competency and Education, Office of Advanced Practice, has worked at Rush for seven years. When she started, PAs and NPs worked in silos and there wasn't much coordination. Since their APP leadership structure was developed, Furman says, APPs have access to leadership training courses and seminars to augment their professional growth. One of the most remarkable results from the increased focus on APPs is that their turnover decreased from 38% to 12.1% in two years.
Regina Chen, PhD(c), MS, Director, PA Studies Program and PA Department Chair, appreciates Rush's adherence to practice ideas. "The Office of Advance Practice Providers serves to resolve practice issues and promote positive, PA friendly practice environments, creating a culture of inclusion for all APPs in our system."
Stanford Health Care, based in Palo Alto, California, has a Center for Advanced Practice (CAP) that provides direction, support and advocacy for their 461 APPs, 130 of whom are PAs. CAP provides infrastructure and support for APPs including a quarterly newsletter; promotes and brings awareness to the APP role; ensures APP representation among boards and committees; and standardizes processes including credentialing, onboarding and orientation. CAP partners with an APP General Council, that provides support for positive changes including a career ladder through a voluntary clinical leadership program, orientation documents, and quarterly newsletters. APP staff created a Healthy Steps to Wellness program that incorporates wellness activities for APPs and they held their first retreat for APPs in 2015 with a keynote speaker.
The CAP has also created an APP Onboarding Day and developed a mechanism to attribute patients to APPs through EMR systems, using utilization and productivity data. In addition, a formal mentorship program was established, offering a 2-year curriculum of didactic experience and focus groups for all new hires. Lastly, in-conjunction with the Center for Education and Professional Development teams, CAP provides an APP Fellowship that accepts three to five fellows per year in select specialty areas and an APP 1-year transition to practice program that provides post-graduate training.
According to Jennifer Hunter, PA-C, Adult Congenital Heart Program, Stanford's CAP and APP General Council have improved awareness of PAs in the organization. Among other things, she says, the Council has helped educate the administration on differences between PAs and advanced practice nurses, shortened onboarding times and increased APP satisfaction. Through CAP and the APP General Council, she has witnessed increased engagement and retention of APPs.
Environment seeking input and improvement
Enhanced leadership opportunities for PAs start with recruitment at Vidant Medical Center in Greenville, North Carolina. Recruiters understand the PA role and an APP leader is involved in the interview process. They highlight Vidant's support for PAs such as its dedicated APP leadership structure during the recruitment process. Once hired, the director or assistant director of Advanced Clinical Practice meets with new APPs during their first week at the hospital. The director is accountable for all APP activity in the division including models of care, recruitment, retention, orientation, programmatic design, financial performance, utilization, compliance, professional development.
Reinforcing this support and engagement, Vidant's APP Advisory Council plans quarterly social gatherings and provides mentors committed to a monthly lunch or coffee for six months for every new hire. In addition, there is a dedicated APP section on Vidant's intranet used to interact and engage the APP teams across the hospital for updates, meeting schedules, policy changes, educations materials, and to celebrate individual and group achievements. Vidant selects an APP of the Year, which has been presented annually for the past five years; invests in leadership training for APP leaders, and offers tuition assistance for undergraduate and graduate degrees.
Vidant supports PAs by providing an environment that seeks input and constant improvement, says Eric C. Meyer, PA-C, Palliative Care APP Team Leader. PAs can join committees, attend Grand Rounds, and assume leadership roles. Leadership reviews issues of concern and encouraged to reach common goal of improved patient care. The Medical Center also does local publicity when PAs join Vidant and it rewards PAs' years of service milestones with a gift and banquet.
Sarah A. Santiago, PA-C, Trauma and Surgical Critical Care, has worked at Vidant since 2012 and says she feels valued as a medical provider. She also appreciates employee activities throughout year such as appreciation breakfasts and the yearly excellence award.
Apply for 2020-2021 Employer of Excellence Award
Does your organization have leadership programs and career pathways for PAs that should be recognized? Applications will open on November 1, 2019, for the 2020-2021 CHLM Employer of Excellence Award.
Read More
MidMichigan Demonstrates APP Value Through Leadership
NYU Langone Health Focus on PAs a Game Changer
Nationally Recognized Best Hospital Snags Award for Exceptional PA Workplace
Promoting Positive Work Environments Critical in Ensuring Quality Patient Care
Eileen Denne is director, Corporate Communications at AAPA. Contact her at [email protected].
Thank you for reading AAPA's News Central
You have 2 articles left this month. Create a free account to read more stories, or become a member for more access to exclusive benefits! Already have an account? Log in.