Every User Has a Story: PA Aims to Humanize Patients with SUD
Eleanor Graber, PA-C, Received PA Foundation's NIDA Mentored Outreach Award
September 10, 2020
On average, 130 Americans die every day from an opioid overdose, according to the Centers for Disease Control and Prevention. Healthcare providers need to be increasingly familiar with treating both substance use disorders (SUD) and opioid use disorders (OUD). The PA Foundation has partnered with the National Institute on Drug Abuse (NIDA) to address this issue and enhance PA expertise through the NIDA Mentored Outreach Award in SUD Treatment Dissemination. This award provides funding for mentor-supervised projects that focus on adoption and/or dissemination of existing SUD treatment research and publication of results.
Apply Now for PA Foundation's NIDA Mentored Outreach Award
Eleanor Graber, PA-C, is a 2018 recipient of the NIDA Mentored Outreach Award. Her project, "Every User Has a Story: Integrating Patient Stories and Leading Research to Expand OUD Treatments," features a website with video content as well as in-person presentations that aim to humanize people with substance use disorder and showcase real-life success stories related to evidence-based OUD treatment. "Working in critical care and emergency medicine," Graber says, "I see the devastating impact addiction is having on our country every day. I have also witnessed this impact in my personal life, which has intensified my desire to help those in need." Graber discussed the details of her project and the difference the NIDA Mentored Outreach Award made in her work.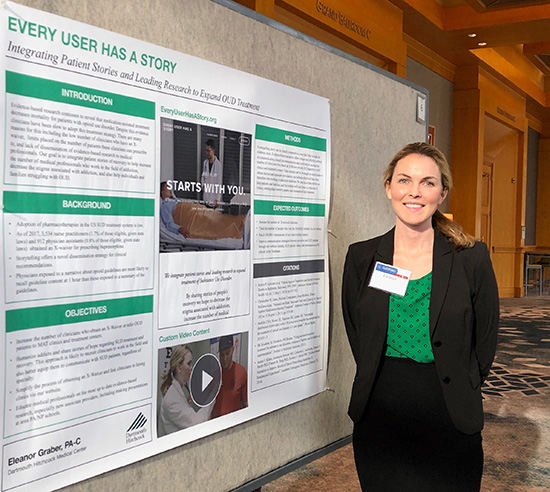 Q: Where did the idea for "Every User Has a Story" come from?
A: Through both professional and personal experience, I have found that people in recovery want to share their stories with medical professionals to help create a shared understanding of addiction. Sharing SUD patients' perspectives helps to destigmatize and humanize them in the medical community, which will ultimately improve care and result in better treatment outcomes.
Q: What do you hope "Every User Has a Story" accomplishes?
I hope that medical professionals watch interviews with people in recovery and keep these patients' perspectives in mind in their daily practice. Additionally, I hope that more providers gain awareness of SUD patients' needs, are inspired to work in addiction medicine, and obtain a DEA X-waiver to be able to prescribe certain medications that have been proven to help people abstain from opioid use.
Q: What has been successful about your project?
Medical professionals have really appreciated hearing SUD patients' perspective — both the good and bad. Many of them have been encouraged by hearing the success stories and feel compelled to help the cause personally, by shifting their mindset, changing their prescribing practices, or obtaining an X-waiver. My biggest success has been using SUD patient interviews to inspire medical professionals to help SUD patients. I also feel very proud that one of my videos has been accepted to be featured at the American Public Health Association Global Film Festival this November.
Q: How did the NIDA Mentored Outreach Award help "Every User Has a Story"?
The award has been instrumental in making this project a reality. Not only did it spark the idea, but it also made producing, filming, editing, and sharing the videos financially possible. Additionally, it gave me the opportunity to personally connect with various people in the field of addiction medicine. As part of the NIDA Mentored Outreach Award, I was able to present patient interviews to medical and research professionals at the 2019 Clinical Trials Network Annual Steering Committee Meeting in Bethesda, Maryland.
Q: What are the next steps for "Every User Has a Story"?
A: I am going to continue to share our patient videos on social media and via medical society platforms. I am also eagerly anticipating participating in the American Public Health Association Global Film Festival in November. Additionally, I have gathered a tremendous amount of footage from our interviews with over 20 patients and plan to continue to edit this footage to add it to our website: EveryUserHasAStory.org.
If you, like Graber, have a passion for SUD education, knowledge, and treatment, consider applying today for the PA Foundation's NIDA Mentored Outreach Award. Learn more about the eligibility requirements and submit your application by November 4, 2020.
This article was originally published on October 15, 2019. 
More Resources
NIDA Mentored Outreach Award in SUD Treatment Dissemination
Every User Has a Story
PA Foundation Programs
Thank you for reading AAPA's News Central
You have 2 articles left this month. Create a free account to read more stories, or become a member for more access to exclusive benefits! Already have an account? Log in.