Lynchburg Doctoral Degree Program Designed by PAs for PAs
CHLM Degree Pathway Program Offers Tuition Discount
May 9, 2019
By Eileen Denne, CAE, APR
The University of Lynchburg School of PA Medicine Doctor of Medical Science is one of the first doctoral degrees of its kind in the U.S. targeted specifically to healthcare providers. The Doctor of Medical Science (DMSc) program equips PAs to innovate, lead, and make decisions to improve patient care and its delivery.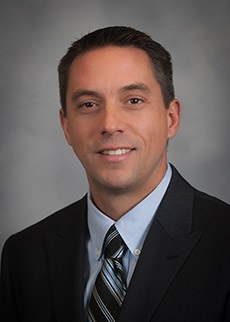 "This is a unique postgraduate program that is designed by PAs for PAs," said Jeremy M. Welsh, DHSc, JD, PA-C, EM-CAQ, DFAAPA, school chair and senior associate dean of the College of Health Sciences. "The curriculum reflects the extensive education that we each have completed. It builds from there to promote advocacy, scholarship, and leadership within each course.
"We at the University of Lynchburg feel that a doctoral-level education should be a part of the PA educational landscape. It is not the solution to every problem our profession faces, but it significantly helps to have the same academic standing as other decision-makers at the executive level. Health sciences have moved to the doctorate level, and PAs are not exempt from this change."
Allows for seat at leadership table
Alumni Jonathan Sobel, DMSc, MBA, PA-C, DFAAPA, FAPACVS, Senior Administrative Director II of ACPs, North Shore University Hospital, and president and chair of AAPA, agrees. "I believe that it is of the utmost importance for PAs to have a seat at the leadership table when decisions are being made about the future direction of healthcare. Increasingly, those around that table have doctoral degrees in their various disciplines. I pursued this degree in order to maintain an equal footing with my colleagues so that I can advocate for our profession and the patients under our care."
The Lynchburg DMSc program faculty includes national PA leaders who want to see the PA profession advance and meet market demand, Welsh said. The curriculum builds on PAs' existing education and provides in-depth knowledge of how to change healthcare and advocate for the PA profession. The skills taught in the program apply equally to clinical practice along with advocacy and leadership.
Tuition for the 12-month program is approximately $25,000. Through its partnership with the Center for Healthcare Leadership and Management (CHLM), students who apply are eligible for a 10-percent tuition discount after they have completed prerequisite courses. CHLM is adding the DMSc program to the other graduate degrees from its already-existing Degree Pathway Program partners.

In order to qualify for the discount through the Degree Pathway Program, students need to first complete eight one-hour CHLM prerequisite courses. Two are required and six are electives. Examples of courses include Billing and Reimbursement, Critical Factors of Leadership, and Evaluating Your PA/NP Workforce. Students can then matriculate to an eligible graduate or post-graduate program with a CHLM partner such as the University of Lynchburg.
Curriculum focuses on healthcare and administration
The DMSc curriculum is focused on improving both medical practice and advanced study of the health care system with a unique focus on PA leadership. It is an online program that has partnerships with local and national health care systems. Courses are tied to core competencies of medicine that are measurable and accessible. Fifty percent of the online curriculum is in health care administration, health law and other areas of instruction that will further advocacy and leadership.
Sobel found the program challenging but enjoyable. "I truly enjoyed the comradery between my classmates in the inaugural cohort. I had the pleasure of learning alongside some of the most accomplished individuals in our profession. I found the intellectual stimulation to be at a very high level.  The professors were outstanding individuals and the courses were well designed."
There are currently 320 students enrolled in the DMSc with quarterly starts to classes. Virtually all University of Lynchburg School of PA Medicine master's degree students go on to get their doctorate, Welsh said, and tuition for the master's program is competitive so that doctoral candidates don't incur greater debt.
"We've had very strong support since we started," Welsh said. "We were the first to announce a PA-specific doctorate. It has really gained momentum. PAs are very proud of being PAs. Many have said, 'I want a PA-specific doctorate.'"
Degree helps PAs advance to new positions
According to Welsh, the degree offers a distinct advantage to graduates. "Obtaining a doctoral education is a very important accomplishment and PAs who attain it have added a significant knowledge base," he said. "Education is always powerful. Education is portable. Education is impressive. Completing a terminal degree that educates you in health care law, administration, global health, and scholarly research will open numerous doors for clinically-practicing PAs, educators, and administrators."
Graduates, Welsh said, are using the skills and education to advance into new positions. Between 10 and 15 percent report that they have already accepted a new position or promotion when they start the doctorate program.
"Many of our graduates say that their doctorate taught them how to think critically and look at the problems we face in a 'macro way' versus the 'one patient at a time' way they did before," Welsh said.
Sobel concluded, "I would absolutely recommend the DMSc program at Lynchburg. The curriculum is well thought out to introduce new ways of thinking, to develop leadership skills and to build upon the clinical competencies from our standard PA program education.
"I have been able to apply health law concepts to my work in credentialing, professional regulation, and human resource components of my job.  Additionally, I now have an enhanced understanding of research skills and the intersection between evidence and clinical practice to help inform autonomous decision-making and patient activation."
For further information contact Jeremy M. Welsh, DHSc, JD, PA-C, EM-CAQ, DFAAPA, school chair and senior associate dean of the College of Health Sciences, at [email protected].
More Resources
CHLM Degree Pathway Programs
GW Strengths are Small Online Classes and Faculty Expertise
Dartmouth MPH Teaches Data and Research to Impact Health Policy
CHLM Offer Partner Discounts for ASU Master's and Doctoral Degrees
Eileen Denne is director of Corporate Communications at AAPA. Contact her at [email protected].
Thank you for reading AAPA's News Central
You have 2 articles left this month. Create a free account to read more stories, or become a member for more access to exclusive benefits! Already have an account? Log in.