PA Krisi Gindlesperger's Path to Leadership
CHLM Offers Resources so PAs Can Rise Through the Leadership Ranks
February 22, 2019
By Jennifer Walker
PA Krisi Gindlesperger has been a leader for most of her life. As a teenager and young adult, she was active in student government; later, as a PA, she was naturally drawn to leadership roles in medicine. Gindlesperger has steadily risen through the leadership ranks to her current position as vice president, national director of advanced practice providers (APPs), for US Acute Care Solutions (USACS), a role in which she heads a department that has more than 1,200 PAs and NPs placed in emergency medicine, hospital medicine, and observation services in 22 states.
Because of her passion for leadership, Gindlesperger is helping other PAs grow as leaders, too. At USACS, where there are more than 130 PA leaders, she budgets for leadership training.  For example, she took her 12 APP directors to the Center for Healthcare Leadership and Management's (CHLM) Executive Leadership Conference (ELC) last year. She will also be helping to develop PA leaders throughout the profession as a speaker in CHLM's online training programs in leadership and management. "I'm extremely passionate about the PA profession," Gindlesperger says. "So, if there's one place I see myself in the future, it's definitely moving our profession forward and continuing to develop and grow PA leaders."
Becoming a PA Leader
From an early age, Gindlesperger saw a PA as her primary care provider, which sparked her interest in the profession. After high school, she enrolled in the five-year, entry-level master's PA program at Gannon University in Erie, Pennsylvania, a school she chose because she wanted to stay in her home state. After graduation and a year of working in neurosurgery, Gindlesperger transitioned into emergency medicine, a specialty she liked because it offered the opportunity to see many kinds of cases. She also spent five years working at MedStar Harbor Hospital in Baltimore, Maryland.
In 2010, Gindlesperger—who was on the Board of Directors of the Maryland Academy of Physician Assistants (MAPA) for 11 years as the MAPA CME Director—took on her first PA leadership role at work. She joined MEP Health, which placed her at Shady Grove Adventist Hospital in Rockville, Maryland, and quickly became the lead APP responsible for overseeing 10 other APPs in the emergency department. She stayed on in this role until 2015, then continued to move up the leadership ladder at MEP Health, first as the Education Coordinator for APPs, then as the Director of APPs, where she oversaw 120 PAs and NPs.
In 2016, MEP Health was one of several emergency medicine physician groups that joined together to form US Acute Care Solutions, LLC (USACS). "MEP has always maximized utilization of PAs and NPs in an advanced scope of practice, and one of the reasons that USACS was drawn to MEP was [our] ability to utilize APPs to the top of their education and experience," Gindlesperger says.
At USACS—which today serves six million patients annually at more than 200 locations—Gindlesperger became a leader from the beginning. She co-led the APP committee, a group that created the APP Academy, a two-year leadership training program for new hires. The program includes multiple courses designed to bring all new hires to the same level of education and training for emergency medicine, with additional resources for new graduates, who are required to see patients in tandem with an experienced APP or physician for the first three months after they are hired.
In 2016, Gindlesperger moved to Canton, Ohio, to become Vice President, National Director of APPs, for USACS. "It's been an extremely busy two years full of expansion and growth of both the APP program and USACS," she says.
In her current role, Gindlesperger is the head of a department that oversees more than 1,200 APPs throughout the company. (In January, USACS had 1,233 APPs, 72 percent of which were PAs.) "As PAs and NPs can see higher-acuity patients, the [physicians] can focus on more complex patients, and we can work together as a team creating access to care for more patients on a daily basis," she says. She travels at least twice a month and interfaces with several departments within USACS, including compliance, quality, recruiting, finance, coding and credentialing. Gindlesperger sits on the executive leadership team at USACS, along with the regional presidents and C-suite (the top senior executives in the company), provides key insights for APPs, and helps to lead initiatives in the company's strategic plan.
In addition to her work, Gindlesperger is enrolled in the MBA program at Walsh University in Canton, Ohio. "I'm constantly on finance calls reviewing the finances of the entire company and I run my own budget, so I think it's really important to have as much finance as I'm getting with my MBA," she says. "It has helped me tremendously over the past year."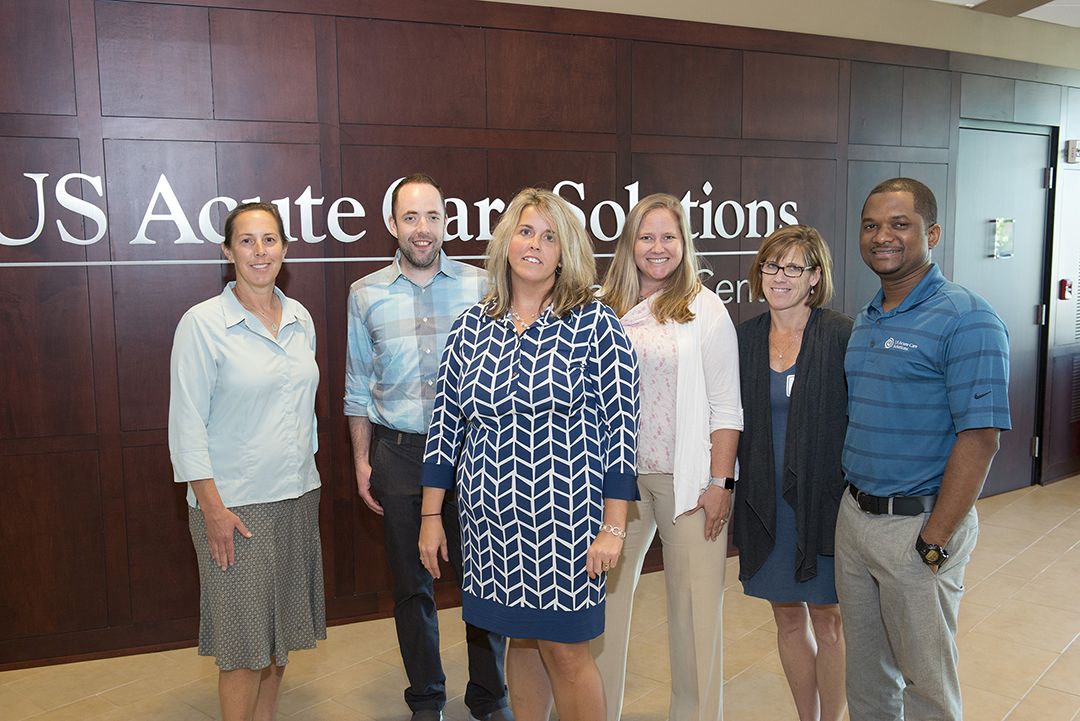 Developing other PA leaders
"It is essential for APPs to be led by other APPs and we have put in place a formal leadership structure," Gindlesperger says. That structure is essentially an APP/physician leadership dyad. At the site level, USACS has 121 APP site leaders spread out across the company's four regions. These leaders work closely with the medical directors at their respective sites. Above them are 12 APP directors, who work with the physician vice presidents of each of the four regions. The APP Directors report to Gindlesperger, who works closely with the four physician presidents through the executive leadership team.
To train these leaders, Gindlesperger budgets for continuing education and leadership training throughout the year. This year, she will unveil a new leadership academy for APP leaders; the year-long program will teach leadership and management core competencies. She has also budgeted for her 12 APP directors to attend the CHLM's ELC again in 2019—a conference she believes is invaluable because of the networking opportunities it provides.
Outside of USACS, Gindlesperger will be helping PAs develop leadership skills by consulting with CHLM to plan the ELC 2019 content and expand on both leadership and networking opportunities outside of the ELC. Additional CHLM programs include the CHLM Degree Pathways, which offer selections of courses in five leadership tracks—administrative, clinical, education, research, and industry—that are precursors to graduate programs offered at CHLM's four academic partners. CHLM also offers one-hour online courses in leadership topics, as well as the CHLM/Northeastern University PA and NP Leadership and Management Certificate Program.
"PAs are a large part of the future of medicine. I fully believe that," Gindlesperger says. "And that's why it's so important for PAs to be leaders in healthcare now and in the future."
More Resources:
CHLM Leadership and Management Tracks
CHLM Administrative Track
PAs in Administration
PAs, NPs Seizing Key Leadership Roles in HM Groups, Health Systems
Jennifer Walker is a freelance writer in Baltimore, MD. Contact Jennifer at [email protected].
Thank you for reading AAPA's News Central
You have 2 articles left this month. Create a free account to read more stories, or become a member for more access to exclusive benefits! Already have an account? Log in.