UK Wildcat PA Students: All About the Team
University of Kentucky Recognizes Importance of Teamwork and Collaboration
November 9, 2018
By Kaila Gaughan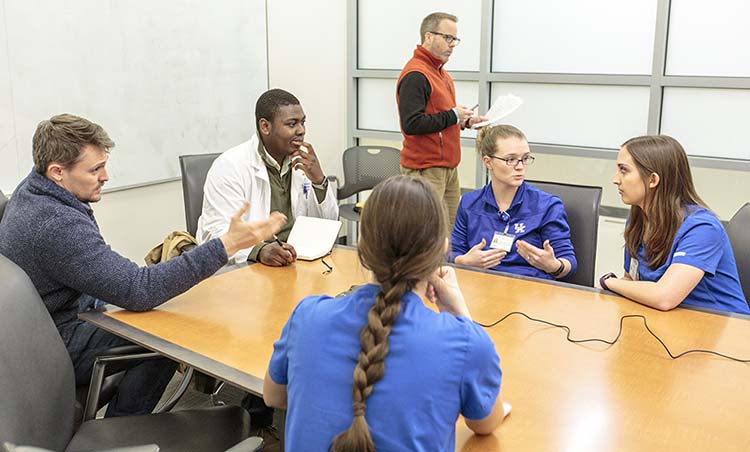 "Why do you want to be a PA?" "What made you choose PA school over med school?" These are questions that I have been asked countless times, whether on school interviews or by people I know. My answer is obvious: to help people. But choosing the PA profession, for me, was greater than that. The lateral flexibility and the ability to practice in any subspecialty of medicine both appealed to my more indecisive side. What most appealed to me, however, was that good, effective teamwork is fundamental to the entire profession. Our career was founded on teamwork by those who know the importance intimately.
Once I'd decided to become a PA, I enrolled at the University of Kentucky. At UK, all PA students participate in a program in the beginning of our second year called Interprofessional Collaboration and Teamwork Skills (iCATS). It is an opportunity to meet with students from other professional programs such as dentistry, pharmacy, nursing, physical therapy, speech language pathology, medicine, and social work. Over 700 students participate in iCATS each year. We get to learn about, from, and with our future colleagues with a goal of enhancing interprofessional communication and collaboration. Since iCATS's inception in 2013, PA students have learned about other professions' educational requirements and scope of practice, and how to efficiently communicate in teams for better collaborative care for patients.
My experience with iCATS was great, and gave me an opportunity to work on my collaborative medicine skills. My team, which was facilitated by an Interprofessional Education Competencies (IPEC) trained facilitator, met two times for four hours each. The first session, we got to know one another, explained our scope of practice and education requirements, and discussed effective communication. We learned about plain language, engagement, empowerment, empathy, and respect (the PEEER© Model of communication). We watched videos of healthcare teams working together and then spoke about the positives and negatives of the team's communication, and how we could improve upon them using PEEER.
The second day, we watched a healthcare team discussing a patient and making decisions about their care. Unfortunately, in this scenario, there was an adverse event, and we, as a group, had to come up with a way to communicate to the patient our apology while maintaining good communication and team integrity. We had a standardized patient come in so that we could speak directly to the patient and receive feedback on our communication, both with each other and with the patient. After all of this, multiple groups of students met with facilitators to have "debriefs." We talked about the positives and negatives of the program, what we learned, and how they could improve this for the next classes.
Overall, I think that iCATS helped me understand a few of the other integral members of the healthcare team a little bit better. It showed me that we are all important when it comes to providing the best care for our patients since we have our own areas of expertise and experience. It helped me communicate within a team and learn how we can avoid miscommunications and, hopefully, mistakes. I think this has helped me be a little more confident when it comes to talking to other providers, professions, and patients while I'm on my rotations. It also makes going up to someone and explaining what a PA is less intimidating, and I feel more comfortable networking.
Interprofessionalism and teamwork are fundamental to the PA profession, and iCATS ensures that UK grads will know how to be collaborative in their future careers. It is helping make us more well-rounded providers. I would encourage all PA students out there to get some interprofessional experience while in school, even if your program does not have something like iCATS. Consider shadowing another specialty, or asking if your friends know any other professional students you could talk to. The knowledge is invaluable, and you never know what doors it can open for you in the future.
Kaila is a second-year PA student at the University of Kentucky (UK) in Lexington, Kentucky, where she serves as the class of 2019's Assembly of Representatives (AOR) representative. She is the Student Academy's Director of Outreach and can be reached at [email protected].
Thank you for reading AAPA's News Central
You have 2 articles left this month. Create a free account to read more stories, or become a member for more access to exclusive benefits! Already have an account? Log in.