'Lost Boy of Sudan' Devoted to Helping Others as PA
PA Works in Outpatient Psychiatry in Rural CA
October 17, 2018
By Dave Andrews
 In 1987, when he was just an 8-year-old boy in Africa, Jacob Awar Ayuen was among the thousands of children who fled their home country of Sudan during a time of civil war. They would soon become forever known as the "Lost Boys of Sudan" after they made a treacherous journey — traveling on foot for thousands of miles with little-to-no resources — to refugee camps in neighboring countries.
Ayuen and his fellow Lost Boys found themselves trekking through war zones as well as some of the most isolated regions of East Africa. To survive, they would have to overcome a great deal of physical and emotional pain, and depend solely upon the charity and compassion of random villagers whom they passed along the way.
Now 40, Ayuen says he became a stronger person through those experiences and developed a deep passion for helping others. It's no wonder that after he came to the United States in 2001, he started working toward a career in medicine and decided becoming a PA was the best fit for him.
He graduated from the PA program at Union College in Lincoln, Nebraska, in 2014. And because he'd attended school while on a National Health Service Corps scholarship, he was required to work for a period of time in an underserved area. So he and his family moved to Hanford, California, where there was a position with Adventist Health at a regional clinic managing outpatient psychiatry.
Common bonds
California's sprawling Central Valley region is home to a large immigrant population. And like Ayuen, many of his patients have been affected by war in their home countries and some have even been separated from their families.
Identifying with these patients comes all too naturally for Ayuen: "I've found that it's helpful for many of them, especially if they are at a low point, to hear about my story and what I went through," he said. "They might be severely depressed and thinking it's the end of the world, but I'll tell them about how I, too, went through a very difficult time in my life and survived, and so can they."
Like many other parts of the Central Valley, Hanford is a rural and underserved area that has difficulty attracting enough providers to keep up with demand. So Dr. Gary Hoffman, the clinical director of Hanford's psychiatric clinic, was more than thrilled when Ayuen decided to remain on the staff full time.
Having another provider at the rural clinic was significant, and Ayuen's unique background made him even more valuable.
"Our region is a great melting pot of diversity, with a wonderful mix of cultures and influences," Hoffman said. "So it's a tremendous benefit to have a gifted provider like Jacob who comes in with an acute sensitivity to the patients' needs, and with a great ability to communicate and make quick decisions."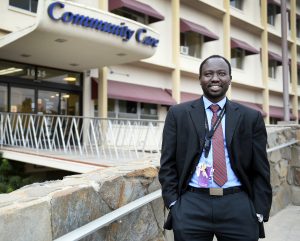 Healthcare in high demand
The Hanford clinic has just three social workers, two psychologists, and one full-time psychiatrist. Yet it still receives a high volume of patient referrals from throughout the area, some of whom are traveling 30 miles or more to get there — and many are coming specifically to see Ayuen.
"We [benefit] a little bit from word of mouth," Hoffman said. "Often times when I look into the waiting room, it's not unusual to see at least two or three people out there waiting for their appointment to see Jacob."
Ayuen loves his work and has a strong desire to stay in psychiatry for as long as possible. But he can also see himself dedicating a portion of his time to primary care, as needed.
However, whether he serves in a psychiatric of primary care capacity, Ayuen is grateful he became a PA — not only because he has a natural talent for the work, but also because it offers the work-life balance that affords him more time to spend with his family.
And that time is priceless for Ayuen and his wife, who now have six children — including two sets of twins — all between the ages of 4 and 13 years old.
"Having a predictable schedule is a great benefit to being a PA," Ayuen said. "Of course, you don't always know what types of patients will show up or what their needs will be — if they'll need to be stabilized or sent to inpatient psychiatry for further evaluation. But generally knowing what my schedule is ahead of time is great for me and my family."
A 'critical link'
Ayuen remains humble about his clinical role, but his colleagues are quick to acknowledge his significance and that of his fellow PAs. Hoffman said he feels "blessed" to have PAs like Ayuen on his staff who enable the clinic to provide a higher level of care.
"They really do extend — in a significant and valuable way — what the psychiatrist is able to provide," Hoffman said. "[PAs] are invaluable, especially those with the knowledge and motivation of someone like Jacob. He understands what a critical link he is within our clinic."
Hoffman is considering ways to further expand the reach of the Hanford clinic to help more patients within the Adventist Health network, and he sees PAs playing a vital role.
"It would be a significant part of our plan to include additional psychiatric PAs to support that effort," Hoffman said. "Doing so would make for a very bright future."
Photo credit: Craig Kohlruss, Fresno Bee
More Resources
Association of PAs in Psychiatry
He walked 1,000 miles on bloody feet. Now this 'Lost Boy of Sudan' helps other refugees
Dave Andrews is a freelance writer and public relations professional based in Northern Virginia. Contact him at [email protected].
Thank you for reading AAPA's News Central
You have 2 articles left this month. Create a free account to read more stories, or become a member for more access to exclusive benefits! Already have an account? Log in.