New Academy Seeks to Create a Diverse PA Population
Program Will Help Create Future Generation of Health Professionals
October 9, 2018
By Eileen Denne, CAE, APR
In order to create a future generation of health professionals from diverse backgrounds, Reamer L. Bushardt, PharmD, PA-C, DFAAPA, was among those instrumental in the effort to partner the George Washington University's (GW) School of Medicine and Health Sciences (SMHS) with Alexandria City Public Schools (ACPS) in Alexandria, Virginia, to create the Governor's Health Sciences Academy at T.C. Williams High School (HS).
The purpose of the Health Sciences Academy, which was endorsed by the state as a full-fledged Governor's Academy in June, is to create a future generation of health professionals from diverse backgrounds to provide culturally competent care for unserved and underserved populations in the metropolitan Washington, D.C. region.
Bushardt, Senior Associate Dean for Health Sciences and Professor, Department of PA Studies at the GW SMHS, as well as editor-in-chief of AAPA's clinical journal, JAAPA, observed that the mission of the Academy speaks to him on a personal and professional level.
Concern for rural healthcare, lack of diversity in professionals
"I grew up in a rural, medically underserved community in South Carolina," Bushardt said. "The impact of health disparities on the overall prosperity of my community was severe. After completing my PA training, I worked in family medicine in rural areas in South and North Carolina and gained a deeper understanding of the daily challenges faced by many of the patients and families that I cared for from disadvantaged backgrounds." While in rural practice, he also helped the Medical University of South Carolina recruit students from underserved communities.
"After I entered academic medicine, my research and service have included projects that study the healthcare workforce pipeline, strategies to improve recruitment of underrepresented students into health careers, current healthcare workforce challenges, and public health concerns about the lack of diversity within and the geographic maldistribution of healthcare professionals."
According to Bushardt, the idea for the Academy came from 2017 brainstorming sessions with ACPS administrators, T.C. Williams HS teachers, and GW SMHS faculty to explore partnership development.
"During these creative sessions, we talked about our individual strengths as educational institutions, shared goals and challenges, and regional workforce needs. The idea and resultant framework for the academy was born from these creative discussions."
Funding from public and private funds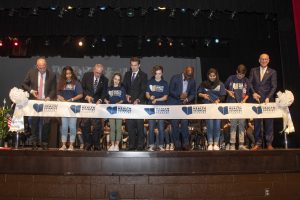 Funding for the program comes from a variety of public and private funds overseen by ACPS and GW SMHS. ACPS draws it support for the Academy from Perkins Federal funding, local career and technical education (CTE) budget, Commonwealth of Virginia equipment and industry certification allocations, T.C. Williams' health and medical sciences CTE budget, and fundraising dollars. GW SMHS is investing in the Academy to support start-up costs, tuition awards, equipment, and faculty development.
Bushardt works closely with GW's Development team to support philanthropic gifts to benefit student and teacher scholarships, and his team was recently awarded a five-year, $3.1 million Health Careers Opportunity Program grant from the Health Resources and Services Administration (HRSA), an agency of the U.S. Department of Health and Human Services. Bushardt serves as principal investigator for the grant project.
Academy offers seven career pathways
At T.C. Williams HS, students come from 118 countries and speak 120 languages. The Governor's Health Sciences Academy allows students to start a career pathway in healthcare and earn college credits while in high school. The Academy offers seven career and technical education pathways: biomedical informatics, medical laboratory sciences, sports medicine, pharmacy, emergency medical services, nursing, and surgical sciences.
Academy students can earn 18 or more college credits from the GW SMHS, while meeting high school graduation requirements. The partnership with ACPS creates innovative training for professional healthcare careers in high demand. Jobs in healthcare are projected to grow 18 percent through 2026, adding about 2.3 million new positions nationwide – more than any other occupation, according to the U.S. Bureau of Labor Statistics.
According to Bushardt, the inaugural class of the Academy includes 100 students who are smart, passionate, motivated, and richly diverse, with more than 15 languages spoken in the class.
"We would be fortunate to have academy graduates study at GW after high school," he said. "The program breaks down barriers and accelerates their journey within the educational pipeline through high school, community college, and four-year institutions. The Academy career pathways also prepare the students for high-demand careers that are particularly sought by regional healthcare employers."  The academy is overseen by a community advisory board which include leaders from government, regional businesses, higher education, health professionals, and healthcare employers.
PA profession and patients to benefit
Bushardt advocates that a more diverse PA population will benefit employers and patients. "As a PA education community and profession, we are totally failing to produce a diverse PA workforce. Racial and ethnic concordance, as an example, between patients and healthcare professionals, is associated with better access to care, improvements in patient adherence, and more favorable patient and family experiences."
Bushardt added that two PA researchers recently published in JAAPA that the enrollment of underrepresented minority PA students has experienced a decade-long decline. The authors argued that if this trend is not quickly addressed, the PA profession's ability to provide culturally competent care to America's increasingly diverse population may be compromised. Factors like raising the educational level for PA training, as seen with the move to entry-level master's degrees, can negatively impact diversity.
"So," he concluded, "We need to be strategic and innovative to build a PA workforce that better represents the diversity within the patient populations that PAs serve. The Governor's Health Sciences Academy at T.C. Williams High School, which includes a pathway to PA careers, is an attempt to positively impact this larger diversity goal."
The ribbon-cutting ceremony for the Academy was held with Virginia Governor Ralph Northam on October 5 at T.C. Williams HS.
More Resources:
Governor's Health Sciences Academy at T.C. Williams High School
GW Health Sciences Strategic Partnerships
Eileen Denne is director of Corporate Communications for AAPA. Contact her at [email protected].
Photo credit: The George Washington University School of Medicine and Health Sciences.
Thank you for reading AAPA's News Central
You have 2 articles left this month. Create a free account to read more stories, or become a member for more access to exclusive benefits! Already have an account? Log in.