PA Program Prioritizes Student Mental Health
FSU Offers Free Student Care Resources
By Holly Daniel
Drinking water from a fire hydrant. Being baptized by fire. Jumping straight into the deep end.  Pick your cliché; any one of them is an apt way to describe the process of becoming a PA, regardless of what school you've chosen.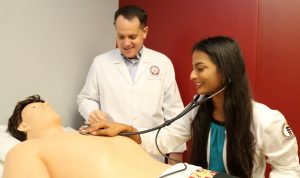 At the beginning of PA school, things feel like any normal college curriculum, however, within a few days you find yourself wondering how you are studying 1,347 slides for a 50-question exam! Time is always in short supply; you have less time to communicate with friends and family, less time to do the things that you love. However, despite this shortage in time, life carries on and your busyness begins to take a toll on the people and relationships you once held paramount.
When I was considering PA school, I heard a statement that almost dissuaded me: "If you are married or in a relationship, expect to be single by the completion of the program."  In other words, anyone serious about pursuing their PA education could expect significant taxation on their time and on their social life.  This was a bit hard to swallow — I remember asking myself: "if this is what PA school is, do I really want to do it?"
With these pressures in mind, Florida State University took an honest and practical approach to these intense challenges. For the inaugural class of their PA program, FSU made special resources available to aid their students. They learned from other programs and paid particular attention to student care. It can be easy for many schools to assume that their students are somehow super human studying machines, but FSU's PA program recognized that everyone hits their mental or physical limits from time to time. The FSU PA program offers on-site counseling and mental health services to every student enrolled. The PA program has a dedicated psychologist who is able to meet regularly with all students.
The first week of PA School is a roller coaster of emotion for students and the on-site psychologist helped smooth the transition considerably. She didn't wait for us to engage her; instead, she hosted a lunch and learn and presented us with tools to help us manage our time, balance our lives outside of school, and acquainted us with the study habits which have fundamental research support for success. Afterward, we were able to meet individually to discuss how to improve exam performance and test-taking skills as well.
The care offered by the class psychologist goes beyond just assistance in meeting academic goals; she offers more conventional counseling services that deal with stress, general anxiety, crisis intervention, depression, or even family and relationship issues. Many people in the program, including me, have struggled to cope with outside stress in addition to the rigorous academic curriculum.
When you're not in PA school and have to deal with a crisis or personal struggles, you have more time to devote to solving the problem or helping your family. Time is crucial when dealing with issues pertaining to mental health. Having too little time to process and cope with an issue can lead to devastating results. Because time is at such a premium in PA school, having counseling services within the same building allows us to take full advantage of any available free time and address and hopefully resolve issues. Of course, not every issue is life or death, but as a stressed-out PA student, sometimes it's just nice to vent.
The College of Medicine's Office of Student Counseling also observes our schedules, allowing them to target the times we are most likely to be experiencing more stress. For instance, last semester they promoted wellness week before final exams which included massages, yoga, labyrinth tours, mini boot camps, and a cardio session.
In additional to the class psychologist and our support from the Office of Student Counseling, FSU also employs a student support coordinator. Working in collaboration with the dean of student affairs, she is there to maintain a student-centered environment, while ensuring our concerns and voices are heard. The doors to the student support coordinator's office are always open. She helps lifts our spirits in times of struggles and cheers us on in our success.
Before I started this program, I was apprehensive about facing the challenges that were in store for me. But FSU's  groundbreaking approach to mental health, student care, and overall wellbeing has been impressive. I am relieved to be a part of such a supportive environment, and that my PA program recognizes the importance of mental health to overall academic success. I do hope it is a beginning of a trend in modern higher education.
Holly Daniel is a PA student at Florida State University. She can be reached at [email protected].
Thank you for reading AAPA's News Central
You have 2 articles left this month. Create a free account to read more stories, or become a member for more access to exclusive benefits! Already have an account? Log in.