Maureen Regan: From Clinical Provider to Healthcare Exec
PA to Discuss Career Path at Executive Leadership Conference
July 3, 2018
By Jennifer Walker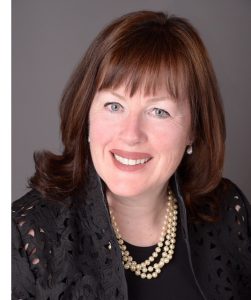 Maureen Regan's career path from clinical provider to healthcare executive might be summed up in seven words: "I was never afraid to change gears." After taking her first position as a surgical PA in 1985, Regan, PA-C, MBA, FACHE, moved on to positions in academic medicine, hospital operations, and ambulatory surgery over the next three decades, all while raising five children. Asked what drew her to continually take on new leadership roles, Regan says simply, "They serendipitously presented themselves and I saw each one as an opportunity."
Regan will be talking about her career path at the Executive Leadership Conference hosted by AAPA's Center for Healthcare Leadership and Management, which will take place from November 6 to 8 in the Washington, D.C., area. The goal of the conference is to help PAs identify the leadership competencies and management skills they need to succeed in a variety of healthcare settings. Sessions will focus on topics such as defining leadership roles and how to get there, understanding your personal leadership style, measuring your workforce, and implementing negotiation skills and strategies.
Rapid move into leadership
Regan has had so many experiences in healthcare in part because she doesn't sit still often. Sitting still wasn't an option in her first PA position on a Surgical Service in a Level 1 Trauma Center during a time when drug wars were raging.  She was a PA for only three years before moving into leadership roles: first as a surgical PA supervisor, then as the assistant director for a PA department, both at Catholic Medical Centers (CMC), in New York. The latter job "was actually very progressive for the time," Regan says, adding that most hospitals didn't have PA departments. In this role, she handled the administrative operations for about 160 interdisciplinary PAs in a four-hospital system.
With her colleagues in CMC's PA department, Regan then segued into academic medicine. She was part of a team of three who wrote a successful proposal to start a new PA program at Catholic Medical Center (CMC) in New York. This was in the 1990s when there were only a handful of PA programs in the state. After taking on roles as the clinical coordinator and interim program director with CMC, she switched gears to become the assistant director of medical education at NYU Winthrop Hospital in Mineola, New York—a position where she was responsible for ACGME and ACCME accreditation standards for residents, fellows, medical students, and practicing physicians.
At the time, "most people thought PAs could only practice medicine or run a PA Program," she says. "It allowed people to see that PAs could be involved in physician administrative processes as well." At the same hospital, Regan would go on to become the inaugural administrative director of surgical specialties, where she would work with department chairs to build service lines and faculty practices in Urology, Ophthalmology, and Otolaryngology.
Adding administration and operations
In February 2018, Regan became the director of ambulatory surgery for ProHEALTH in Lake Success, New York. In this role, she is responsible for the operations at two ambulatory surgery centers, focusing on everything from the revenue cycle and human resources to facilities and medical staff credentialing. "There are all these moving parts," Regan says. On a typical day recently, she began working at 6:30 a.m., about a half hour before the OR started its cases. She had a medical executive board meeting and a credentialing committee meeting, followed by a conference call on revenue cycle key performance indicators (KPIs).
At her session "From Frontline PA to Healthcare Executive" at CHLM's Executive Leadership Conference, Regan will offer advice for PAs who are interested in becoming healthcare executives. For example, she recommends finding a good mentor. PAs working in clinical care might be used to a regular eight-hour-a-day schedule. But a healthcare executive will often have to work evenings, nights, and/or weekends. Regan describes her own schedule as "all over the place." PAs also should be willing to network with management and executive leadership during their own time. "You have to get around the right tables," she says.
More education, volunteer experience a plus
Regan also recommends obtaining additional education in business and administration. "A PA is a great credential, but if you truly want to have opportunities in the administrative world, you should consider getting a graduate degree such as an MBA," she says. Regan received her Master of Business Administration with a focus on executive management from St. John's University in 2003. She also credits her volunteer experience as past president and current president of the New York State Society of PAs (NYSSPA) and delegate to the AAPA for broadening her leadership skills and knowledge of corporate and legislative processes.
She also is one of only a handful of PAs to become an American College of Healthcare Executives (ACHE) Fellow, which has earned her the FACHE credential. To qualify, healthcare professionals must have a master's degree, five or more years of management experience, and 36 hours of healthcare-related continuing education every three years, and then pass the Board of Governors Exam. The credential can greatly open up professional opportunities in healthcare management. "There are some jobs you can't even apply for without this credential," Regan says.
Regan sees clinical PAs moving into healthcare executive positions as a natural career progression for the profession at large. "The more senior PAs should be advancing into other roles, whether it is in industry, in healthcare administration, or, for senior PA faculty, into leadership positions at universities," she says. "We have to evolve into these other opportunities."
Jennifer Walker is a freelance writer in Baltimore, MD. Contact Jennifer at [email protected].
Thank you for reading AAPA's News Central
You have 2 articles left this month. Create a free account to read more stories, or become a member for more access to exclusive benefits! Already have an account? Log in.