Distinguished Fellows Share Motivations for AAPA Recognition
Join this elite group of PAs 
By Kate Maloney 
AAPA's Distinguished Fellow program recognizes PAs who demonstrate outstanding dedication to the profession – whether through leadership, community service, professional involvement or distinction, or  lifelong learning. Distinguished Fellows are an elite group of PAs who are committed and driven, on the forefront of team-based healthcare, and devoted to improving their own practice environments and paving the way for future PAs who come after them.
Cynthia Trickett, PA-C, DFAAPA, practices at Texas Dermatology Associates in Dallas, Texas and recently received the Distinguished Fellow designation. The application process is thorough, but Trickett felt strongly about taking the time to apply. She wanted recognition for all that she does for the PA community. She embodies the requirements of a Distinguished Fellow – she is professionally involved, volunteers in the community, and continues to learn and share her knowledge. She has served as a preceptor since 2009, taking up to seven students a year. She regularly lectures to PAs and PA students, sharing her knowledge and experiences in the dermatology field. She applied because she "likes the idea of being honored and recognized," and equates the designation to "the military giv[ing] a career field badge."
Craig Baumgartner, PA-C, DFAAPA, graduated from PA school in 1985 and has been working as a surgery PA at NorthShore University HealthSystem in Glenview, Illinois for the past 12 years. He originally applied to be a Distinguished Fellow because he "thought it would be a good opportunity to meet and network with other experienced PAs." Baumgartner's own PA career stemmed from networking interactions he had while working as a paramedic; his exposure to the PA profession in his day job and conversations with a fraternity brother who was working as a PA inspired him to apply to PA school. In addition to the networking opportunities that come with being a Distinguished Fellow, Baumgartner also encourages PAs to "receive the recognition they deserve for being an experienced PA and working to advance the profession through teaching, leadership, and volunteer activities."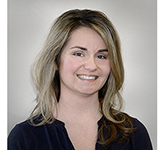 Renee Andreeff, PA-C, DFAAPA, took a more direct route to the PA profession than Baumgartner. Born with a heart condition, she was in the pediatric cardiologist's office every six months of her childhood, and found herself fascinated by the medical information she heard and naturally soaked up complicated medical information. With the support of her parents, she realized PA school was right for her, and began her journey.  While practicing full time, Andreeff recognized gaps in medical student knowledge, and devoted herself to PA education. She is currently an Associate Professor at D'Youville College in Buffalo, New York. Given Andreeff's background and commitment to the profession, she wanted her Distinguished Fellow designation to "serve as a recognition of my commitment to the PA profession, research, and PA education." She finds the focus on "better[ing] the profession" particularly meaningful – "it helps distinguish the PAs who have a passion for the profession and are doing their all to promote it."
Baumgartner and Andreeff both now volunteer for the Distinguished Fellow program. They review applications of potential Distinguished Fellows, conduct interviews, and issue recommendations. They find the volunteer experience rewarding, and talking to their fellow PAs illuminating.  Baumgartner cites "learn[ing] of impressive accomplishments that each applicant has achieved in their career and personal life" as his favorite part of volunteering; Andreeff finds reviewing applications "fascinating," and is constantly surprised by "how many different facets of the profession there really are."
Looking for advice from the pros?  Baumgartner recommends potential Distinguished Fellows "be thorough" when applying – "do not assume the reviewers will be familiar with the details and responsibilities of various employment, teaching, leadership or volunteer positions you list or accomplishments you have achieved." And Andreeff encourages all PAs "to expand yourself beyond the daily grind of the office."  The reward, as she says, is worth it!
Join Trickett, Baumgartner, and Andreeff in this elite group of PAs and apply today. Find out more about eligibility requirements and the application process.
Kate Maloney is the senior manager of corporate communications at AAPA. Contact her at [email protected]. 
Thank you for reading AAPA's News Central
You have 2 articles left this month. Create a free account to read more stories, or become a member for more access to exclusive benefits! Already have an account? Log in.