PA Ochs Practices Integrative Medicine Partnership with Patients
By Ellen Ryan
Late last spring, an 82-year-old man came to Cathy Ochs, PA, after losing 10 pounds in a month and becoming shaky. Various tests at her Redding, California, office showed classic symptoms of hyperthyroidism.
But why? While a cardiologist prescribed pulse-calming medication, Ochs did a tox screen and talked with him and his wife about diet, sleep, and conditions at home.
Starting in March, she learned, the man had started golfing more, as much as 18 holes three times a week—just around the time the course ramped up its use of pesticides and herbicides. Knowing how he'd reacted after golfing led to a treatment plan.
"My patients teach me so much because I listen to them," she enthuses.
Ochs owns her PA practice, Redding Integrative Medicine, and is a one-woman movement for practice ownership. She also wants to spread the word about integrative medicine's natural approach and greater time with patients. Her self-published 2015 paperback, The Integrative Medicine Solution: Go Beyond Wellness to Heal Your Patients and Your Practice, takes on both causes.
"I can no longer sit by silently while the current healthcare system is being transformed from a patient-centered care [sic] to a profit-center, disease-care system," she says. "What's different about integrative medicine is getting to the root cause of problems, not just treating symptoms."
What's different about her practice is seeing just six to eight patients a day, taking no insurance, and feeling largely free from the constraints of the standard pharma- and paperwork-filled medical world.
The Colorado State University forestry major had planned to be a wildlife biologist. Then she encountered a PA at the student health center, and a new future beckoned. Ochs changed majors to biology, became an EMT for an ambulance company, and graduated from the University of Nebraska Medical Center in 1980.
Starting out in family medicine, Ochs, 61, soon shifted into integrative medicine. Over time, two trend lines developed in her professional life.
In the first, she came to feel trapped by conventional medicine's approach to patient care. Under pressure from insurance companies, people were in and out in 10 minutes—"it's hard even to refill medications in 10 minutes." A cursory look at symptoms was all that was possible.
In the second, she and her father encountered cardiovascular problems, and Ochs began researching ways to reduce blood pressure and the risk of heart attack and stroke using an integrative medicine approach.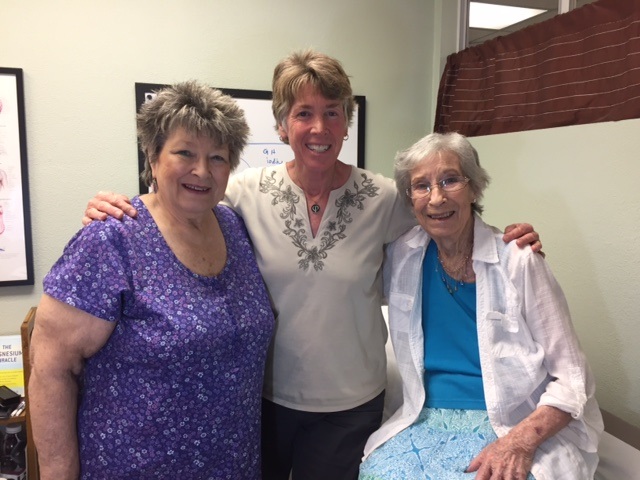 Learning from mentors, patients, and these personal experiences, Ochs adapted her approach to medical treatment. Her father's care meant learning more about heart health and the three main sources of inflammation: the mouth and teeth; the gut; and environmental toxins, which have grown exponentially in recent decades.
About eight years ago, Ochs opened her own clinic, Cardio Care Naturally. But within 18 months, she realized that was too narrow a focus and renamed the practice Redding Integrative Medicine. "Environmental toxins are a main, driving force," she says—everything from bisphenol A to perchlorate to mercury.
Joseph Pizzorno, MD, author of The Toxin Solution, and the authors of numerous peer-reviewed studies, similarly advocate for looking at prevention through the underlying causes of illness—often environmental—rather than just treating the symptoms with increasingly expensive pharmaceuticals and other treatments.
"The average medical student receives only seven hours of environmental health training in their four years of medical school," Ochs explains. "It's not enough to help patients to eat well, exercise, and manage their stress"—PAs do a disservice by not passing on knowledge of environmental toxins and their pervasive effects.
In fact, she has pressed to make integrative medicine more understood and common among PAs: "To me this shouldn't be a specialty. This is really how medicine should be."
Currently, integrative medicine is not among the 24 specialty boards that offer board certification to physicians under the American Board of Medical Specialties (ABMS). However, physicians can pursue a certification in integrative medicine with the American Board of Physician Specialties, a lesser known alternative to ABMS. PAs can currently pursue Certificates of Added Qualifications in only seven specialties. Ochs aims to make this the eighth.  Last September she formed the Integrative Medicine Physician Assistant Association. (This organization is not affiliated with or a recognized constituent organization of AAPA.) Its first training, for 14 AAPA-approved Category 1 continuing medical education credits, will be held Sept. 22-24 in Redding.
The idea is to demonstrate that enough practitioners are interested in certification through trainings and membership. Ochs sees IMPAA spreading east from California to Nevada, Colorado, and "all the way to New York," with 5,000 PAs eventually showing through practice that integrative medicine is a growing movement.
The crusading PA foresees a future, "hopefully not far off," when PA schools offer fellowships and certifications in integrative medicine: "I won't retire until that happens."
Meanwhile, Ochs' father is hale and hearty in his 90s, and her golfing patient was able to come off the heart meds after six weeks. She worked with him to stop playing golf and to eat more organic foods while searching for a course with fewer toxic chemicals.
"The golf connection was his wife's instinct," Ochs says. "There's no such thing as failure; there's only feedback. That's the way it's supposed to work—a partnership with patients."
Ellen Ryan is a freelance writer based in Maryland.  Contact Ellen at [email protected].
Thank you for reading AAPA's News Central
You have 2 articles left this month. Create a free account to read more stories, or become a member for more access to exclusive benefits! Already have an account? Log in.