Career Flexibility within the PA Profession
By Noel Smith
PA Training
The basic tenet of PA education lends a PA to having flexibility in their specialty. This is unique to the PA profession. PAs are educated as medical generalists and recertify as medical generalists.
PA Flexibility
PAs are one of the most versatile healthcare providers. Hooker, Cawley and Leinweber (2010) examined four decades of data from AAPA and found that 49 percent of PAs reported two specialties at different points in their career. PAs in general surgery (28 percent), general internal medicine (30 percent), and occupational medicine (37 percent) had the lowest percentage of PAs who reported no change in specialties over the observed time.¹
More recently, 8.3 percent of PAs surveyed indicated that they had changed their specialty within 2014. There was a slight decline in 2015 to 5.5 percent who indicated that they had changed their specialty.¹ Looking at the broader context of career flexibility, AAPA found that PAs changed their specialty in 2015 about as frequently as they changed their setting and role, and about half as frequently as they changed their employer (Figure 1). Are there certain groups of PAs, such as those found in the 2010 study by Hooker and colleagues, that are utilizing the flexibility afforded by their generalist education?
Specialty Change
Women were more likely to change specialties in 2015 (4.4 percent versus 5.9 percent). Those who changed their specialty within 2015 had less experience as a PA, with PAs who switched having 5.0 years of experience compared to 7.5 years for those who did not switch specialties.
The most common reason selected for switching specialties in 2015 was to work in a higher paying specialty (23.3 percent), followed by being ready for a change (15.0 percent), and to get a better work-life balance (14.3 percent). Moving (11.4 percent) and an indication that they always intended to change specialty after establishing a broad knowledge based in primary care (10.7 percent) filled out the top five reasons selected for changing specialties. In terms of gender difference, women were unhappier with their employer; 1.7 percent of men and 8.2 percent of women reported that they were unhappy with some aspect of their employer. There was no difference in terms of the first specialty the PA was in, with the exception that PAs who were in primary care reported that they always intended to change compared to PAs in other specialties.
Figure 1: Percent of PAs Who Changed Their Employer, Setting, Role, or Specialty in 2015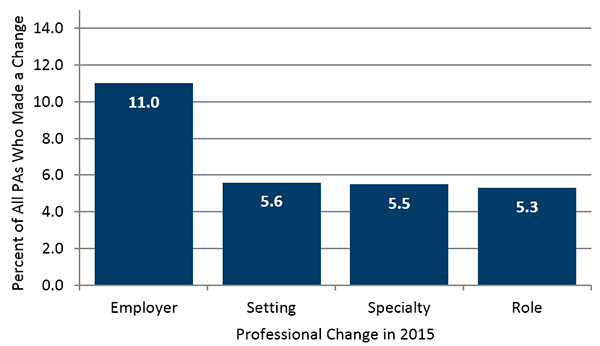 Note: The data reflect all clinically practicing PAs, regardless of where they are employed and how many hours they worked.
When PAs change specialties it is frequently assumed that they are changing from a primary care specialty to a non-primary care specialty; however, this is not necessarily the case. The reality is that almost three quarters of PAs stay within either a primary or non-primary specialty when they make a change. That is, they are moving within their general specialty area. In fact, results from AAPA's 2016 Salary Survey indicate that of transitioning PAs, only 15.7 percent moved from a primary care specialty to a non-primary care specialty, and even fewer (11 percent) in the opposite direction from a non-primary care specialty to a primary care specialty.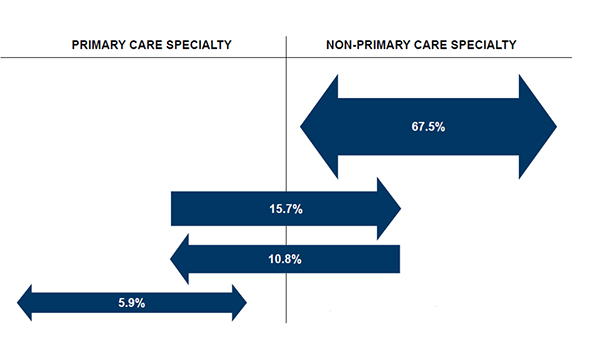 Note: The data reflect all PAs who responded to the 2016 AAPA Salary Survey and indicated which specialties they moved from and to.
¹Hooker RS, Cawley JF, Leinweber W. Career flexibility of physician assistants and the potential for more primary care. Health Aff (Millwood). 2010;29(5):880-886.
Noel Smith as AAPA Senior Director, PA and Industry Research and Analysis.  Contact Noel at [email protected].
Read more about PA career trends.
Thank you for reading AAPA's News Central
You have 2 articles left this month. Create a free account to read more stories, or become a member for more access to exclusive benefits! Already have an account? Log in.