Ready to Intervene
Opportunities are growing for PAs in interventional radiology
By Steven Lane
Interventional radiology, sometimes described as the "surgery of the new millennium," is one of medicine's most innovative, cutting edge disciplines. Interventional radiologists (IRs) use real time imaging modalities like X-ray, CT, ultrasound or MRI to deliver targeted treatments to very specific locations in the body, usually through a catheter threaded through an artery or through a needle inserted directly into the skin. This "minimally invasive" approach also reduces pain, risk and recovery time for patients compared to conventional surgery.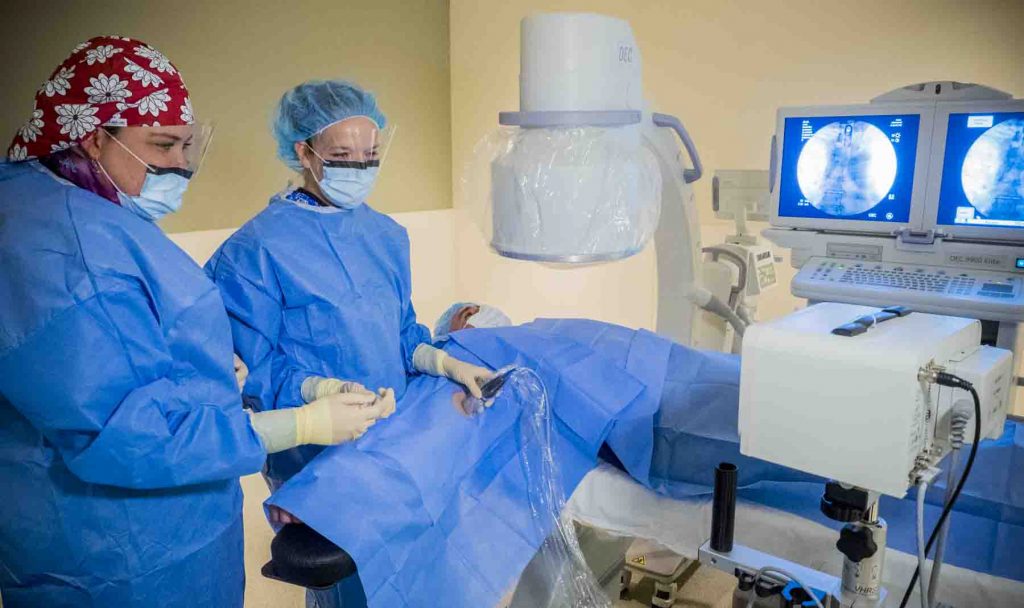 Over the past decade or two, PAs have become a significant and growing force in IR. The role initially envisioned for PAs in IR has expanded greatly, and while many PAs in IR do handle much of the pre- and postoperative patient care in their practices, they also spend the majority of their time doing procedures that would until quite recently have been handled only by physicians.
"Our PAs do a wide variety of things," says R. Donald Doherty, MD, a board-certified interventional radiologist at Virginia Interventional and Vascular Associates (VIVA), in Fredericksburg, Va. The practice has employed PAs since 2001. "They run our outpatient clinic, help manage our inpatient census, and round on patients. They are also performing a lot more procedures than we anticipated."
A different type of workload
Since about 2000, IR has changed significantly, from a referral-based specialty with its roots in radiology, to a more clinical discipline, with its own outpatient clinics. A 2008 position statement from the Society of Interventional Radiology (SIR) noted that this transformation resulted in a "fundamentally different type of workload for the practicing interventional radiologist," and meant that IR practices would need to figure out how to "provide clinical care for patients before and after procedures."
This change to a more clinically focused specialty meant opportunities for many PAs, especially in a handful of practices where visionary physicians saw the potential of PAs early. There are now more than 400 PAs in IR, which is among the highest paid specialties for PAs, according to the 2015 AAPA Salary Report.
"For sure, the number of PAs in IR has been growing," says Brian Granvall, PA-C, who works in IR at Boise Radiology Group in Boise, Idaho. "Radiology has traditionally been looked at as a service line for other physicians, not as a clinical specialty. But IRs are now much more patient care oriented. They are hiring PAs and opening clinics. I see emerging opportunities for PAs."
All of the PAs interviewed for this story say they spend at least 80 percent of their time doing procedures. And they often perform more than 80 percent of the procedures that their practices offer.
"We perform procedures like PICCs, subcutaneous port placement, lumbar punctures, thoracentesis, paracentesis, drainage catheters—you name it, our hands are on it at some point," says Nick Oravetz, PA-C, who has worked for more than a decade at Mecklenburg Radiology Associates in Charlotte, N.C., one of the first practices to hire PAs.
Among the few highly specialized procedures that IR physicians do and PAs don't are uterine fibroid embolization, in which small particles are inserted via catheter into the uterine artery to block blood flow and kill uterine fibroids, and cryoablation, in which cancer cells are killed by freezing them.
Breaking into IR
Many PAs who have established careers in IR, especially the early trailblazers, have done so through their own initiative. Mike Bonisa, PA-C, a colleague of Oravetz's at Mecklenburg Radiology Associates, was one of the first PAs in IR; he has been in the specialty for nearly 17 years. Bonisa set up his own rotation at Mecklenburg while in PA school and landed a job there after graduation from the Wake Forest University PA program.
"At the time, they were not 100 percent sure what a PA would do," says Bonisa. He started out doing mostly peripherally inserted central catheter (PICC) lines, but "then it really opened up." Soon he was doing dialysis catheters, then paracentesis and CT-guided procedures, before moving on the lumbar punctures and GI work.
Mecklenburg now has 11 PAs, along with 40 physicians, and Bonisa estimates that the PAs do about 80-85 percent of the practice's procedures.
"This practice kinda broke the ground for PAs in IR," he says.
Granvall previously worked in a vascular surgery and vascular IR practice in Vancouver, Wash., but really got the IR bug while on a Bethesda, Md., trauma surgery service years later. "I asked the IR docs if they would teach me some procedures while waiting for the pager to go off," he says. "For a couple of years I enhanced my skills and decided that IR was what I wanted to do." He has been practicing solely in IR for more than three years now.
Suzanne Shelling, PA-C, a colleague of Doherty's at VIVA, recalled being asked repeatedly in her interview whether she knew what IR was. "None of them thought I would know what it was," she remembers. Shelling had moved to Fredericksburg to be closer to her husband's job after getting married, after three years working in orthopedics, and decided to apply when a job came open at VIVA. She found that her love of working with her hands and doing procedures suited her well for IR.
She has been at VIVA for 12 years now and recently became the first PA in Virginia to qualify to use fluoroscopy, which required her to complete 40 hours of both didactic and clinical work and pass the certification test given by the American Registry of Radiologic Technologists.
'All the cool toys'
Many PAs who work in IR seem to share Shelling's affinity for working with their hands, and for technology.
"I had a student in the practice yesterday and I told her that we get to work with all the cool toys," says Chris Davis, PA-C, with EVDI Medical Imaging in Mesa, Ariz. "We have the newest type of ultrasound, a new angiography machine. If there is a catheter or a wire or tube that needs to be placed under image guidance, that's what I do."
"I would tell PAs interested in IR, if they are good with their hands and they've thought about a surgical practice but not in a surgical setting, IR is a great path," says Bonisa. "I love the procedures. It's a great feeling when I'm able to provide something that will help a patient along. It keeps me interested. Like when we get a patient with a dialysis graft that has clotted, we do a thrombectomy—it's a thrill to get it back open and get a good flow."
But even these tech-oriented PAs enjoy the relationships they have with patients and being able to put them at ease. "We can spend a little more time with patients; we are scheduled that way," says Shelling. "We can explain things to them more. Patients used to show up to get a port with eyes as wide as saucers. Now we have a clinic and the first time we see them we are not coming at them with needles. We are just talking to them and putting them at ease."
And there are some regular patients even in IR. Patients with liver cirrhosis, for example, may require repeated treatments to withdraw ascites fluid from their abdomen. "You do have some longer term relationships with patients," Davis says. "The most important thing is the relationships with patients."
A growing field
Interventional radiology is still a relatively new field, even for physicians, and the opportunities for PAs seem likely to only increase. Davis and others are working with some PA programs to increase the exposure that students get to IR while in PA school. "When I talk to students or teach at local PA schools, students are very interested in being able to do these procedures," says Davis. "It's a great draw for new PAs."
PAs in radiology have been recognized as a special interest group (SIG) by AAPA, and they are working on achieving specialty organization status, says Davis, who holds a leadership position in the PAs in Radiology SIG.
And SIR, the national organization for IRs, is opening up its educational offerings to PAs and others. "SIR is very supportive of PAs and NPs," says Kathy Taylor, an NP who chairs SIR's "clinical associate track" at its annual conference. "We can be members now, and get the journal."
State laws are also changing, especially in the area of fluoroscopy, which has long required special certification because it involves radiation. Oregon recently became the sixth state to allow PAs to become certified to use fluoroscopy; they must pass the American Registry of Radiologic Technologists (ARRT) fluoroscopy exam after completing 40 didactic and clinical hours through a course developed by AAPA and the American Society of Radiologic Technologists.
"PAs and PA students alike have very limited exposure to IR in their education," says Oravetz. "There is much more to radiology than just CTs, MRIs, and plain films. The students we've had are always amazed at what we do and usually had no idea that IR was a potential field for them. I tell them, if you like surgery and emergency medicine, consider IR. I think it's a unique and evolving niche for PAs."
"For our practice, having PAs is indispensable," says Doherty. "They allow you to extend your practice much further; as PAs are able to do more procedures they free the doctors up to do more complex interventions. They also have the ability to give much more personal care to our patients; they have the freedom to give more time to the patients than I can.
"I think, when I talk to my interventional radiology colleagues, if they don't have a PA or an NP they are looking to hire one. They always ask how we incorporated PAs into our practice. It is much more common now than 10 years ago; more practices will be hiring them, and those practices will expand. I never imagined we would have six [PAs and NPs]. PAs in interventional radiology are just going to continue to grow."
This article was originally published February 2016 in PA Professional.
Thank you for reading AAPA's News Central
You have 2 articles left this month. Create a free account to read more stories, or become a member for more access to exclusive benefits! Already have an account? Log in.