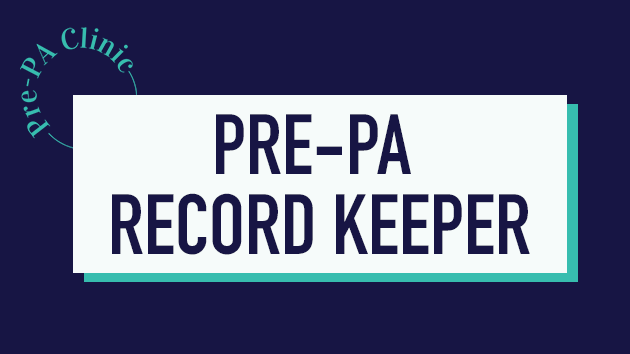 Pre-PA Record Keeper
Applying to PA School Can Be Easy, Organized, and Stress-Free
FREE to AAPA members! From AAPA and the Pre-PA Clinic, this checklist tool is the perfect solution to collect and store your records – and apply to PA school without getting overwhelmed.
Whether you're applying in the current CASPA cycle or in the future, this valuable resource keeps your required details, dates, and information all in one place. Plus, with this tool you can be organized enough to take advantage of rolling admissions and apply early!
Inside the Record Keeper, you'll find:
A guide to what you need to collect
An easy way to keep track of all your personal and professional information
Separate, clear tabs to record your experiences, like shadowing, patient care, and healthcare hours
Examples of how to write strong and detailed descriptions of your experiences
The same entry format as CASPA so you can easily transfer information when you are ready to apply
All this works to help you create your most competitive CASPA application – saving you stress, worry, and time (so you can focus on classes and clinical jobs!).
Meet the Pre-PA Clinic Team
Katie Bean and Beth Macintire are both certified PAs with extensive experience in the clinical setting as well as years of experience in PA academia. Katie graduated from Florida State University with a bachelor's degree in psychology, received her master's degree in PA studies at South College, and earned her Doctor of Medical Science degree at Lincoln Memorial University.
Beth completed her PA training at the University of Kentucky, went on to do a post-graduate fellowship in orthopedic surgery, and then achieved her Doctor of Medical Science degree from Lincoln Memorial University.
Katie and Beth are the co-founders and owners of Pre-PA Clinic and specialize in helping students get accepted to PA school. They are passionate about education, traveling the world, trail running, and doing anything outdoors!