Constituent Organization Awards
AAPA's Outreach and Advocacy Awards are presented each year to recognize constituent organizations (COs) for their outstanding programs, projects and initiatives. All COs are eligible to submit an entry including state chapters, federal service chapters, specialty organizations, caucuses and special interest groups.
What project or initiative is your CO undertaking this year? Could it be an award contender?  Applications for 2020 awards were accepted from October 1, 2019 through January 24, 2020. Read program rules before applying.
For more information, contact the Constituent Relations Work Group at [email protected].
---
This year's Award winners were announced during AAPA 2019:
The award for Expanding PA Opportunities was presented to the Association of PAs in Cardiothoracic and Vascular Surgery (APACVS). APACVS was honored for their three-year Leadership Tract PA Primer Course. Through partnerships with various partners, including the Center for Healthcare Leadership Management (CHLM), physician groups, and Constituent Organizations, the leadership tract has created unique educational opportunities for PAs throughout this specialty.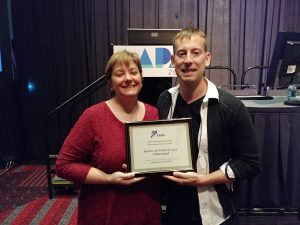 The award for Advancing the PA Identity was presented to the Society of Point of Care Ultrasound (SPOCUS).  SPOCUS's "Yes, iScan" Ultrasound Student Competition & Workshop at AAPA 2018 was the first ever national point of care ultrasound event created solely for PA students, designed by PAs, and instructed primarily by PAs. This program ignited interest among PA students and demonstrated the value of POCUS in PA practice as well as PA educational programs.
The award for Creating Progressive Practice Environments for PAs was presented to the Ohio Association of PAs (OAPA). OAPA helped pass PA practice legislation during the 2017-2018 Ohio legislative session that eliminates filing of supervision agreements with the state medical board, removes PA formulary, increases the PA to physician ratio to 5:1, and decreases the experience needed for non-master's degree PAs to obtain license and prescription privileges.