AAPA National Medical Challenge Bowl
AAPA National Medical Challenge Bowl
Cheer on your PA program at this high-energy medical game show, held on Monday, May 23 at 7 p.m. in the Indiana Convention Center. All teams will answer multiple choice questions on a screen using an Audience Response System (ARS) keypad. The 36 top-scoring teams will then advance to the on-stage rounds and answer free response questions on a variety of topics ranging from anatomy to microbiology and psychiatry.
What types of questions are asked during the competition?
Questions are asked on a variety of subjects, including physical diagnosis, microbiology, anatomy, OB/GYN, pulmonary, cardiology, primary care, emergency medicine, and surgery.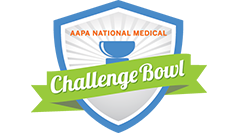 What are the eligibility requirements?
At least 75 percent of all PA students in the team's PA program must be AAPA student members.
The team's Student Academy representative (SAR) must attend the AOR meeting held during AAPA's Conference.
All team members must be AAPA student members currently enrolled in an accredited PA program that has a student society registered with AAPA.
All team members must be registered for AAPA's Conference.
Only one team member per team can be graduating within 30 days of competition.
How do I register a team?
2022 Challenge Bowl registration will open February 1.
What is the cost of registration?
There is no entrance fee. Participants must be registered as conference attendees and show their conference name badge at team registration.
When will I know if my team has been accepted?
All teams will be notified of their eligibility status in March.
For more information, contact the Student Academy National Office at 571-319-4310 or email

[email protected]

.
More on the Challenge Bowl:
2022 Participating Teams
Baylor College of Medicine
Bethel University – TN
Bryant University
Butler University
Campbell University
Case Western Reserve University
DeSales University
Drexel University
Duke University
Elon University
Emory University
George Washington University
Harding University
Hardin-Simmons University
High Point University
Hofstra University
Indiana University
Ithaca College
James Madison University
Johnson & Wales University
Lake Erie College
Lincoln Memorial University
Mary Baldwin University
Mayo Clinic Rochester
Mercer University
Mercy College of Ohio
Miami Dade College
Midwestern University-Downers Grove
Midwestern University – Glendale
Mississippi College
Mississippi State University
North Greenville University
Northern Arizona University
Northwestern University
Nova Southeastern-Jacksonville
Nova Southeastern-Orlando
Oregon Health & Science University
Penn State University
Quinnipiac University
Sacred Heart University
Saint Elizabeth University
Saint Louis University
Salus University
San Juan Bautista
Shenandoah University
South College – Atlanta
South University – Richmond
South University – Savannah
Southern Illinois University
St. Bonaventure University
St. Catherine University
Stanford University
Stony Brook University
Sullivan University
Touro University-NV
University of Bridgeport
University of Colorado
University of Florida
University of Lynchburg
University of South Alabama
University of South Dakota
University of Washington Medex-Kona
Valparaiso University
Wake Forest University
Yale Online PA Program
Yale University
Premier Sponsor
Supporting Sponsor
Sustaining Sponsor