AAPA National Medical Virtual Challenge Bowl
AAPA National Medical Virtual Challenge Bowl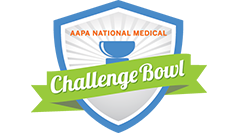 Cheer on your PA program at this high-energy medical game show!
The can't-miss PA student event! This year's AAPA National Medical Virtual Challenge Bowl will be held on Monday, May 24, at 7:30 p.m. Thank you to our Premier Sponsor, Rosh Review, our Supporting Sponsor NCCPA, and our Sustaining Sponsor CVS Health MinuteClinic for sponsoring this event.
How Will Virtual Challenge Bowl Work?
Once your team has signed up for Virtual Challenge Bowl, AAPA staff will verify that your program and team have met all eligibility requirements (see the list below) and confirm your participation via email. Each team will participate in a virtual regional qualifying Challenge Bowl event in April 2021. The top scoring team from each of the six regional qualifying events will move on to the Virtual Challenge Bowl Championship on May 24. See which region your program falls into here.
AAPA will use Zoom and Kahoot during both the regional qualifying events and the Virtual Challenge Bowl Championship. Teams of three students will be placed in their own Zoom breakout room, where they will be able to see and hear the event emcee, and also see the multiple choice questions. One person per team (the Team Captain) will be in charge of joining the Kahoot and selecting the answer for their team. The Team Captain will use a tablet, phone, or a second computer to join Kahoot and select the answers for the team. Kahoot automatically awards more points for answering quickly and correctly. In the event of a first-place tie among Challenge Bowl teams, a separate tie-breaker event will be scheduled.
Regional events will not be livestreamed but they will be recorded for AAPA 2021 attendees to watch later. The Virtual Challenge Bowl Championship event will be livestreamed to AAPA 2021 attendees.
Challenge Bowl Rules & Procedures
All team members must have a secure, continuous Internet connection and a computer with a camera and microphone. The computer must be plugged into an electrical outlet. Loss of internet or power during a regional or final event will not trigger a re-do of a regional or final event.
The Team Captain must have a second computer, tablet, or phone to answer the Kahoot questions on behalf of their team. Teams will have time to discuss their question and answers in their breakout before submitting their final answer. This computer/tablet/phone must have a secure, continuous internet connection and have enough charge to last the duration of the Challenge Bowl event.
Faculty, program directors, alternates, and other PA students will not be permitted to join their team in the breakout room or help in person or via text. Teams found to be doing so will be disqualified from the 2021 Challenge Bowl.
When are the regional qualifying events?
Sunday, April 18
Northeast region: 1:00 p.m. ET
Mid-Atlantic region: 2:30 p.m. ET
Southeast region: 4:00 p.m. ET
Sunday, April 25
North Central region: 2:00 pm ET
South Central region: 3:30 p.m. ET
Western region: 5:00 pm ET
What types of questions are asked during the competition?
Multiple choice questions are asked on a variety of subjects, including physical diagnosis, microbiology, anatomy, OB/GYN, pulmonary, cardiology, primary care, emergency medicine, and surgery. All questions for the 2021 Virtual Challenge Bowl and qualifying regional events are provided by Rosh Review.
What are the eligibility requirements?
At least 75% of all PA students in the team's PA program must be AAPA student members.
All team members must be AAPA student members currently enrolled in an accredited PA program that has a student society registered with AAPA.
All team members must be registered for AAPA 2021.
Only one team member per team can be graduating within 30 days of competition.
Required for the final event on May 24 only: The team's Student Academy Representative (or alternate) must attend the AOR Meeting held during AAPA Conference on May 23.
How do I sign-up my team?
2021 Challenge Bowl team sign-ups will open February 1.
What is the cost of registration?
There is no entrance fee. Participants must be registered as Conference attendees, which will be verified by AAPA staff prior to both the regional events and Virtual Challenge Bowl Championship on May 24.
When will I know if my team has been accepted?
All teams will be notified of their eligibility status in March 2021.
For more information, contact the Student Academy Staff Advisor at 571-319-4310 or email 

[email protected]

.
2021 Participating Teams
Bay Path University
Bethel University-TN
Butler University
Campbell University
Case Western Reserve University
Charles R. Drew
Chatham University
CUNY School of Medicine
Des Moines University
DeSales University
Drexel University
Duke University
Emory University
Franklin College
George Washington University
Hardin-Simmons University
Hofstra University
Idaho State University
Indiana University
James Madison University
Lake Erie College
Mary Baldwin University
Mercer University
Miami Dade College
Midwestern University-Glendale
Mississippi College
Northeastern University
Northern Arizona University
Northwestern University
NSU Jacksonville
Oregon Health and Science University
Pace University-Lenox Hill
Penn State
Quinnipiac University
Red Rocks Community College
Sacred Heart University
Saint Catherine University
Salus University
Samford University
South College-Atlanta
South University-Richmond
South University-Savannah
Stanford University
Stony Brook University
Thomas Jefferson University-East Falls
Touro University-California
Touro University-Nevada
Trine University
Tufts University
University of Arkansas
University of Bridgeport
University of Colorado
University of Florida
University of Lynchburg
University of New Mexico
University of Oklahoma-OKC
University of Saint Joseph
University of South Carolina
University of Southern California
Wake Forest University
Yale University
Yale University- Online
Premier Sponsor
Supporting Sponsor

Sustaining Sponsor