The Challenges of Identifying Hidradenitis Suppurativa
PA in Dermatology Laura Bush Provides Insight into Painful Skin Disease
August 3, 2022
SPONSORED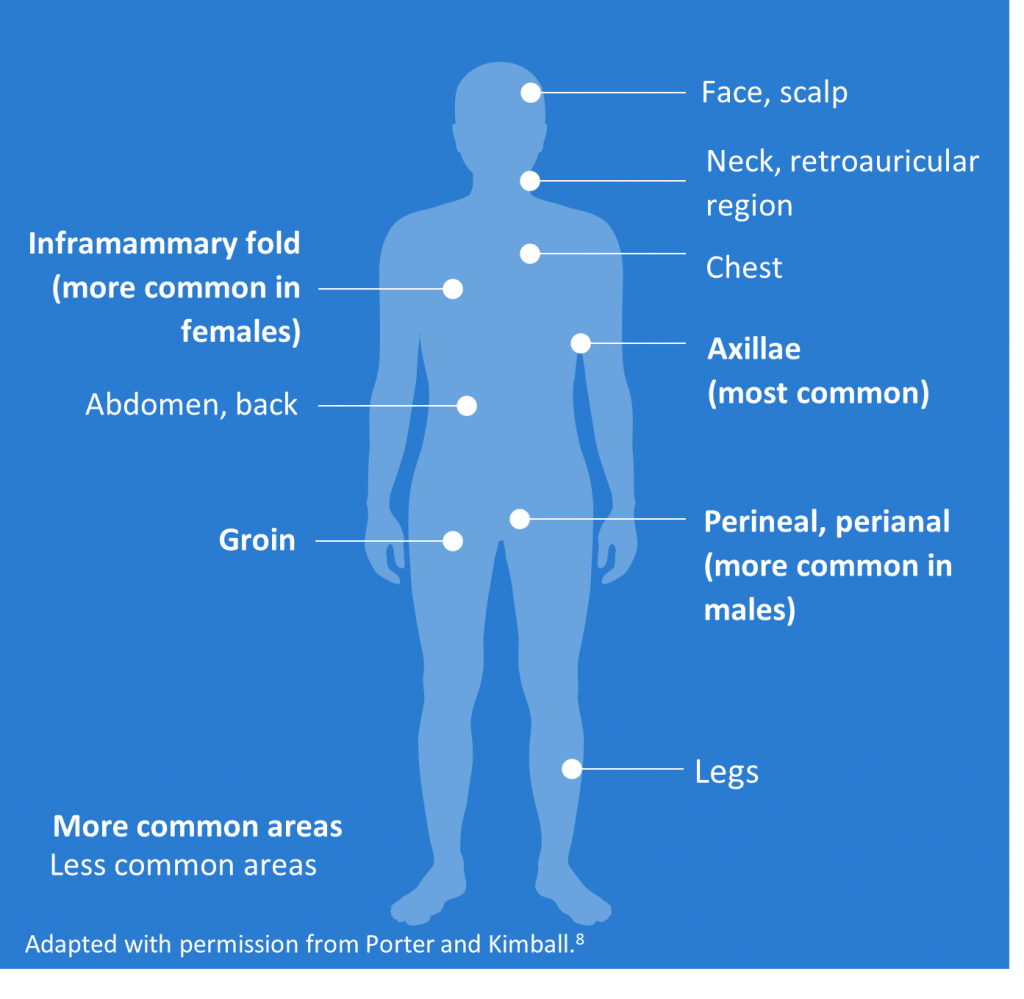 Hidradenitis suppurativa, or HS, is a painful, debilitating, and chronic inflammatory skin disease. It presents as recurrent and persistent abscesses most commonly in the intertriginous areas in the groin, genitals, buttocks, and axilla.1–3
HS starts in hair follicles near sweat glands and is often mistaken for an infectious process. While lesions may look like a simple abscess, the characteristic features of HS include recurring, painful nodules and abscesses that progress to purulent discharge, sinus tracts (tunnels), irreversible tissue destruction, and scar development.2–4
Preventing Misdiagnosis
Laura Bush, DMSc, PA-C, says that diagnosing and treating HS requires an understanding of the pathology of the disease. HS is not an infection; it is a systemic inflammatory disorder that requires long-term care and treatment best offered by a dermatology practice familiar with the underlying pathology.5
Patients often present first to their primary care practitioner or OB/GYN, but may go to urgent care or the emergency department with an abscess that has become very painful. Patients are sometimes misdiagnosed with abscesses, ingrown hairs, sexually transmitted diseases, or an infection; they may also be told the abscess is due to cleanliness or sanitary issues.6
These misdiagnoses feed into the stigmatizing beliefs that people with HS often have about their condition, Bush says. For example, according to Bush, some patients comment that, "it is my fault because I did not keep myself clean enough or care for my skin properly." It is important that the healthcare community recognizes that abscesses, especially in intertriginous areas, may have an underlying pathology and suspect HS.
Identifying HS in Patients
There are three key features of HS that can be used to differentiate it from other conditions: the type of lesions, location of the lesions, and whether the lesions are chronically recurring or persistent.2,3 Early diagnosis and referral to dermatology are essential to limit the damage to the patient's skin and the impact on their quality of life. HS that is not managed appropriately can result in permanent scarring that may thicken and may eventually restrict a patient's ability to move their arms or other affected body parts.7,8
Bush notes that patients with HS are typically most severely affected between the ages of 20 and 40 years old, in their prime relationship-building phase of life.7,10 She suspects that many people are just living with HS, hiding themselves or their abscesses.1,7,11  "Patients tell me they feel ugly and are embarrassed by the smell from their draining abscesses," she says. "Proper identification, early diagnosis, and appropriate treatment of HS provides patients with the ability to live their lives," Bush says, "and can help limit HS progression." Unfortunately, the data tells us that the average delay to receive an accurate HS diagnosis is approximately seven years from the onset of the first symptoms.12
People with HS often miss important life goals, such as dating, marriage, and work, because of their symptoms. The pain, embarrassment about their body's appearance and smell, and fear of judgement from others are damaging to their confidence and sense of emotional well-being.7,11
Treating HS Patients "Holistically"
"For some patients, hearing the diagnosis of a long-term condition—especially one involving painful, life-long abscesses—is hard to hear," Bush says. Once newly diagnosed patients have had time to absorb their diagnosis, most will seek out a dermatology clinic with practitioners who are well-educated in treating HS. They may also reach out to communities of people with HS for support and tips for managing the challenges of HS.
"We need to treat the patient with HS holistically," encourages Bush. "As healthcare providers, we need to allow them to share their struggles with the disease and their hopes for what is possible." Bush further notes that HS is challenging to treat, even by practitioners who are familiar with the disease. Each person's treatment plan should be guided by current guidelines, best practices, and case study reports, as well as the patient's perspective on treatment options.2,3 Bush has a spectrum of options that she tries with her patients and is always ready to pivot and change treatments based on patient response, including tolerance to the therapy.
Be Prepared to Recognize HS Symptoms
In thinking about how patients with HS can be better supported, Bush believes this starts with early recognition by primary care and urgent care providers and OB/GYNs, followed by referral to dermatology. There are a few key signs that should prompt suspicion of HS. Is the abscess or lesion in a typical HS area: The axillary region, groin, buttocks, or under the breasts? Are there open comedones? Any scarring? A "yes" answer to any of these questions should trigger a referral to dermatology.2,3,11
HS is a challenging disease to identify, diagnose, and treat. The healthcare community and the patient should both remember that HS is not an acute disease with a quick fix; it is a chronic, long-term disease that can only be controlled.2 Even with the best treatment, flares can happen. The goal of treatment should be to get the patient's symptoms under control and to see them infrequently for check-ins. "Treating HS is about a lifelong partnership between the patient and the person treating their disease," Bush says. "It is so amazing and rewarding when a patient gets better and can live their life."
Sponsored by Novartis Pharmaceuticals Corporation Medical Affairs
References
Atzori L et al. Clin Dermatol. 2017;5(1):1-4.
Vinkel C, Thompson SF. J Clin Aesthet Dermatol. 2018;11(10):17-23.
Alikhan A et al. J Am Acad Dermatol. 2019;81(1):76-90.
Gill L et al. F1000Prime Rep. 2014; 6:112.
Poli F et al. Clinical presentation. In: Jemec GBE, Revuz J, Leyden JJ, eds. Hidradenitis Suppurativa. Springer Berlin Heidelberg; 2006:11-24.
Canadian Skin Patient Alliance. Scarred for Life: 2020 Update. A National Report of Patients' Experiences Living with Hidradenitis Suppurativa. May 2020.
Dufour DN et al. Postgrad Med J. 2014;90(1062):216-220.
Porter ML, Kimball AB. Clinical presentation of hidradenitis suppurativa. In: Kimball AB, Jemec GBE, eds. Hidradenitis suppurativa: a disease primer. Adis; 2017:9-18.
Patil S et al. Indian J Dermatol. 2018;63(2):91-98. Images from publication have been cropped and are reproduced under the terms of the Creative Commons Attribution-NonCommercial-ShareAlike 4.0 International License: http://creativecommons.org/licenses/by-nc-sa/4.0/
Lockwood SJ, Kimball AB. Disease overview. In: Kimball AB, Jemec GBE, eds. Hidradenitis suppurativa: a disease primer. Adis; 2017:1-8.
Sabat R et al. Nat Rev Dis Primers. 2020;6(1):18.
Saunte D et al. Br J Dermatol. 2015;173(6):1546-1549.
Ovadja ZN et al. Br J Dermatol. 2019;181(2):344-349. Images from publication have been cropped and are reproduced under the terms of the Creative Commons Attribution-NonCommercial 4.0 International License: http://creativecommons.org/licenses/by-nc/4.0/