AAPA National Medical Challenge Bowl
AAPA National Medical Challenge Bowl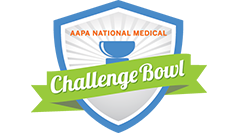 Come cheer on your PA program at this high-energy medical game show!
The can't-miss PA student event, this year's AAPA National Medical Challenge Bowl will be held on Monday, May 18, at 7 p.m. in the Music City Center in Nashville.
All teams will answer multiple choice questions on a screen using an Audience Response System (ARS) keypad. The top-scoring 36 teams will then advance to the on-stage rounds and will answer free response questions on a variety of topics ranging from anatomy, microbiology and psychiatry.
Challenge Bowl Rules & Procedures:
Find information about Challenge Bowl orientation, game scoring, and policies in the Challenge Bowl Rules & Procedures.
What types of questions are asked during the competition?
Questions are asked on a variety of subjects, including physical diagnosis, microbiology, anatomy, OB/GYN, pulmonary, cardiology, primary care, emergency medicine, and surgery.
What are the eligibility requirements?
At least 75 percent of all PA students in the team's PA program must be AAPA student members.
The team's Student Academy Representative (or alternate) must attend the AOR Meeting held during AAPA's annual conference.
All team members must be AAPA student members currently enrolled in an accredited PA program that has a student society registered with AAPA.
All team members must be registered for AAPA's annual conference.
Only one team member per team can be graduating within 30 days of competition.
How do I register a team?
2020 Challenge Bowl registration will open February 1.
What is the cost of registration?
There is no entrance fee. Participants must be registered as conference attendees and show their conference name badge at team registration.
When will I know if my team has been accepted?
All teams will be notified of their eligibility status in March 2020.
For more information, contact the Student Academy National Office at 571-319-4310 or email

[email protected]

.
Add Challenge Bowl to your schedule.

Premier Sponsor
Platinum Sponsor
Gold Sponsor
Looking for more on the Challenge Bowl?