By Ginger Morgan, MBA, PA-C and Evan Johnson, PA-C
As the stressors of clinical rotations evolve into looming thoughts of PANCE preparation and graduation, the prospect of employment can feel like a distant dream. As PA school comes to an end, tackling your first job search can seem overwhelming. The best time to start planning is now – and here's where to begin.
Networking
Networking can feel like an intimidating task before you get started, but it helps to practice and start early! During your didactic year, write down the names and contact information of your favorite lecturers. Find mentors whose work-life balance reflects your own vision. Be professional and get involved in your local and state PA organizations! These connections can be influential in directing you to your future career.
When you start clinical rotations, treat every new clinical rotation like a job interview. Even if it's not in your preferred location or specialty, healthcare workers are incredibly well-connected. Perhaps your attending physician just completed residency at your dream location, or the PA you're working with is friends with a nurse practitioner at your favorite clinic. Be sure to remain professional and enthusiastic – no matter your rotation.
Use LinkedIn not just as a job search tool, but a networking one. You can message people in any medical field and ask them if their hospital, team, or practice are hiring. This is a great way to expand your network, and most healthcare professionals will at least provide you with some great advice, if not with a direct job opportunity or hiring manager's email.
If you'd like additional help making connections, AAPA offers a mentor match tool which can expand your network across the country and into rare subspecialties.
Find Your Passion
Many bright-eyed students start PA school with a vision. Others have no idea where their journey will take them. Regardless, it is important to remain open-minded throughout your education.
In the classroom, pay attention to the information that resonates with you and brings you joy. Did you love the suture workshop or prefer the nutritional counseling seminar? You might find yourself deeply immersed in anatomy lab or feeling energized while investigating lab results. These are clues that you've found something you're passionate about!
On clinical rotations, reflect on how you feel throughout the day. Are you watching the clock and hoping for the day to end on certain rotations? Does your lifestyle work well for night or weekend shifts? Do you enjoy working closely with your physicians or find yourself yearning for more autonomy? Are you excited to tell your roommate or spouse about aspects of your day, or do you come home feeling drained? Your dream job may have more to do with the work environment than the medical specialty itself, and clinical rotations can guide you to a position where you thrive.
If you're inching closer to graduation and still not sure, AAPA's Areas of Practice Guide pulls together information and resources on several popular PA specialties to support PAs as they decide which specialty is right for them.
First Job Red Flags
As a new graduate, you are especially vulnerable to employers who may take advantage of inexperienced healthcare providers. When reviewing a job offer, it is helpful to speak with current employees of that company and seek advice from mentors.
Here's a list of "red flags" that might warrant deeper consideration of an employer.
No sick time or health insurance offered
High turnover rates among staff
Seeing patients independently right away without an orientation period
Below-market compensation with big sign-on bonus
Pressure to sign your contract quickly
Poor understanding of the PA profession or never previously hired a PA
Contract Negotiations
Once you get an offer, be sure to read the fine print! If your contract requires you stay for a certain length of time, be careful that there are no hidden clauses. Some positions require at least 90 days notice of contract termination or the contract may be automatically renewed for the following year. Breaching a contract may come with a harsh penalty or forfeiture of benefits,  which could cost you thousands.
Use the AAPA Salary Report to determine fair compensation for PAs with similar experience in your specialty and location. What can you do if you're being undercompensated and there simply isn't room to negotiate pay? Sometimes a hospital simply cannot exceed a certain dollar amount for a position. In this case, you can always ask about increasing PTO, half-day Fridays, telemedicine clinic time from home, additional admin time, maternity leave, or other perks that don't directly increase costs.
Once you've had a few trusted mentors review your offer conditions with you and you are happy with the terms, don't forget to celebrate!
Your First Job Doesn't Define You
One of the great features of being a PA is the freedom to change specialties, relocate, and seek new opportunities. You're embarking on a lifelong journey of learning in a field that rapidly evolves. If your first job isn't what you imagined, it should still be a learning opportunity. Keep growing, learning, and caring for your patients. You're going to do amazing things.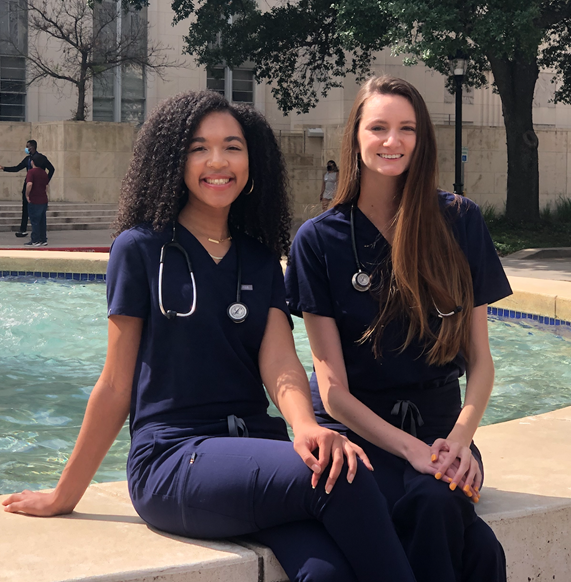 Ginger and Evan are both practicing PAs in the greater Houston area who host financial seminars and podcasts to promote financial literacy among healthcare students and professionals. You can follow them on Instagram @pamoneysense to learn more!